Christmas in the Philippines is a lot more enjoyable! Where else can you find a three-month celebration, two weeks of parties and reunions, and gift exchanges that last until January?
From the beginning of the -ber months, in September, through the first week of the following year, Christmas celebrations in the Philippines last many months, and everyone enjoys them.
With the holiday season approaching, it's time to mark our calendars with Christmas plans. Fortunately, the limits on Covid-19 are lifting, so you'll have enough to do not only inside our homes but also in the vast open space.
This article compiled a list of the most incredible open spaces in the Philippines to spend the holidays and spread Christmas cheer!
1. Tangub City 
The Christmas Symbol Festival, which runs for a month in Tangub City, Misamis Occidental, showcases glistening light installations that mimic major world sites. The Philippine Department of Tourism also named Tangub City the Christmas Symbol Capital of the Philippines in 2007.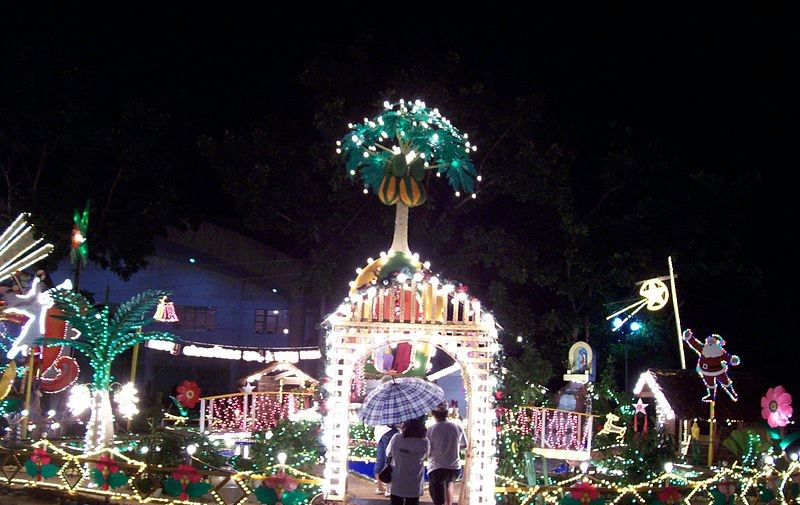 Photo Courtesy: Wikimedia Commons
It's like taking a Christmas vacation worldwide, with installations such as the Eiffel Tower and Notre Dame Cathedral in France, the Garden Fountain at Isola Bella in Italy, and the Hwaseong Fortress in South Korea in their city plazas.
Other popular tourist attractions in Tangub City include Hoyohoy Highland Park, which offers a panoramic view of Panquil Bay surrounded by cities, and Memorial Hill, which has a World War II Japanese canon.
RELATED: Top 10 Christmas Gift Ideas: Gardening and Outdoor Living Tools
2. Manila's UST Paskuhan Lights
The University of Santo Tomas' (UST) Paskuhan Lights is a definite mention in this list. It's an annual Christmas ritual that began in 1991 and lasts for a month.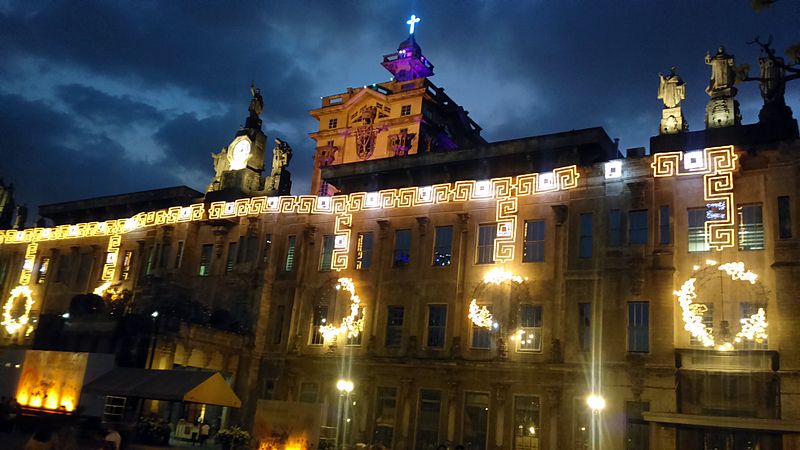 Photo Courtesy: Wikimedia Commons
The spectacle of a tall Christmas tree, the lights and fireworks displays, and experiencing the Thomasian community at this time of year make it a must-add in your Metro Manila tourism itinerary.
Although Paskuhan is open to anyone, you must notify your Thomasian buddy as soon as possible if you intend to attend. Without an ID-holder on their side, non-Thomasians could not enter the premises.
This event is also an excellent time to explore other Manila attractions. Allow a day to immerse yourself in the Philippines' heritage, history, and art by visiting the Manila Museum.
3. Dumaguete
The Christmas spirit is alive and well in Dumaguete, where the people are famous for their generosity. The Christmas House is a prominent tourist attraction in Dumaguete during this time of year. Despite its tiny size and laid-back atmosphere, the town has plenty of festive surprises to offer, such as Dr. Rico Absin's Christmas House, a man with an unrivaled enthusiasm for arts and decoration.
Absin is known for adorning his home with many lights and ornaments that the public can admire for free every Christmas. For over two decades, he has continued his tradition.
Dumaguete is a spectacle for its friendly people and tranquil beach setting. It may be a small, laid-back town, but it's full of surprises, making it the ideal off-the-beaten-path Christmas vacation.
4. Ortigas
Capitol Commons has set up holiday exhibits that will illuminate the park and awe its guests, continuing its tradition of designating its wide-open space as a community holiday destination. These installations also serve as benches, providing seating for individuals who want to relax while listening to live music from local buskers.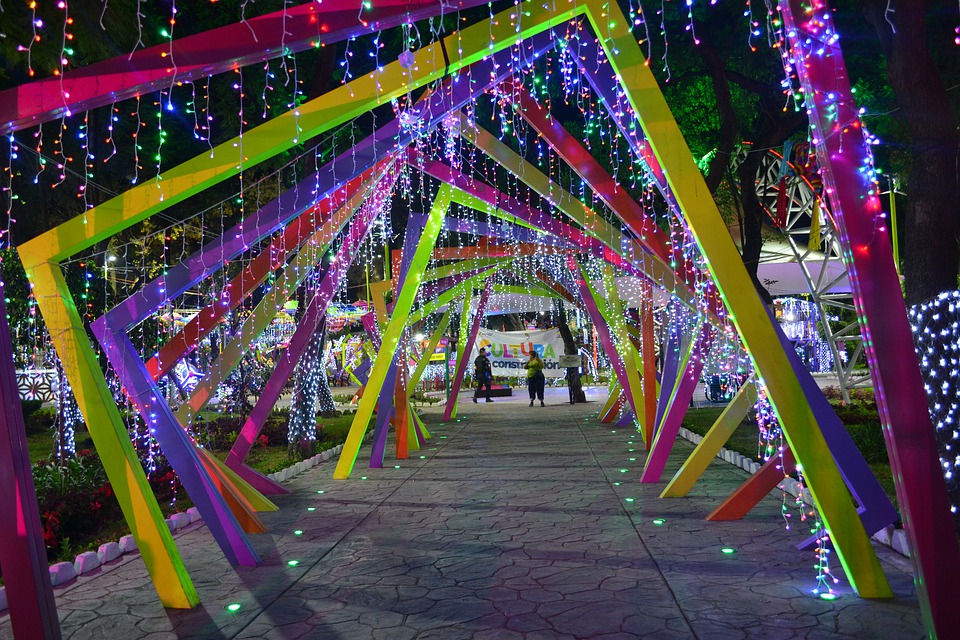 Photo Courtesy: Pixabay
The benches will also assist park visitors who can enjoy a wide array of items from the estate's weekend night market.
The Christmas Street Light Musical Tunnel entertained tourists with a colorful light display timed to many yuletide jingles for its second year. The prominent collection spans a piece of the street in front of the Tiendesitas retail center, covering the road in 2,368 pixels of light made up of red, blue, and green bulbs that flash to the beat of the music.
5. Muntinlupa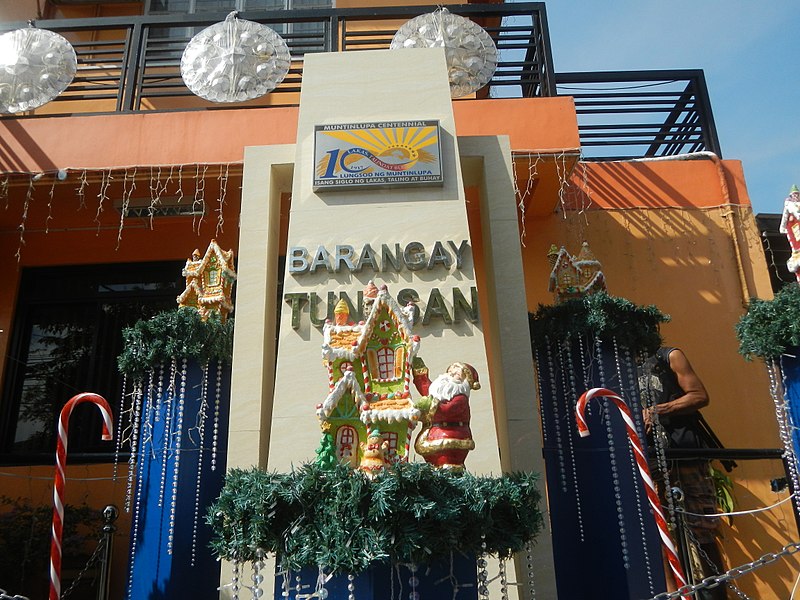 Photo Courtesy: Wikimedia Commons
Christmas is undoubtedly alive in the South, as Filinvest City, Alabang, puts on their version of a Christmas wonderland at the Spectrum Linear Park, complete with a beautiful light display. As you meander through the park, remember your childhood with colorful displays like the Christmas train, hot air balloons, and fireworks. Walk under the neon-lit archway that leads to the park's 40-foot-tall Christmas Tree in the center. Don't forget to check out the local artists' weekly performances and sample the worthwhile fare! You may watch it every day from 6 p.m. until 12 a.m. The food bazaar is open from 5 p.m. to 2 a.m. on Friday and Saturday. Also, don't miss the fireworks and live performances every Saturday!
RELATED: 10 Christmas Decorating Ideas for Your Small Living Room
It's merrier in the Philippines!
It's the holiday season, and what better way to get into the spirit than by admiring Christmas lights with your family? Many lovely places in the Philippines celebrate and highlight Christmas customs, whether you're planning a holiday break with your family, friends, or loved ones.
Christmas is the festival that Filipinos (and tourists) look forward to most Philippine holidays. Fortunately, the country offers a wide range of Christmas activities for those looking for a bit of excitement and adventure during the holidays. In the Philippines, Christmas is much more fun ('merrier')!
Find Philippine excursions and activities to add to your itinerary and learn about the most incredible Filipino Christmas delicacies to eat to make your Christmas holiday more unforgettable!
CITATIONS:
"10 Places to Watch Christmas Lights with Kids • Manila for Kids." Manila for Kids, manilaforkids.com/community-stories/10-places-to-watch-christmas-lights-with-kids-in-metro-manila/. Accessed 15 Dec. 2021.
"11 Best Christmas Holiday Destinations in the Philippines…" Guide to the Philippines, guidetothephilippines.ph/articles/what-to-experience/christmas-holidays-philippines.
Moya, Jove. "Excited for Christmas? These Places Offer Festive Decorations for the Season." Tatler Asia, www.tatlerasia.com/culture/travel/festive-destinations-philippines. Accessed 15 Dec. 2021.
Pobre, Addie. "10 Metro Manila Christmas Activities to Check out in 2021." TheSmartLocal Philippines – Travel, Lifestyle, Culture & Language Guide, 3 Dec. 2021, thesmartlocal.com/philippines/metro-manila-christmas-activities/. Accessed 15 Dec. 2021.