A small bedroom can be a challenge in terms of space and storage; the bed and furniture naturally obstruct the overall room layout but also give you the comfort you need. Luckily, there are different creative ways and ideas to transform your tiny bedroom into your own sanctuary while maximizing the space and storage.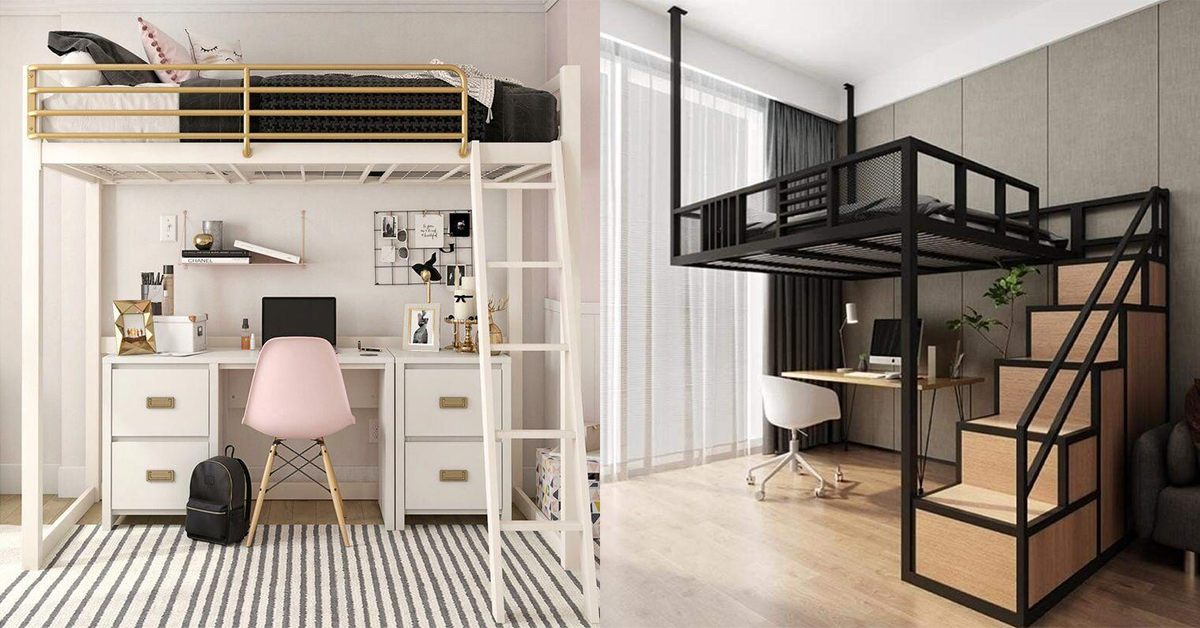 While this arrangement is reserved for dorms, loft beds are actually one of the many solutions in making the most out of your bedroom space as well as creating more storage for your stuff. 
Here are 5 DIY loft bed designs to consider for your small bedroom:

Office or Study Loft
Images from Pinterest
Due to the pandemic, most of us have switched to working or attending classes from the comfort and safety of our homes.  Whether you are still studying or working, it is important to have your own workspace or study area to be more productive with your tasks. An office or study loft can be a solution for those who want to maximize their room by creating a workspace area. Whether you need more book storage, space for online meetings and an area for your computer, this type of loft bed design could address your space and storage needs! 
Storage Loft
Images from Pinterest
Limited storage space might be the number one problem with having a smaller-sized bedroom, however, it can be easily solved with a storage loft!  A storage loft creates more space by adding built-in cabinets, drawers, shelves underneath your bed. This loft bed design will help delineate the room and create extra spots to stash different things such as books, clothes, and your other essentials! With the storage loft design, you can maximize your space and have everything easily in order. 
Bedroom Loft
Images from Cinius
Apart from increasing storage and space, why not take it to new heights as well? With the bedroom loft design, you can create an entire lofted room complete with all the furniture, lighting, and storage for clothes and other essentials to make your room feel like a one-bedroom apartment. You can have two floors inside your bedroom giving you more space for you to utilize! 
Low Loft
 Images from Pinterest
If you are not a fan of heights or climbing a ladder, the Low Loft bed is a great idea for you! No need to climb a ladder, go for a design that just steps off the ground. If you are also prone to tossing and turning, a lower loft might be ideal for your room. You can also use the extra space by creating built-in shelves or drawers for storing your books, clothes, and your other stuff and essentials.
Standard Bunk Bed or Loft
Image from Pinterest
If you are sharing your room with another person, the best solution is to have a standard bunk bed. Mostly made of wood, bunk beds have identical bed frames stacked on top of each other. Bunk beds can accommodate more than one person and each can have its own bed and can also help you save more space for your room! 
Being space deprived can be a challenge when owning a small bedroom. Good thing creative DIY ideas and designs can be lifesavers if you want to revamp your tiny room. Regardless of what design you choose or what type of DIY construction you will be doing, it is important to consider what it can provide. Whether space or storage, practicality, and function should always be a factor when designing your space! 
RELATED ARTICLES:
10 Design Tips to Make the Most Out of Your Small Bathroom Space
10 Organization Hacks for your Small Bedroom
10 Clever Hacks to Make Your Small Living Room Look Bigger
10 space-saving hacks for small kitchens
CITATIONS:
Stamp, E. & Ulloa, G. (2020, April), 10 Loft Bed Ideas for your Small Bedroom, Architectural Digest, https://www.architecturaldigest.com/story/loft-bed-ideas-for-your-small-bedroom
Sullivan, D., (2021, June) Adult Loft Bed Ideas, The Spruce, https://www.thespruce.com/loft-bed-ideas-4136781