Many would believe that the heart of every home lies in the kitchen. This of the house evolved from being a purely utilitarian space to a sanctuary of our fondest memories with families and friends. Cooking has also become more of a bonding now and less of a chore.
That said, exerting much when it comes to the details of your kitchen is no surprise. We've put together a few to help you find the right tiles that will suit your kitchen and your taste, whether you are designing from scratch or going for just a little pop of color to your space.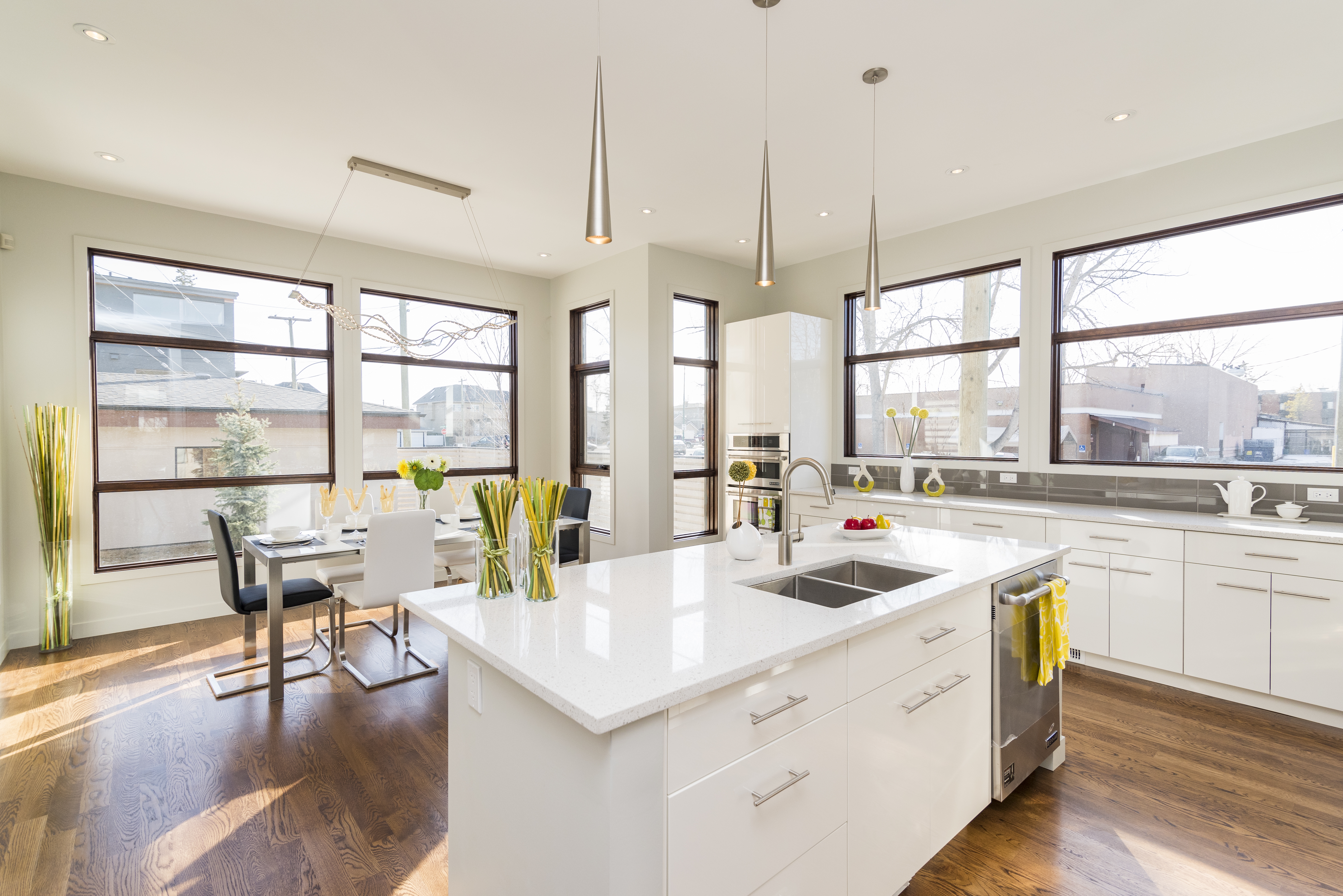 Tips to follow when selecting kitchen tiles
TIP #1: Know where will the tiles be placed
Whether it's for your kitchen floor, kitchen walls or backsplash, it's important to identify the right place to help you make a better choice in terms of choosing the suitable size, shape and materials of the tiles.
Tip #2: Stick to a color palette.
Think and STICK to a color palette the matches your home's theme, how you want your space to feel, and most importantly, a palette that will make you happy! Your palette should be within 2-3 colors; however, 3-4 colors is also acceptable. If you're in doubt, you can browse neutral section first.
PRO-TIP: If you have a small space, lighter colored tiles such as white or cream make it look bigger. Lighter colors also reflect more light that the darker ones. But don't be afraid to use dark colors. They can be used effectively to add depth to your space.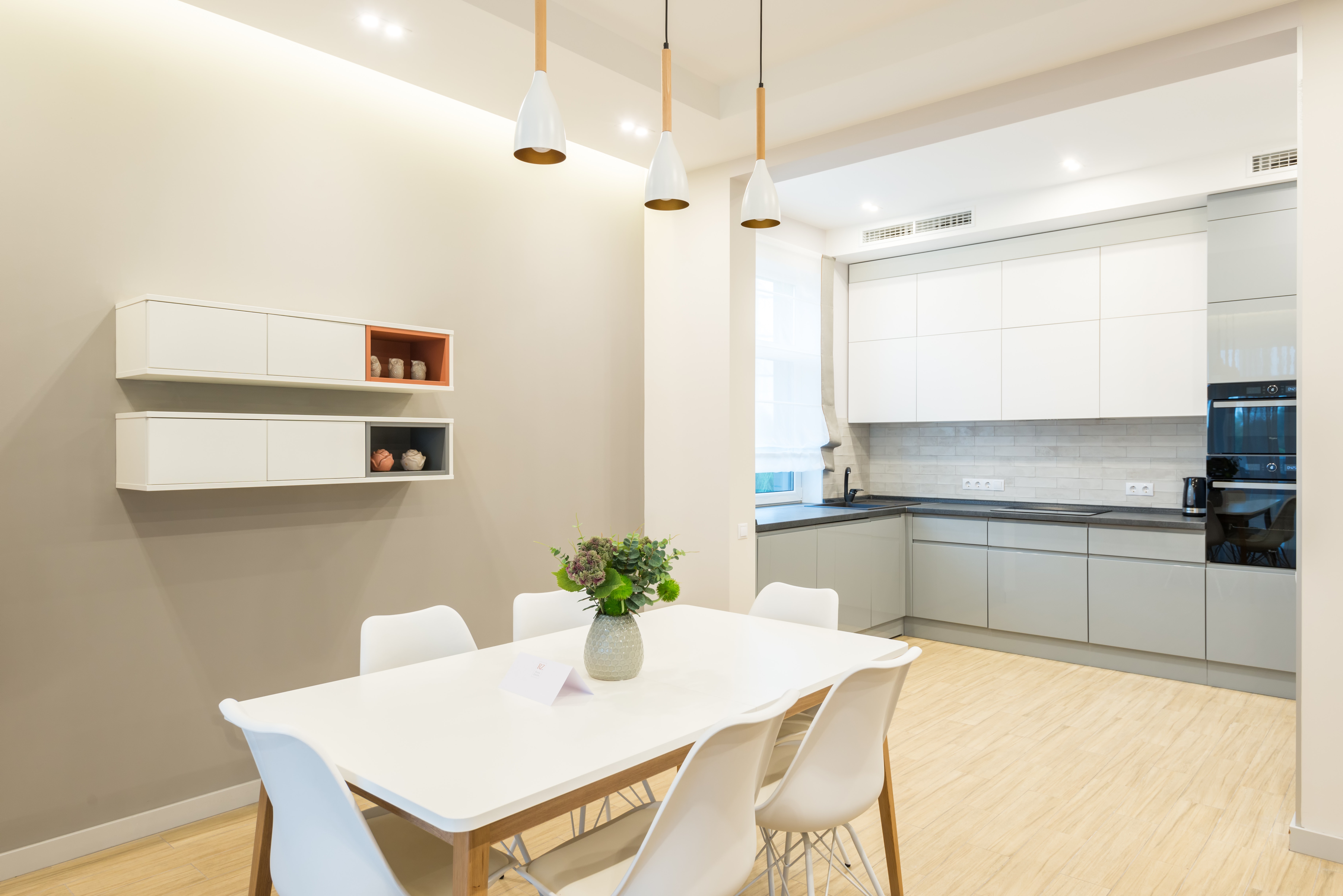 Tip #3: Choose durable and easy-to-clean tiles.
For a space that deals with a lot of perishables and a breeding ground for bacteria, cleanliness should always the top priority. Go for tiles that won't stain or won't crack easily.
Porcelain tiles are harder and denser, but a bit hard to install. They are also water resistant. Ceramic tiles are easy to install but are slightly prone to damage than Porcelain tiles. Meanwhile, stone tiles are durable and undeniably beautiful, they require sealing to protect for liquid spills.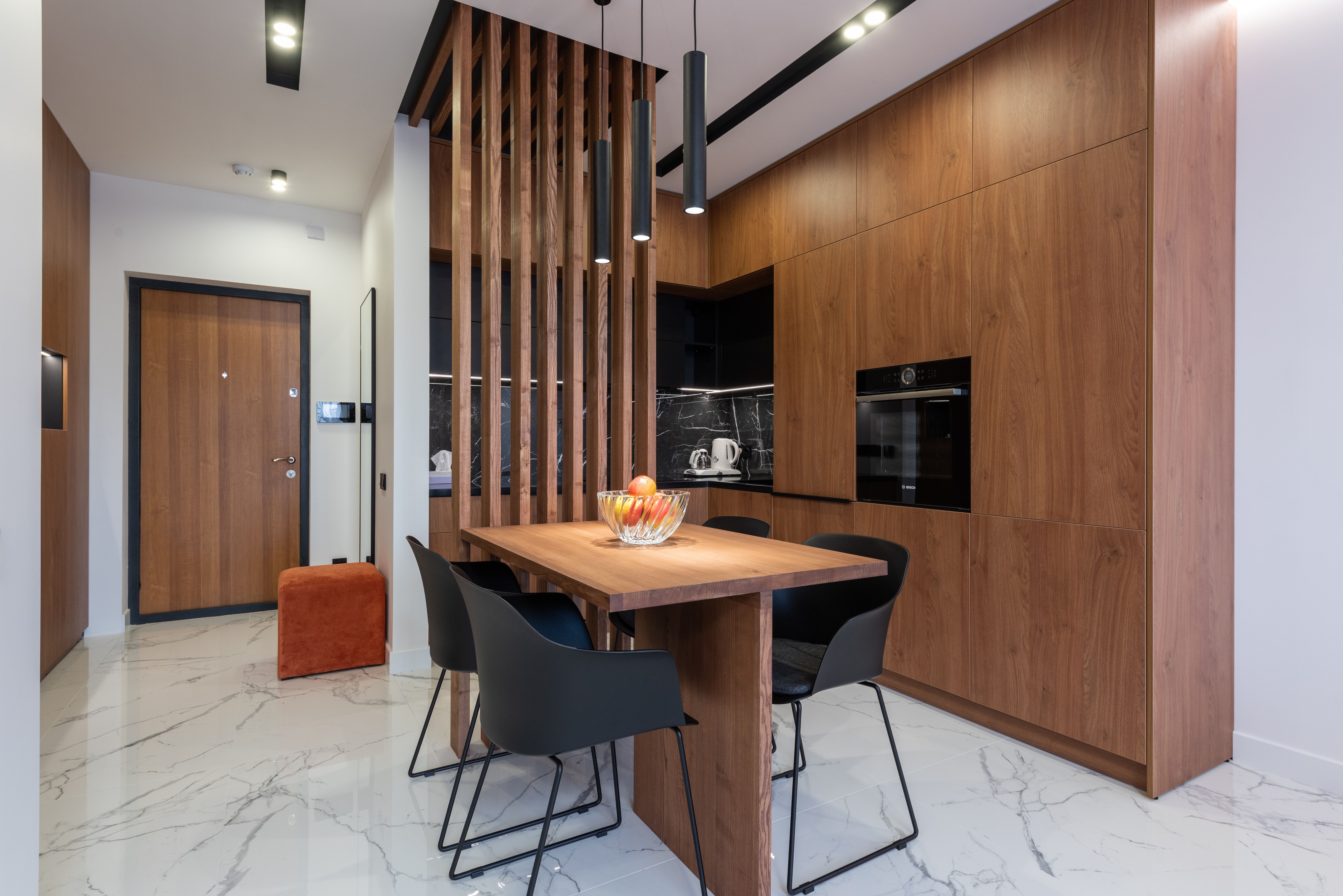 Some may ask, are granite tiles good for kitchen? Yes, they are ideal for kitchen countertops. Its aesthetics gives a classy and modern look to your home and can last for a very long time as long as it is properly maintained.
Additionally, durability is key when choosing the right kitchen tile. Make sure to purchase a floor tile that is actually intended as "floor tile". For a kitchen flooring, opt for a tile that has a slight raised of texture to it to allow for a safer kitchen floor.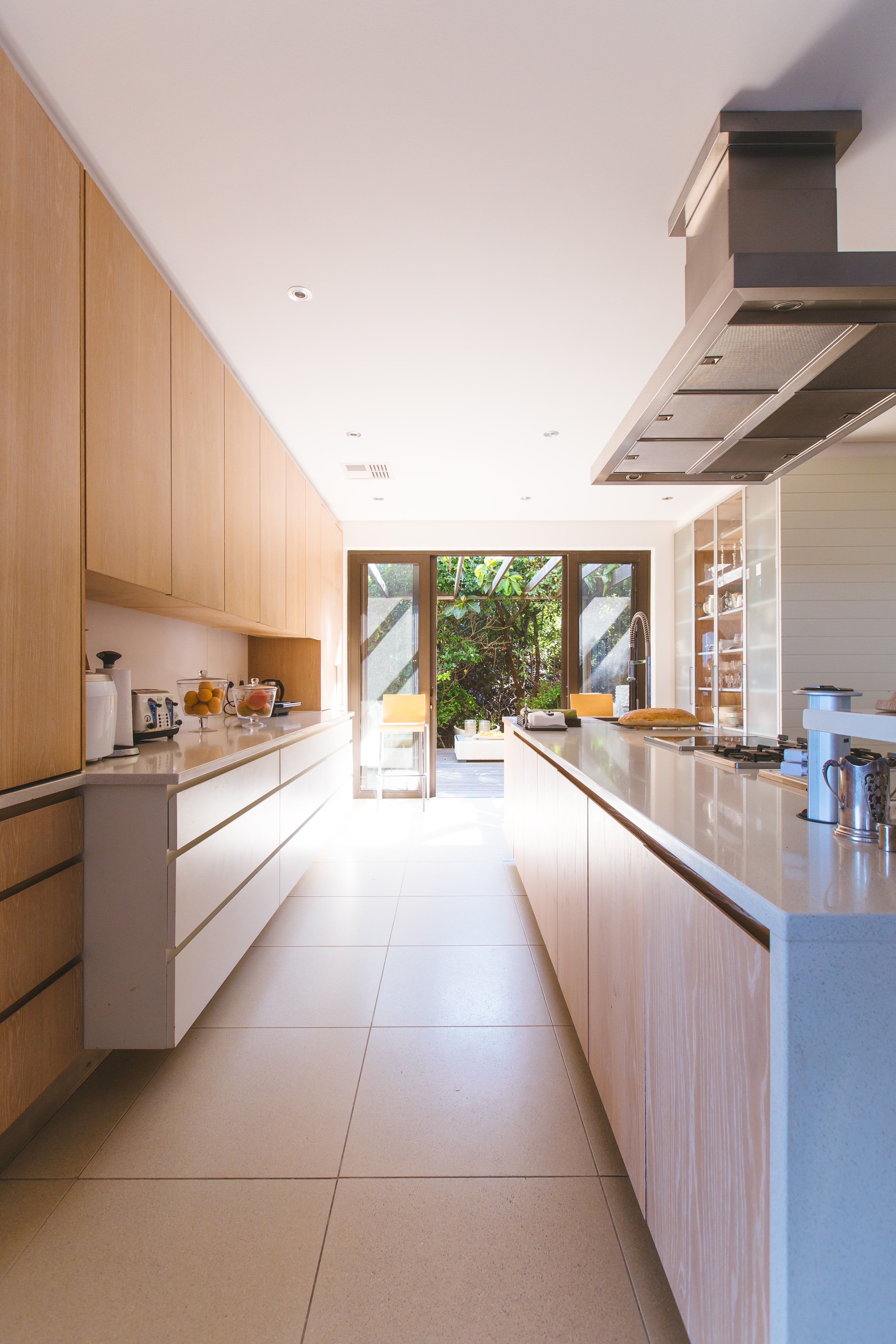 Tip #4: Consider basic tile size guidelines.
If you have a small room, you can make it look larger by using larger sized floor tiles. But be aware if your space is very, very small, then, tiles that are larger than 18" will overpower the space.
You can also use smaller tiles by creating a border or edge with larger tiles in the middle to give an illusion of a cozier space.
If you want to add texture, small mosaic tiles can do it for you.
Tip #5: Mix shapes and designs.
Change your tile's sizes and patterns by combining busier patterns with classic shapes and solid colors. You can also use the same tile then lay them out differently.
Remember that two to three different tiles should not compete with each other but should complement each of them.
PRO-TIP: For small kitchens, try laying your tiles in diagonal patterns. This will trick the eye into seeing the space bigger that what it actually is.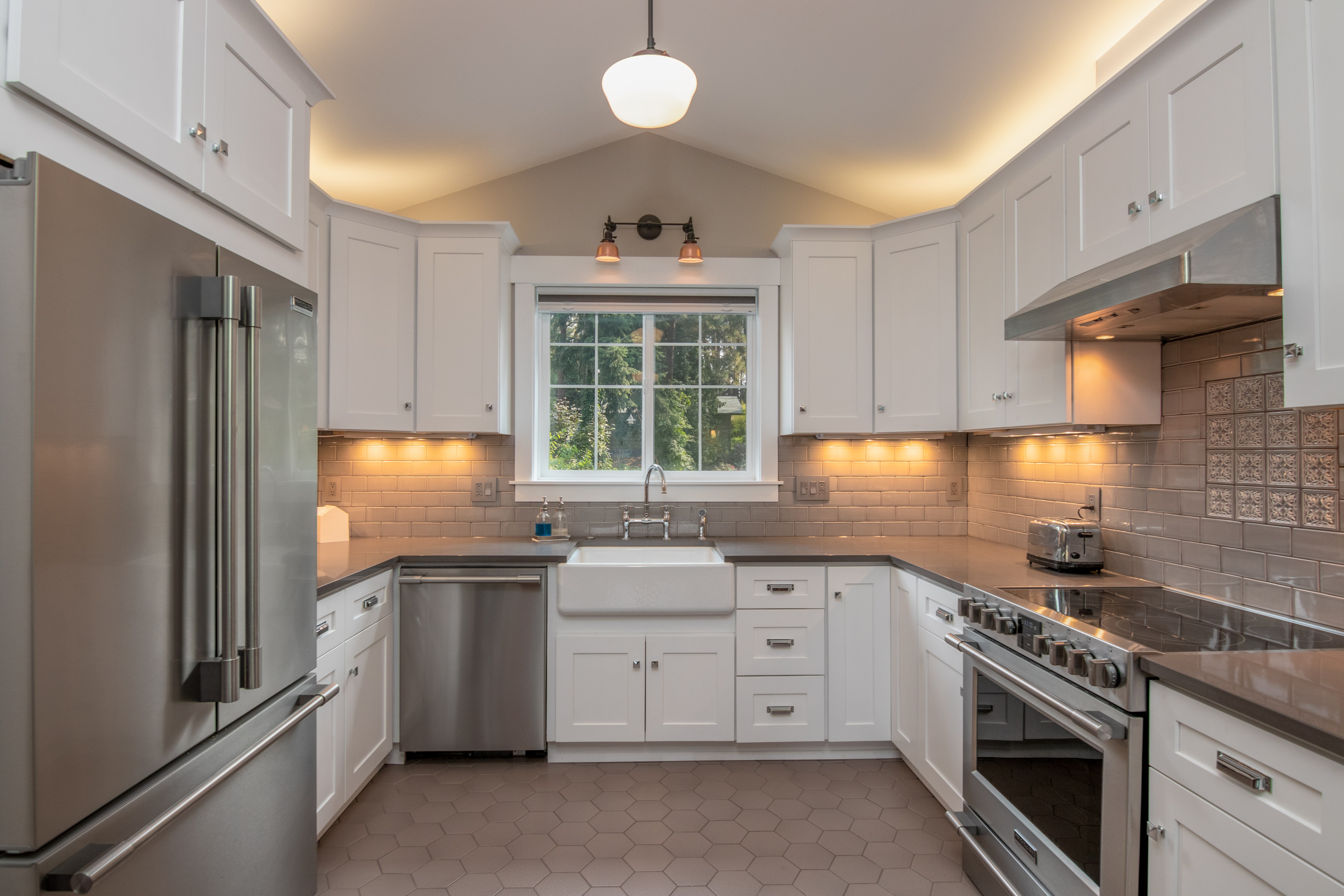 REMINDER: Plan ahead.
Plan your choices ahead before you go shopping for your kitchen tile. You can also review information online or browse some mock-up images for some inspiration. Always bear in mind that kitchen tiles may occupy a small part of your home, but it fills in one of the important sections of it. Have fun!
CITATIONS:
KITCHEN TILE FLOORING – CHOOSING THE RIGHT FLOOR FOR YOUR KITCHEN – PART 7: (2018, November 17). Performance Kitchens & Home. https://www.performancekitchens.com/kitchen-tile-flooring/

Bogenfuerst, A. (2018, March 4). How to choose the right tiles for your bathroom and kitchen. Homify. https://www.homify.in/ideabooks/4990728/how-to-choose-the-right-tiles-for-your-bathroom-and-kitchen

Crow, R. (2018, July 10). Choosing the right size tiles for a small kitchen. Real Homes. https://www.realhomes.com/design/choosing-the-right-size-tiles-for-a-small-kitchen

HOW TO CHOOSE THE RIGHT TILE FOR YOUR KITCHEN FLOOR. (n.d.). Grundig. Retrieved August 8, 2021, from https://www.grundig.com/ktchnmag/blog/how-to-choose-the-right-tile-for-your-kitchen-floor/

de Asis, G. (2019, November 19). 4 "Rules" You Need to Know Before Picking Tile for Your Bathroom or Kitchen Reno. Style By Emily Henderson. https://stylebyemilyhenderson.com/blog/4-rules-you-need-to-know-before-picking-tile-for-your-bathroom-or-kitchen-reno

Tile Sizes and Tile Shapes for Your Floor – Buyers Guide. (n.d.). Home Flooring Pros. Retrieved August 8, 2021, from https://www.homeflooringpros.com/tile-sizes-shapes/

Clark, J. (n.d.). How to Clean Granite. Tips Bulletin. Retrieved August 8, 2021, from https://www.tipsbulletin.com/how-to-clean-granite/