Two weeks after tying the knot, Angel Locsin and Neil Arce graciously opened their doors for a closer and warm look at their stunning new house.
In their August 21 vlog, Angel and Neil shared and explained about their new home. The couple claimed it took them a while to finally find what's perfect for them as a couple but finally did.
Angel shared that many of us probably think it would be so easy to choose and get what you want if you're an "artista", but not in their case. They've looked into several houses and considered lots of conditions such as the location, the comfort, and of course, the budget. They even considered settling into a condo.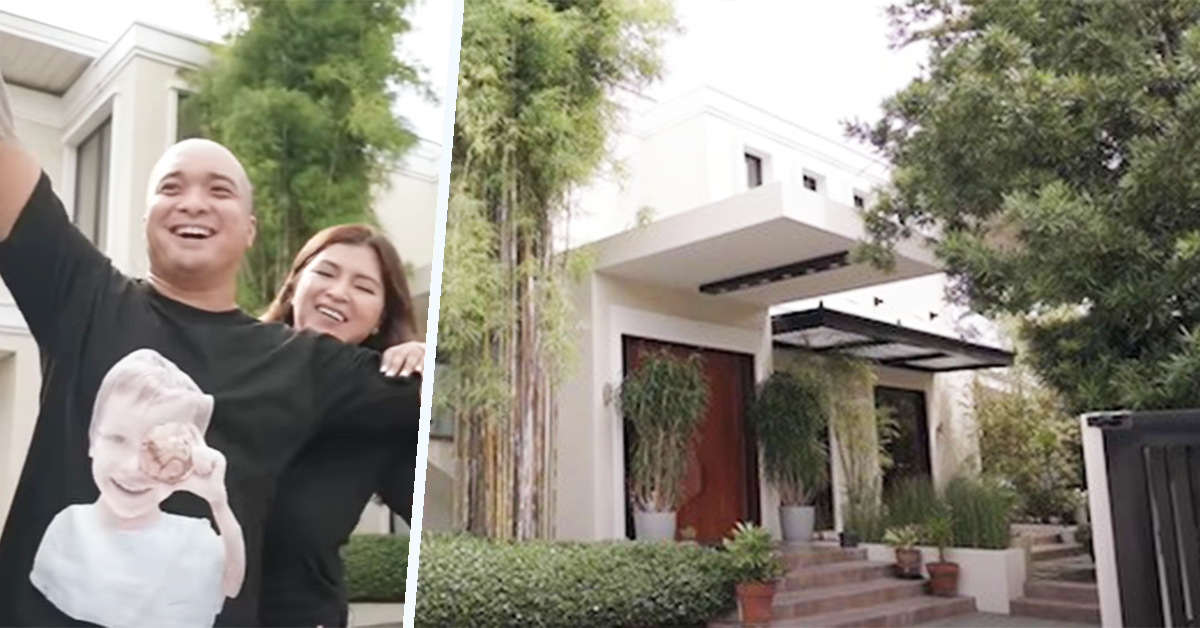 Eventually, Angel said that their house was offered by Neil's family. She said, "Ayaw sana namin tanggapin kasi nakakahiya, ayaw namin umasa." Angel considered this as a huge blessing.
They renovated the place and gave it their own personal touch as the house is a bit old and needs some renovation. Angel said they've learned to compromise and negotiate their own individual styles and even make their touches and personalities become more visible in every area of their home.
Take a look!
Excited to see how Locsin and Arce turned this house to their home sweet home? We got you.
1. Their front door's design doubles as security.
Angel and Neil's house front door, or foyer, which is designed by Claude Tayag, doesn't have handles. According to Angel, you just have to push the door for you to get in and you cannot lock the door from the outside. What's interesting about it is it has a huge sliding mechanism inside as its lock.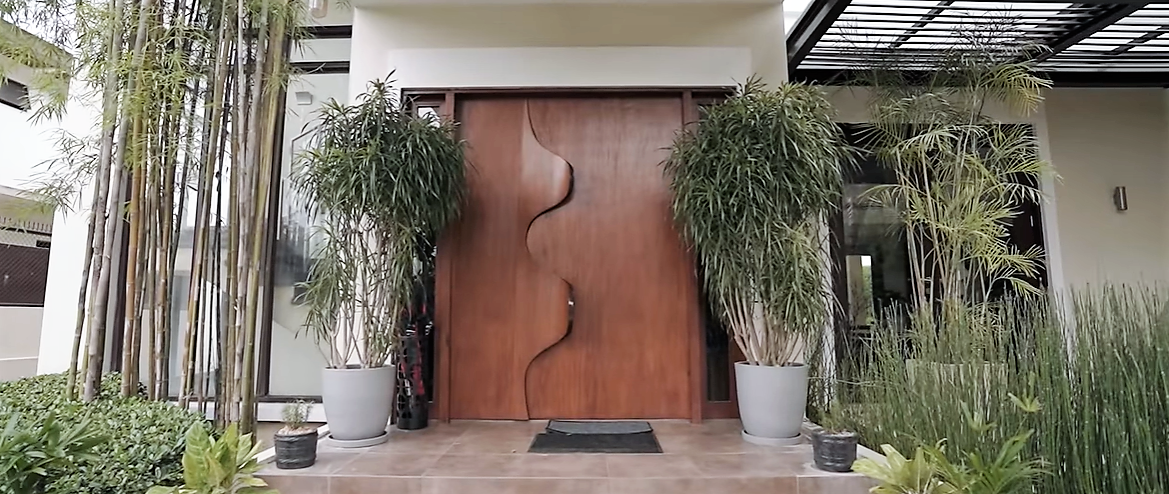 2. They have a stylish sanitizing area.
As you enter their house, they have this stylish, Instagram-worthy sanitizing area. You wouldn't miss sanitizing with these details! It's an area where you can get masks, disinfectant wipes, alcohol and spray. For the photo, it's a photo of Neil Daza, a renowned Director of Photography in the country. Angel shared that she had this photo at an art fair online.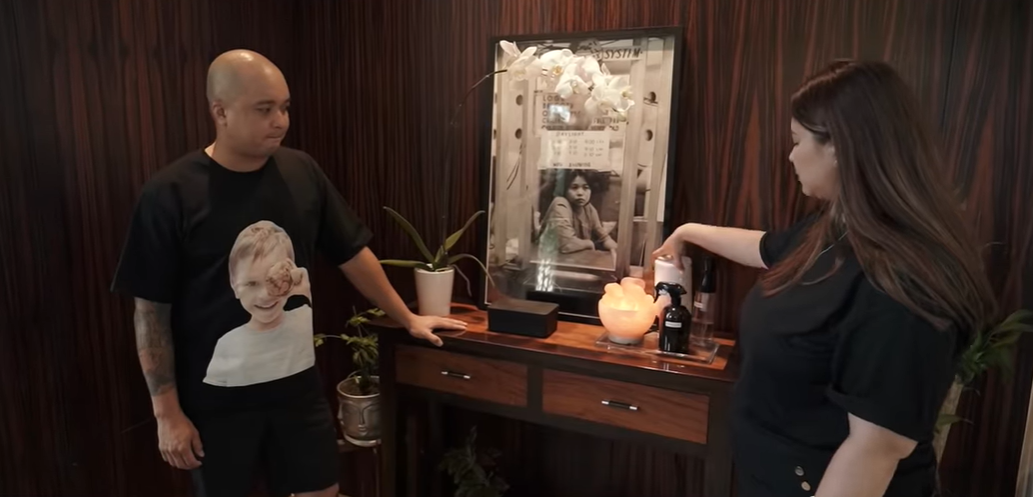 3. Music and film-inspired living room.
The couple's living room is heavily influenced by their taste in music and film. You'll see artworks and decorations on most of its parts such as the decorations they used for weddings.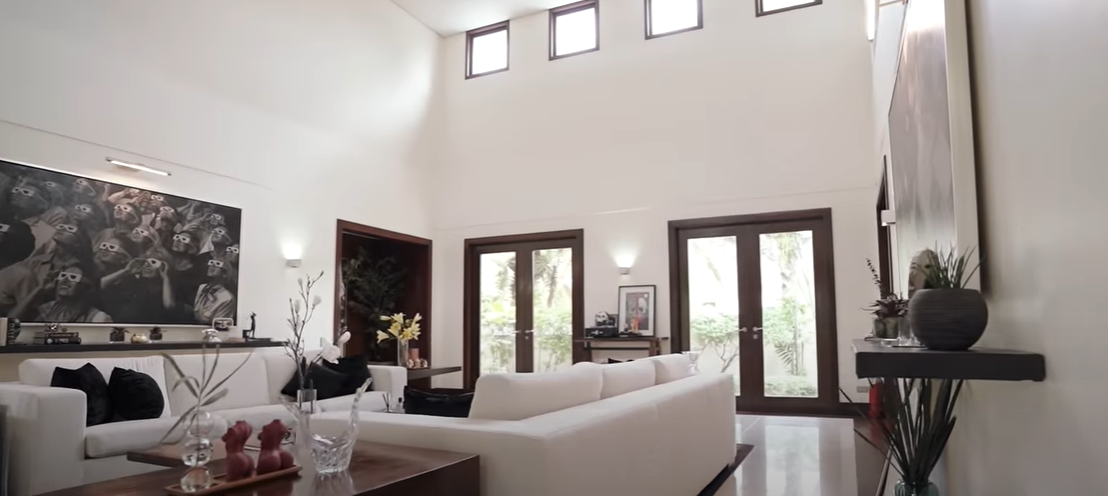 They also shared their collection of artworks including a portrait of the Kapamilya actress' first love, Nirvana vocalist Kurt Cobain and a Valentine's gift from Arce.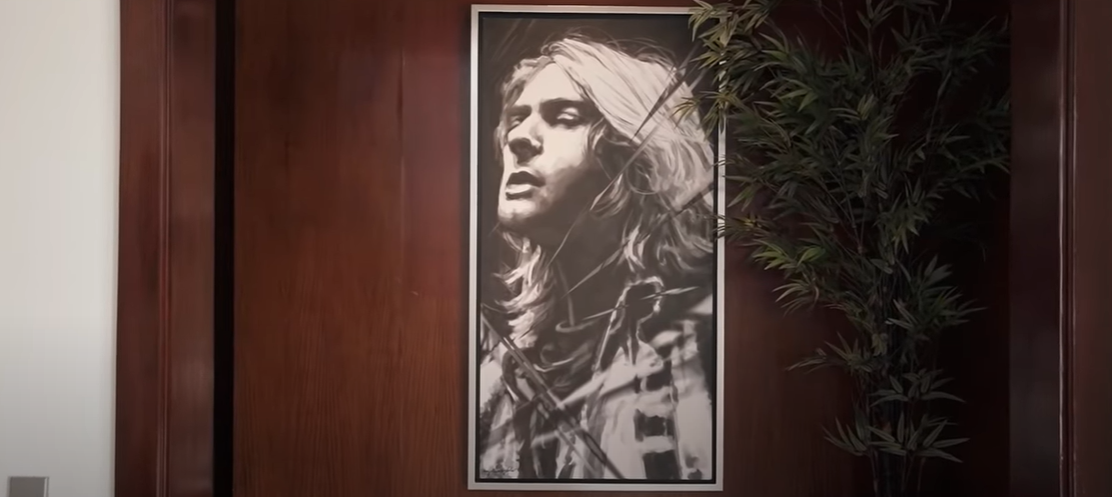 Their living room is also connected to a den and a side porch.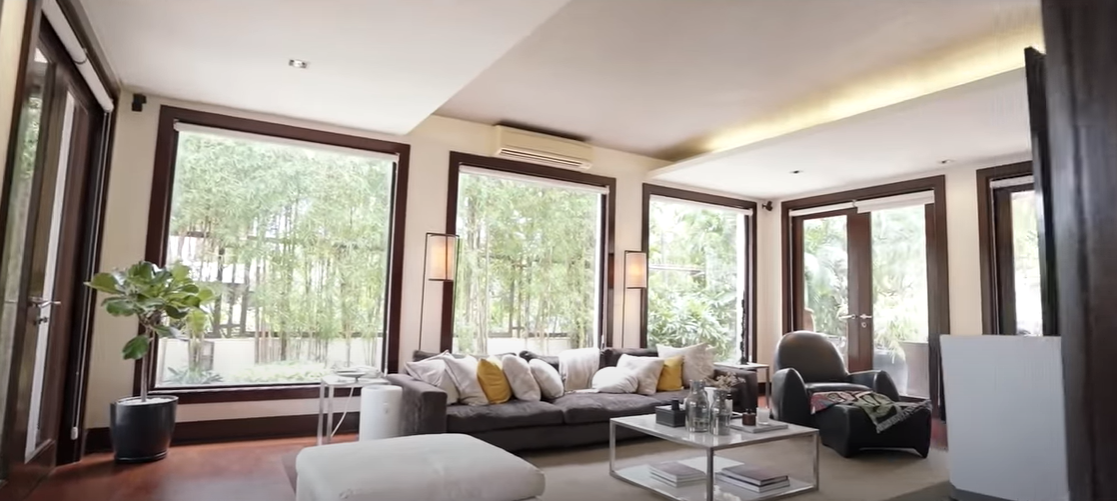 4. '80s art piece in the dining room.
Angel wanted the idea of having a black and white art for their house, but this one's an exception. She kept an art piece once she knew that it was meticulously made since the '80s.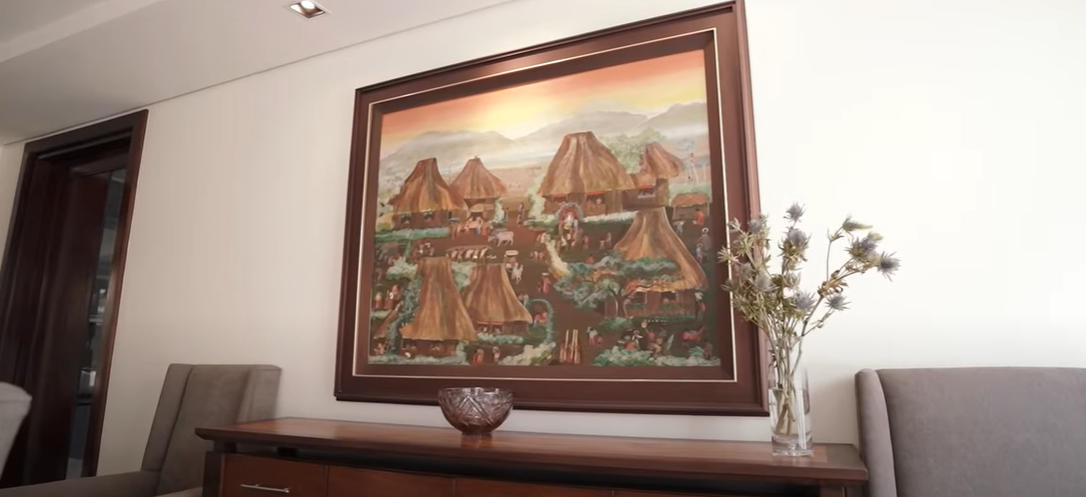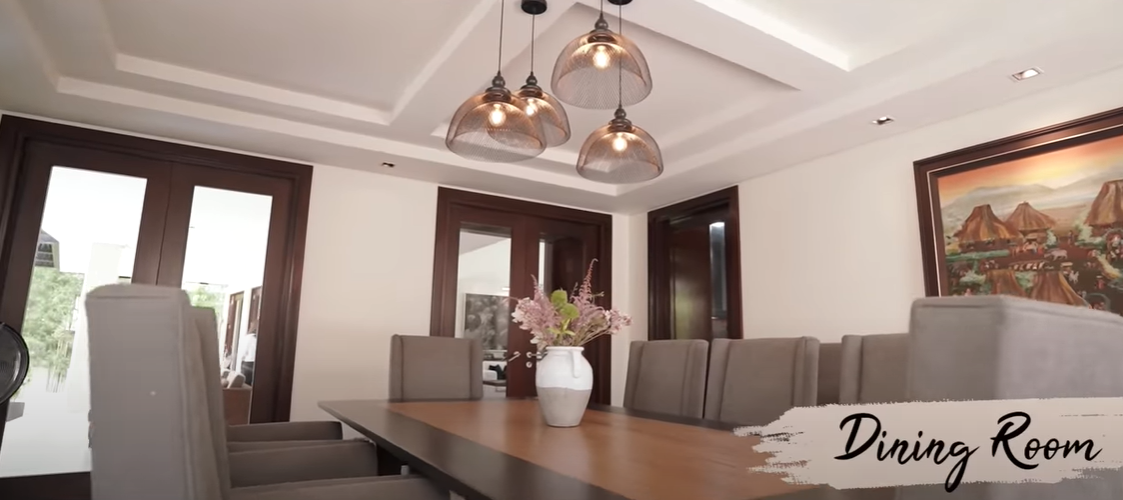 5. Home Gym.
Who wouldn't love working out at the comfort of your home?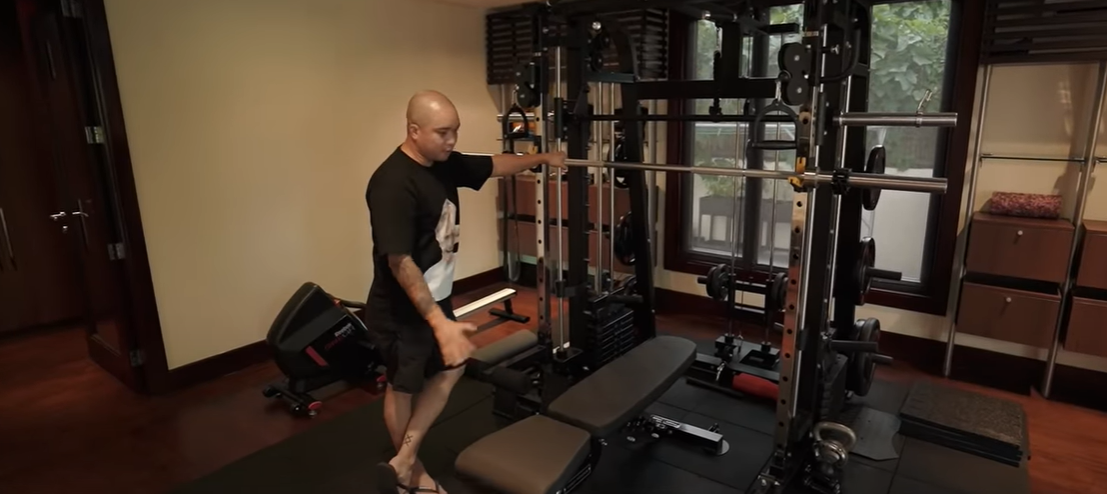 6. Their washing machines have their own "Bahay".
They have a laundry area outside. Neil shared that he learned a lot from Angel, such as this idea of a washing machine having a "bahay" or house. It's a thing Neil had never known even though they've been together for a long time. But kidding aside, Neil loved the idea!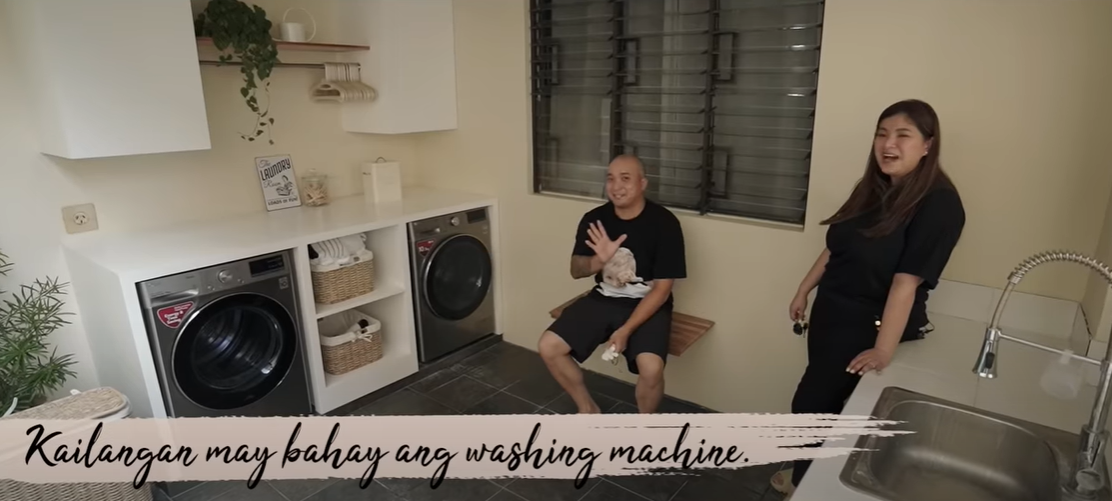 7. Secret door.
Near the sanitizing area, there's a secret door (well, probably not a secret anymore). You won't even notice it as a door as it camouflages with the wall pattern. This secret portal will lead you to the utility room. Bet you'll add this on your next home project! This keeps your house more organized and clean-looking.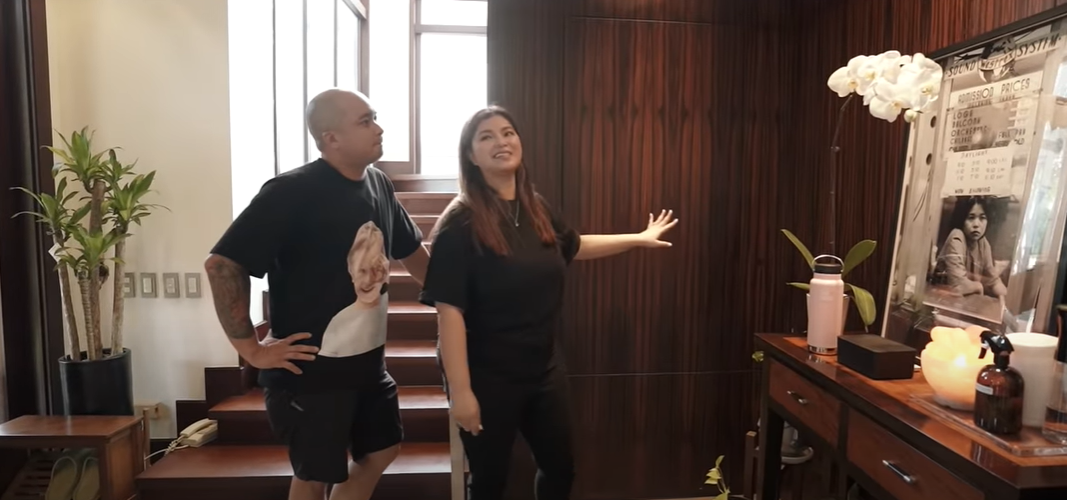 8. Closet for cleaning equipment.
An organization hack from Angel! Angel has a closet for all the mops, brooms, and other utilities to keep their space organized.
Related: 10 space-saving hacks for small kitchens
Watch the full video of Angel and Neil's home tour below!