The Department of Health gave a go signal for the COVID-19 vaccination of the Filipino essential workers or the A4 priority group in Metro Manila and nearby provinces.
Based on the data of the National Economic and Development Authority (NEDA), more than 35 million Filipino workers from the NCR Plus 8 (NCR, Metro Cebu, Metro Davao, Bulacan, Batangas, Cavite, Laguna, Pampanga, and Rizal) and outside the NCR are eligible to receive their shot and are targeted to be inoculated as part of the A4 priority sector.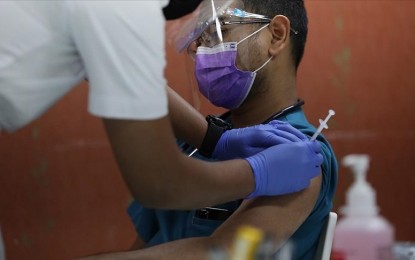 Who are eligible under the A4 category?
In Resolution No. 117 of the Inter-Agency Task Force for the Management of Emerging Infectious Diseases (IATF-EID), the A4 category includes the following:
private sector workers required to be physically present at their designated workplace outside of their residence,
employees in government agencies and instrumentalities,
informal sector workers and self-employed who may be required to work outside their residences, and
Filipinos working in private households.
These are workers with high level of exposure to the public such as frontline government workers, workers in food manufacturing, supermarkets and delivery services, frontline workers in hotels and accommodation, security guards or personal assigned in the establishments, construction workers, and other employees for either private or government sector that needs to work outside of their homes.
Where to register for COVID-19 vaccine?
If you are part of the A4 priority group, you may ask where can you register to get your vaccine and the process after the registration. We've summed it up for you so you can have you first shot done, right away.
For NCR Plus 8, here are the links to their pre-registration websites for the COVID-19 vaccine drive.
Metro Manila
Bulacan
Pampanga
Cavite
Laguna
Metro Cebu
Metro Davao
Rizal
How to get your free COVID-19 shot?
Follow these five (5) simple steps to get your free COVID-19 shot. Remember, COVID 19-vaccines are effective and safe. Once you are fully vaccinated, it won't be long until you finally resume many pastimes that you enjoyed before the pandemic. Getting a vaccine is also a safer choice than risking yours, and your loved ones' health and safety.

Already got your COVID-19 vaccine? Share your experience with us!
CITATIONS:
de Vera, A. (2021, June 6). Gov't to start COVID-19 vaccination on A4 priority group on June 7. Manila Bulletin. https://mb.com.ph/2021/06/06/govt-to-start-covid-19-vaccination-on-a4-priority-group-on-june-7/

LIST: Where to register for your free COVID-19 shot. (2021, June 14). CNN Philippines. https://www.cnnphilippines.com/news/2021/3/29/LIST-COVID-19-vaccine-registration-LGUs.html

Ornedo, J. M. (2021, April 12). Who are part of the A4 priority group for COVID-19 vaccination? GMA News. https://www.gmanetwork.com/news/news/nation/783361/who-are-part-of-the-a4-priority-group-for-covid-19-vaccination/story/

Maramara, K. (2021, June 10). Vaccinations for the A4 Priority Group Have Started — Here's How to Know If You're Part of the 35.5M Eligible Pinoys. 8List.Ph. https://www.8list.ph/a4-priority-group/#read-more