Featured Builder of the Month is our periodical feature of inspiring fresh faces in the construction industry. Do you have a worthy Featured Builder in mind? Send us your recommendations at pinoybuilders2019@gmail.com.
"Once you have done something for others, it's a delight. There is a certain kind of joy that comes with working on projects that fulfill you."
Those who have been in the construction industry for more than a decade know that trends come and go at a moment's notice. The need to work for the betterment of their country, however, is constant and timeless. This is what Architect Renato Heray learned during his long and fruitful career as a respected architect.
Born with an eye for structural and landscape beauty, Arch. Renato Heray saw the world for its splendor. He used this mindset to motivate himself in pursuing a tight career in architecture both here in the Philippines and abroad. Currently, he is the National President of the United Architects of the Philippines (UAP). He has been an architect for over 34 years and is a fellow of the Royal Institute of Architects in Singapore. He is also a member of the Philippine Association of Landscape Architects.
Get to know Arch. Renato Heray and his thoughts on creating a brighter tomorrow through urbanization and educational reassurance.
What's the story of how you got into architecture?
During my younger years, I thought about other career paths, such as becoming a doctor. At the time, I also thought about becoming a soldier just to earn the money I needed for college. But in the end, I decided to become a working student, taking on side jobs as a janitor and later on a dishwasher, just to keep up with the expenses while studying at Feati University. I was also caring for my ailing mother during those times as well, so I really aimed to finish my studies.
An old photo of the Feati University.
Of course during those busy years, I still found the time to admire the beauty of Filipino architecture, especially the structures I encountered at the time. Never would I have dreamed of finding myself in this position, being interviewed by media people like yourself!
Those were definitely busy years. I'm sure you felt relieved when you finally graduated college.
Of course! I passed the board exam and received my license in 1985 and, a year later, I worked as an overseas Filipino architect in Riyadh, the Kingdom of Saudi Arabia. There, I worked for several consulting firms, including Omrania (Saudi Architecture and Engineering Design Firm), one of the best consulting offices in the country.
One of the works of the Omrania firm from the 1980s. Photo courtesy of their website.
I also did a bit of moonlighting here and there and ended up working on a memorable landscape project for the Philippine Embassy. There, I showed off my love for the country by showcasing its numerous locations, yung Mayon Volcano, yung San Juanico Bridge, yung three islands, Luzon, Visayas, Mindanao, and so on. It felt like putting the Philippines in a capsule and I wanted to show its beauty off to all who pass by (the landscape). I also did a few other personal projects, but my work at the embassy in Riyadh will always remain a personal favorite of mine.
Tell us more about the early years of your career. Were there some things that disappointed you during that time?
Well, there will always be ups and downs naman in any career. Like for example, 'yung mga project na 'di natuloy, siyempre may kasamang konting sama ng loob, but those are the realities talaga and we have to accept them. 'Yun ang pinakamahalaga na matutunan, na once you accept things as they are, mas madaling maka move-on. Kunwari 'pag may hindi matuloy, sabihin ko lang sa sarili ko, "ay, 'di akin ayun."
Your career has certainly made you a well-travelled professional, but you still kept the Philippines close to heart. Back in October 2020, you encouraged architects to bring in equitable urban development solutions for the country. Can you elaborate more on that topic?
Urban development really needs crucial planning and decision-making with every party involved. That includes us design professionals, as well as the contractors, the government, and other related professionals. Proper urbanization is really a multi-faceted issue that requires everyone, including citizens, to cooperate and be a part of the solution.
Urban Sprawl in Metro Manila. Photo courtesy of Krizjohn Rosales
From an architect's perspective, urban development can be attained if we also addressed the growing concern of our population. Malaki ang effect 'nun, along with the proliferation of slum areas sprawled across the cities. Mayroon din mga ibang concerns kagaya ng availability ng low-cost and informal housing, as well as ensuring na maganda ang quality nila— I've seen some projects that were erected without the expertise of an architect.
We here at the UAP have always been an advocate of cities that house the poor, that way it is our mandate to reach out to our local government and extend our professional assistance in order to alleviate issues like this. It is our duty as professionals to work with the people closely, to ensure them that we know what's best. Sometimes it is just saddening to see works out there that are poorly planned, and they all bear an effect on the quality of living for the people in the vicinity, as well as urbanization in general.
Usually when people think about urban planning solutions, they look at locations such as Singapore. What can you say about it?
I think some of their solutions like low-cost housing is a good idea because it gives the poor sectors more decent places to live in and a reason to practice clean living. Sumasabay talaga ang tao sa flow.
I experienced it once myself during the early years of my career. My workers and I were working on a project, and we were given decent lodgings. 'Yung tipong spacious yung lugar, malinis lahat at kapansin-pansin yung beddings. We became more conscious of ourselves like cleaning the mud off our shoes and arms after work before heading into our bedrooms. We adapted because our living quarters were exceptional, and it does affect people psychologically.
Residential area, Punggol Waterway in Singapore. Photo courtesy of Erik Mustonen
Similarly, I remember working on a park in Valenzuela, where I found that its park rangers, as well as the mayor at the time, Mayor Gatchalian, were all serious when it comes to protecting it and encouraging the people to do the same when they use it.
Change starts with us. Kahit 'yung simpleng pagtapon ng basura sa tamang lugar, malaki na ang naitutulong para sa ating kapaligiran. "Wag ka na dumagdag!" I'd tell my students (laughs), para masanay sila sa tama. "Ibulsa mo nalang para masanay ka!"
Are there other solutions that can help with meeting the challenges of urbanization?
Sustainable solutions and affordable housing talaga, as well as meeting the challenges of a growing population. We need to advocate housing that creates a sense of community and economic viability. Health-wise, we should go for cities with zero carbon footprint, green roofs, sustainable transportation, and so on. I believe that this kind of practice has become more mainstream for the past decades, and we just need to commit to continuing it and adapting to the world around us.
Has adapting been a challenge for construction professionals, especially with 2020's global pandemic?
Us design professionals are certainly trained to adapt to the changing times. With the pandemic, however, not everyone was prepared for it. Many industries have decided to stay put during the first months and base their next moves on the trends of the new normal. With the new normal, people are prioritizing health and safety. Ventilation, eco-friendly solutions, and sustainable home designs— everyone is taking the new normal seriously.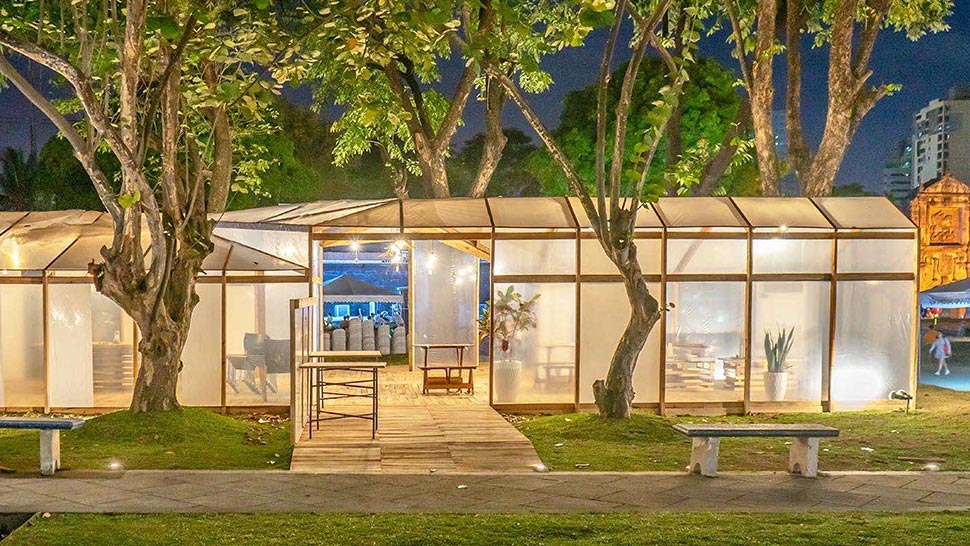 A low-cost healthcare facility solution made by Filipino architects.
Situations that were once unthinkable are happening now, kaya we have to learn how to overcome the odds.
What should the architects of today aim for this year?
I believe that our expertise is needed to work hand-in-hand with the public and private sectors. We should all aim to elevate our nation through progress and modernization while preserving our culture and heritage. We all should focus on helping our society and bringing a sense of awareness through our designs.
During the early months of 2020, our architects were eager to help create health facilities to further alleviate the pandemic issue plaguing the nation. As mentioned before, we as professionals are trained to adapt, and we should adapt for the betterment of our people.
As a veteran architect of the Philippines, what is the most important lesson you learned in your career?
For me, learning is constant. We have long ways to go when it comes to learning, and even after gaining our diplomas and licenses, we must be open-minded and enthusiastic in embracing new ideas. Even now, I keep up with the industry with books and seminars. Kahit ako, kailangan ko mag progress kaya it is why I take the time to teach as a part-time guest lecturer to find a reason for me to explore new trends.
In the UAP, we have a sustainable learning system known as three Rs (reach, record, and replay), where we encourage our students to attend and record our lectures so they can replay them at home.
Do you have any words of encouragement for our architects and those studying to become one?
For our architects, I'd like to impart this message from Robert Kennedy, which has always been with me for years.
"The purpose of life is to contribute in some way to make things better."
It is our duty to contribute to the betterment of our nation and our countrymen through our expertise and knowledge that we are here to contribute, to be part, and to share what we have to offer as a professional and as an organization.
Arch. Renato Heray giving a speech at the Fairbuilding Awards 2018. Photo courtesy of the UAP
For undergraduates, value your time and your studies. I am a firm believer in persistence and determination. Faith, family, and friends will serve you well. To tell you, if I have a project, I would try to personally present it to my family. My kids look up in awe at the structure and my wife would explain to them that I worked on the building they are looking at, and it's these moments that make life so much more enjoyable.
Once you have done something for others, it's a delight. There is a certain kind of joy that comes with working on projects that fulfill you. Remember, we architects are here to serve the people. If you have a project in mind or want us to assist in elevating our country, we are here for you.
*This interview has been edited for brevity