Because the dining room serve as a daily dining space and a venue for special events, it must have a pleasant and beautiful interior.
Nowadays, the dining room has taken on a more conventional look. We've put up a list of seven (7) unique dining room design ideas for 2022. It's important to keep in mind that everything you come up with is perfectly fine as long as it's creative and within your comfort zone.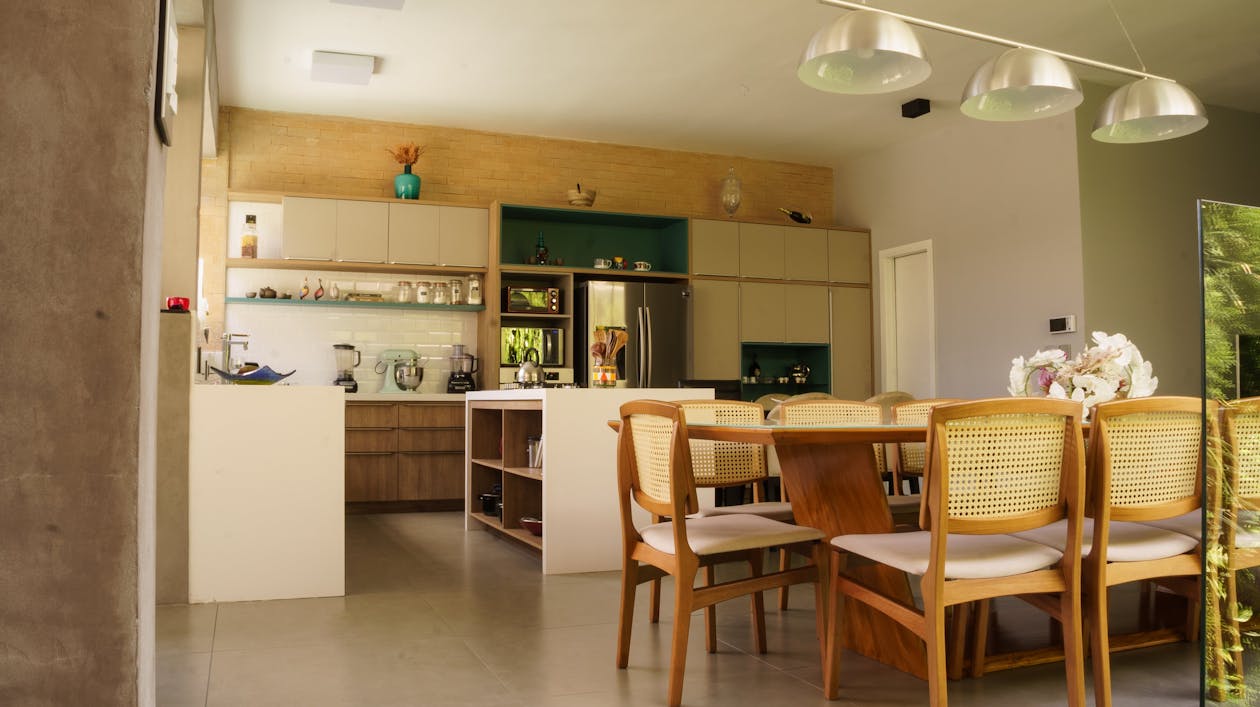 Photo from Pexels
Find out what's hot in the dining room design world and get inspired to create something fresh in your space!
1. Instead of linen upholstery, use cord and leather.
The Scandinavian hygge approach has dominated living trends in recent years. 
The dining room will reintroduce opulence in 2022. Heavy materials, such as cord or velvet, are used to cover the chairs. It also has a sophisticated industrial vibe because of the smooth leather.
2. More colors.
This year, Scandinavian living style is represented in a modern way. Previously, neutral color palette dominated interiors; now, interior designers and furniture manufacturers rely more on colors.
Using light and dark woods together is very common. Saturated shades of gray-blue contrast with camel and other earthy tones, such as rust-orange.
3. Sustainable furniture.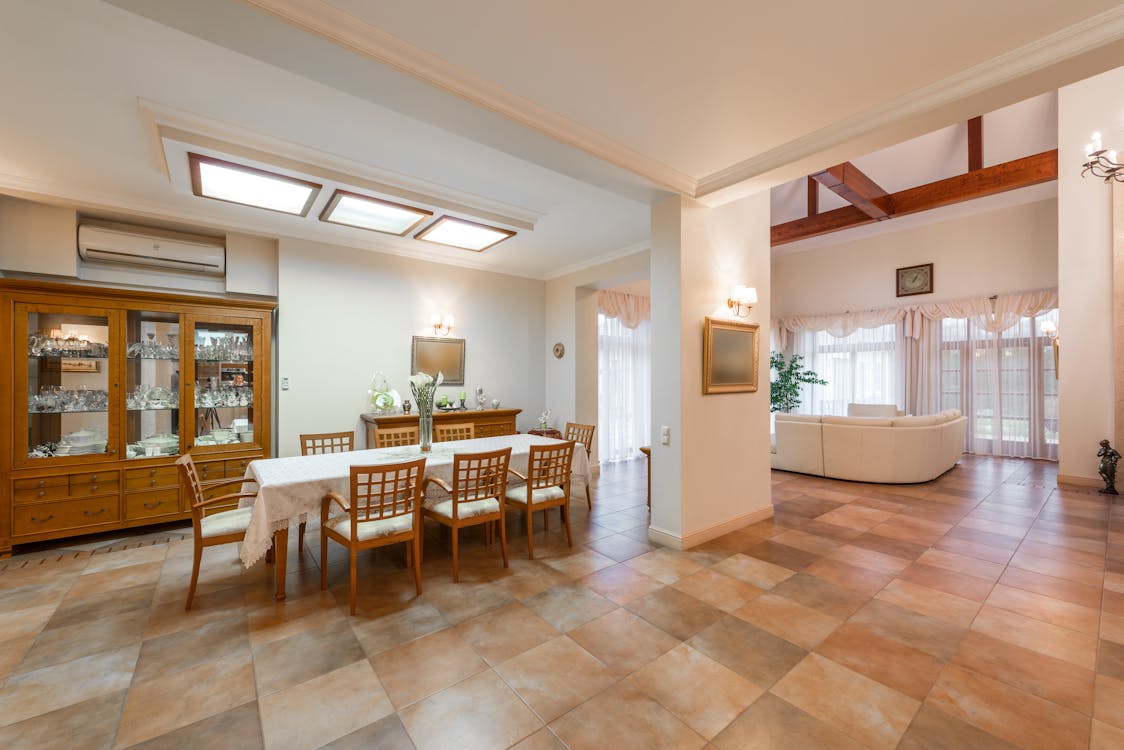 Photo from Pexels
Environmental friendliness is also going to be a big deal this year. In order to minimize overall carbon footprint, furniture producers use locally sourced materials and environmentally friendly manufacturing processes. 
Wood is one of the most environmentally friendly building materials in Europe because of how little CO2 gets emitted during the production of wooden furniture. Among the fast-growing natural materials are exotic like bamboo, cork, and rattan.
4. Fur rugs.
Because leather and fur are extremely durable, they have long been used in Scandinavian interiors and furnishings, particularly in the modern country house or chalet design. A cowhide rug can frame and highlight the dining area; it ages well and is very easy to maintain.
If fur or leather isn't your style, consider carpets or rugs made from abaca instead.
5. Statement lighting.
With the right lighting, it makes a good mood and casts soft light over the dining area. Large pendant lights made of rattan, raffia, cork, or seagrass are quite popular this year. On the one hand, they are environmentally friendly and regrow in a matter of years. They are also appealing because of their relaxed, handcrafted appearance. One thing is certain: you're on the right track with natural materials.
6. Hanging plants.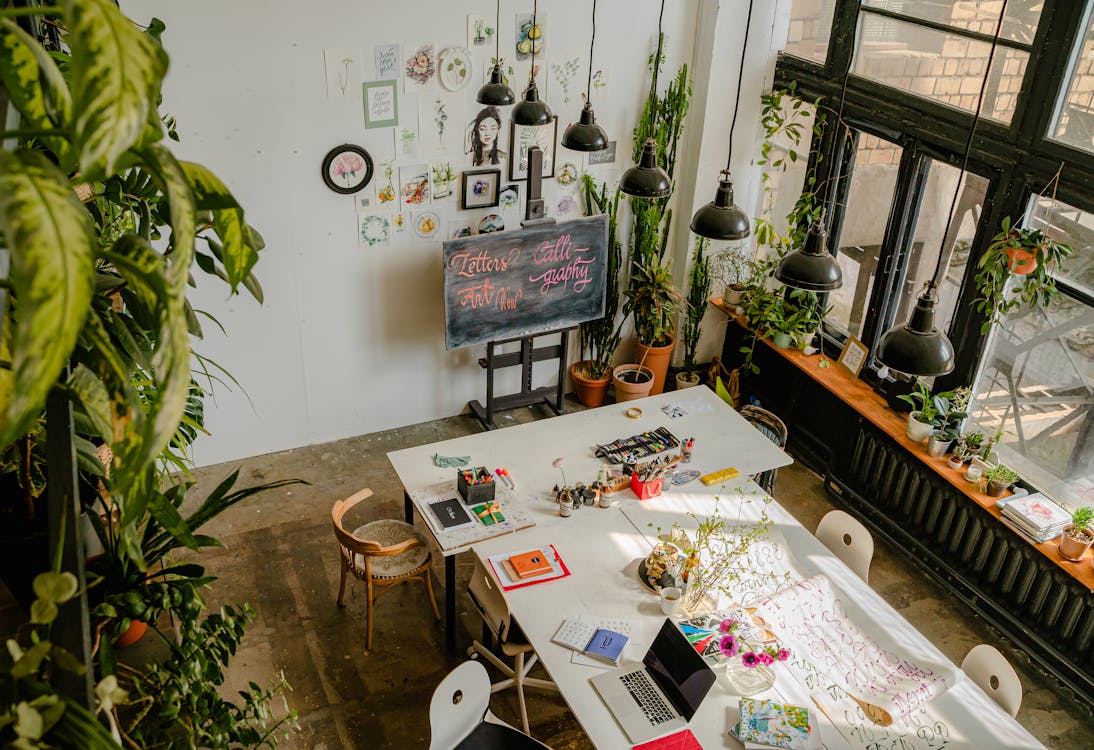 Photo from Pexels
This year, indoor plants aren't just a pretty decoration; they're the centerpieces of the room. Hanging them over the dining table is an option if niches and corners are full. Having more room for additional pieces of furniture while also allowing the plants to receive more light is a win-win situation. They look great hanging from a branch above the dining table.
7. Multi-functional dining table.
Functionality is of the highest concern in the open living area. The dining table serves a variety of purposes, including eating, writing homework, and creating a home office. The dining table can be extended, folded, and folded again to fit any space.
You can go on and on about the dining room's design. However, this isn't the most essential part of the situation. Try filling it with an attitude of goodwill, generosity, and friendliness.
CITATION: