With Christmas just around the corner, keeping your home festive with a budget might be a challenge. But decorating your home for Christmas doesn't have to be expensive! There are many ways to make your home feel and look festive without spending too much money and putting on a lot of hard work.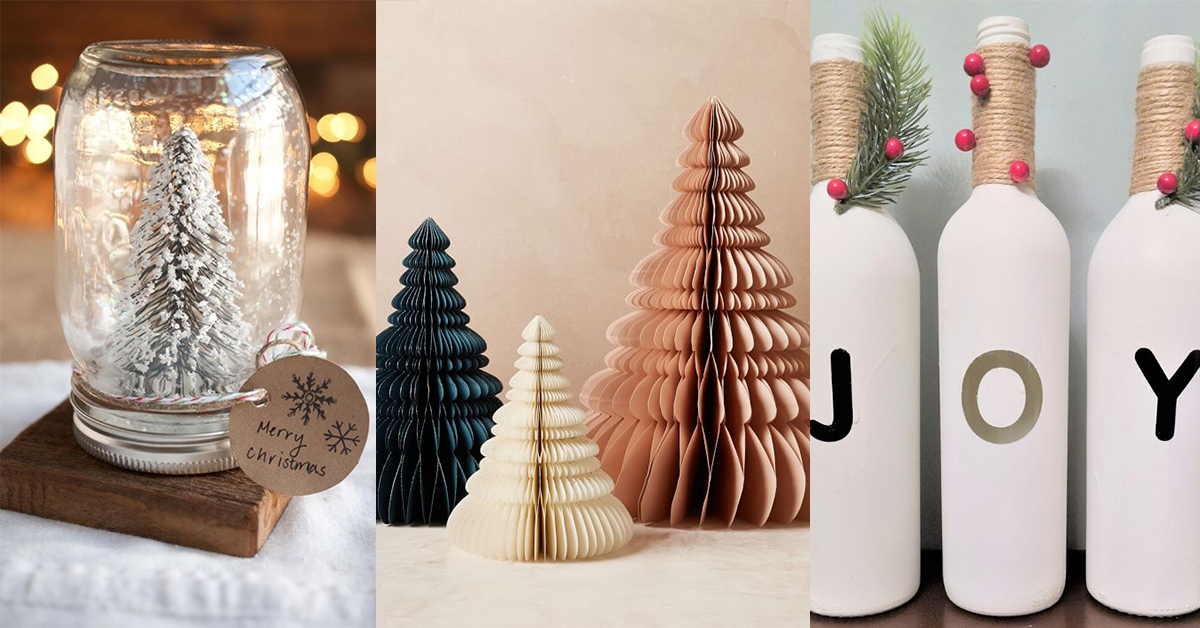 Check out these 7 DIY Christmas decorations that are easy to do but will definitely sweep everyone into the holiday spirit!
1. Paper Honeycomb Christmas Tree
Image from Pinterest
Ditch the traditional big Christmas tree and why not opt for a more modern, space-saving DIY Christmas tree! You can display these easy-to-do paper honeycomb Christmas trees around your home!
Materials:
Felt paper or frosted paper

Scissors

Glue gun and stick or double-sided tape

Printed tree pattern
Instructions:
Score your paper according to the template of your choice and cut them out using scissors. You will be needing 18 tree-shaped cutouts per Honeycomb tree.

Fold all your paper trees in half along the scoreline.

Join sides together using your hot glue gun or double-sided tape to create your DIY Honeycomb Christmas Tree!

Make as many as possible and display them around your home!
2. Paper Poinsettia Flowers
Image from Pinterest
Poinsettia flowers are beautiful festive flowers but can get a little expensive. Instead of buying them, why not create your own Paper Poinsettia Flowers!
Materials:
Crepe paper in various shades of green, red, pink, and white

Scissors

22 gauge cloth-covered floral wire

Hot glue gun

Paintbrush

Acrylic paint in various shades of red, pink, and green

Flower stamens

Floral tape
Instructions:
Using a Poinsettia flower template, cut out 4 petals of each size. 16 petals will make 1 Poinsettia flower and also cut some leaves.

Cut each petal in half and glue it back together again with each half overlapping the other.

Make sure the grain of crepe paper is going up and add texture to the petals by making feather brush strokes on the middle of the petals using watered-down paint.

Attach a wire down the middle of the petal using hot glue.

Create stamens using small pieces of crepe paper.

Arrange the petals and stamen to create a flower then add leaves.

Make a bouquet using different colors of Poinsettia flowers.

Place it in a lovely vase and display it around your home.
3. Holiday DIY Snow Globe
Image from Pinterest
Collecting different snow globes from traveling might have to wait due to our current situation. Nevertheless, that won't stop you from creating your own Holiday DIY snow globe! Recreate those travel memories by creating these DIY snow globes!
What you'll need:
Old jars or mason jars

Epsom salt

Glitter

Hot glue gun and glue stick

Miniature Christmas items

White or silver spray paint
How to make them:
Remove the lids of your jars and spray them with white or silver spray paint.

Glue in your mini Christmas items like a mini Christmas tree or snowman, on the lids of your jar.

Mix Epsom salt and glitter in a bowl and fill the jar with your fake snow mixture. Don't let your snowman and tree get buried in the fake snow!

Screw the lid back on the jar and turn it over.

Display it in your living room or even give it as a holiday gift!
RELATED: 5 DIY Loft Bed Ideas for Your Small Bedroom
4. Tattoo Christmas Ornaments
Image from Pinterest
Looking for ornaments that are out of the box? Why not try making Tattoo Christmas ornaments using tattoo stickers!
Materials:
Temporary tattoos

Brush

Sponge

Blank Ornaments

Decoupage Solution
Instructions:
Trim your tattoo to size and then peel the plastic layer off the front.

Position your tattoo on the ornament, hold still as much as possible, and wet the back with a sponge for about 15 seconds. Let it sit for another 15 seconds.

Peel off the tattoo and let it dry.

Seal the tattoo with a thin layer of decoupage solution.

Hang your ornaments on your Christmas tree or put them around your home!
5. Cinnamon Candles
Image from Pinterest
Set the holiday mood with Cinnamon Candles! These are cheap yet effective tricks in bringing in the holiday spirit to your home.
What you need:
Cinnamon sticks

White candles

Rubber band

Ribbon/twine
How to make them:
Place the rubber band around your candle and insert the cinnamon sticks under the rubber band.

Vary the placement of your cinnamon sticks around the candle.

Wrap the twine or ribbon around the rubber band to conceal.

Add some accessories or other additional designs to the candle.

Place them in your living room or dining area — and light them up to feel the holiday spirit!
RELATED: Tips for Building an Eco-Friendly Christmas Village
6. Christmas Joy Wine Bottles
Image from inspireddecorator.com
Got some wine bottles laying around? Repurpose them into Christmas JOY Wine Bottles to bring that extra holiday joy to your home!
Materials:
3 empty wine bottles

Large Sticker Letters (J, O, Y)

Spray paint or white paint

Twine

Pine or evergreen pick

Berry decorations

Hot Glue gun and glue stick
Instructions:
Clean your wine bottles by soaking them in warm water with soap. Remove the label and clean the inside thoroughly. Let it dry.

Put the JOY letter stickers on the bottle. Measure up from the bottom of the bottle and place one letter per bottle.

Coat your bottle with spray paint or hand paint and let it dry.

Gently peel off the sticker using a pair of tweezers or your fingers.

Decorate your bottles by wrapping the twine around the neck of the bottle and attaching pine needle branches, berries, and glitters.

 Display around your home!
7. Evergreen Stars
Images from Martha Stewart
Level up your parols or lanterns with a DIY Evergreen Star! It is easy to do, inexpensive, and most of all bring in the holiday spirit to your home
Materials:
10 pcs of 24-inch wood strips (per 36-inch star)

Craft knife or mini saw

Wood glue

Cut greens or artificial greens

Hot-glue gun

Evergreen wreath template
Instructions: 
Cut the wood into twenty 12 inch wood strips

Create the base using the template by crossing 12-inch wood strips to form a base with 8 spokes

With the remaining 16 wood strips, create 8pcs V-shaped using 2 wood strips connected at the tip.

Glue the wooden strip points around the base until there are 8 points for each star.

Cut the greens into pieces and glue them to your sticks.

Hang around your walls and decorate with Christmas ornaments.
Celebrating Christmas can be inexpensive; all you have to do is think creatively and out of the box! Have you decorated your home yet! Be sure to try out these DIY ideas in decorating your home for the holidays. And if you have a small living room you can check out our Christmas ideas for small living room.
CITATIONS:
Martha Stewart, (2020), Evergreen Stars, Retrieved from: https://www.marthastewart.com/865200/evergreen-stars?czone=holiday/workshop-christmas/workshop-christmas-handbook&center=307034&gallery=865159&slide=864837

Lia Griffith, (2020), Frosted Honeycomb Trees, Retrieved from: https://liagriffith.com/frosted-paper-honeycomb-trees/?sscid=a1k5_x3r04

Inspired Decorator, (2020), Christmas Wine Bottles Display, Retrieved from: https://inspireddecorator.com/day-6-christmas-joy-wine-bottles/

Home Stories A to Z (2018), Cinnamon Stick Ideas, Retrieved from: https://www.homestoriesatoz.com/holiday-ideas/cinnamon-stick-candles-fall-ideas.html

The Crafted Life (2015), 10 Minutes or Less: DIY Temporary Tattoo Ornaments, Retrieved from: https://thecraftedlife.com/temporary-tattoo-ornaments/

Tidy Mom, (2020), Water Snow Globes, Retrieved from: https://tidymom.net/waterless-snow-globes-tutorial/

The House that Lars Built (2017), Paper Poinsettia Flowers, Retrieved from: https://thehousethatlarsbuilt.com/2017/11/paper-poinsettia-flowers.html/