It may not be obvious, but elevator technology has slowly been evolving in the past few years. Numerous lifts around the world have modernized thanks to innovative AI technology and cloud services. While some aimed to increase its capacity for handling heavy load, others focused on mobility, safety, and maintenance. Many people rely on elevators every day to get where they need to be, and it is only natural that the changing times require these building feature to adapt to the present.
To give you an idea, here are some of the prevailing advancements in recent years:
Smart Elevators
Elevator companies have been implementing ways of improving user experience. Some lifts provide advanced interactive capabilities, which can be used as an entertaining gimmick and/or as an innovative safety feature.
One popular feature with high-rise buildings are elevators that allow for floor locking, letting owners control their movement based on the floors they are allowed to access. This highlight is not particularly new, and most commercial structures have already implemented the system as an attempt to reduce traffic. However, one innovation from Europe went the extra mile with this by utilizing a twin elevator system. Basically, two lifts operate within a single shaft. These elevators act independently from one another and are kept apart by a monitoring system.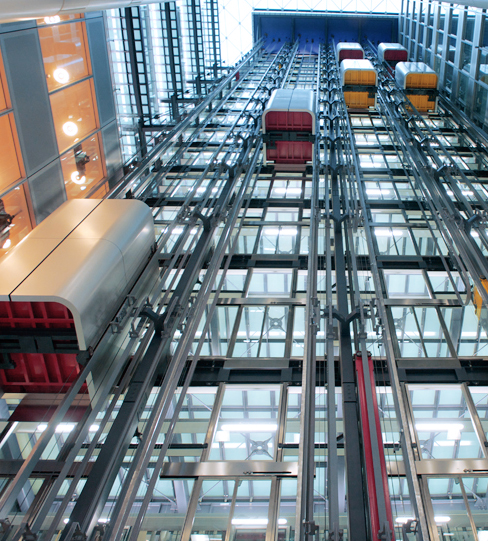 The Twin Elevator. Photo and technology courtesy of Thyssenkrupp
For example, imagine a 30-floor building with two shafts and four elevators. These four lifts service the ground floor and mid-floor users simultaneously, which is extremely useful in businesses where movement within the building is necessary. On slower days, the shaft reverts to using one elevator while the other is put on sleep mode to conserve energy.
Predictive Maintenance and Systems Scanning
Elevators are regularly inspected and maintained to prevent accidents. They have failsafe systems that prevent it from dropping to the lowest floor in a snap. Today, more measures are taken to ensure that accidents never happen again. Thanks to predictive maintenance technology, elevators are analyzed for faults and anomalies, which are sent to engineers for further assessment. This sort of analysis takes into account the elevator's speed, components, health, strength, and any peculiarities that can be construed as a hazard that is hidden in plain sight. That way, the issues can be solved at an earlier or more appropriate time.
Improved Mobility
It is an innovative feature that seems simple, yet it feels like something out of a futuristic sci-fi show. Cable-free elevators are a new breed of lifts that rely on motor technology and magnetic systems that allow for horizontal and vertical movement. This makes bolder building designs more feasible, and traversal, more flexible. From its description, cable-free elevators seem like it would render cable-dependent lifts obsolete.
It is nice to think that elevators lift everyone to greater heights. Many are entirely reliant on it to the point where commercial districts will not be able to function properly should they all suddenly cease to function. Let's expect more innovations to pop up in the years to come.