A building in Spain, the country which ruled the Philippines for over 300 years, has been named after something with Filipino roots.
Spain has the Philippine flag proudly flying on one of Madrid's four skyscrapers, which is also Spain's fourth tallest building.
The Torre Espacio, now known as Torre Emperador Castellana, is a 57-story Madrid skyscraper owned by Filipino tycoon Andrew Tan's Grupo Emperador which he bought for almost 560 million euros.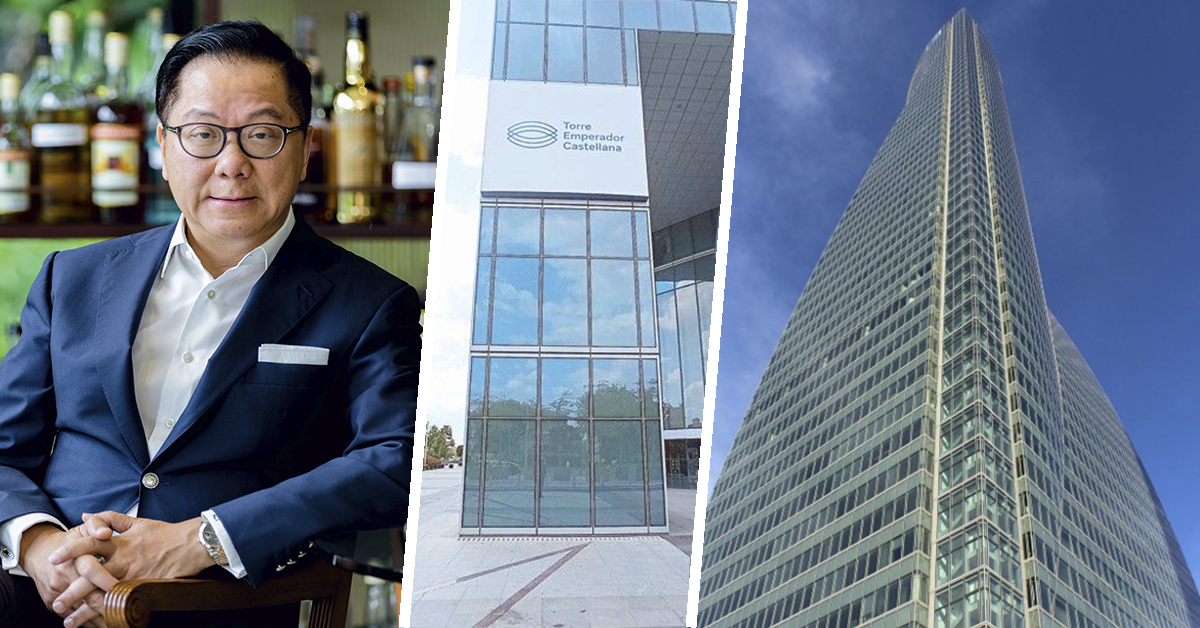 Photo Courtesy: People Asia and Philippine Star
All about Torre Emperador Castellana
Completed in 2007, Madrid's Torre Espacio was Spain's tallest building. Its 230-meter height puts it on par with Manila's Grand Riviera Suites and Pasig City's Royalton at Capitol Commons. For nearly a month, Torre Espacio was the tallest building in the city. Then, a month later, Torre de Cristal overtook it.
The building was renamed Torre Emperador Castellana just a few weeks ago, after the popular brandy produced by billionaire Andrew Tan's Alliance Global Group. 
Torre Emperador is the corporate headquarters of Tan's liquor company Emperador in Spain, and it is located in the Cuatro Torres Business Area, one of Madrid's most sophisticated and attractive commercial real estate areas.
The leasable area of Torre Emperador is 60,142 square meters. The embassies of Canada, Australia, and the United Kingdom, as well as the Spanish Banking Association and global infrastructure firm OHLA, are among its tenants.
Let's talk about its design!
Torre Espacio is located on Madrid's most significant avenue and enjoys an amazing location. It has 43 floors of office space, two corporate floors at the top of the tower, three commercial floors at the base, and six levels of basement parking. Torre Espacio is designed to enliven the location in which it stands and animate the Madrid skyline, in addition to offering efficient and appealing office space.
Photo by: Pei Cobb Freed-JFelix
Pei Cobb Freed & Partners Architects LLP designed the tower, with Henry N. Cobb serving as the designer, José Bruguera serving as the associate partner (project architect), and Reid Fenwick Asociados serving as the associate architect. 
Photo by: Alyssa Herbst
The skyscraper's form progresses from a square plan at the base to a gently curved lozenge at the top, shaped by the intersection of two quarter-circles. If this were a sculpture, a form like this might easily be chiseled out of a solid block of stone. However, as an architectural piece, its crossing curved surfaces must be made up of many independent panels, each of which must be individually produced and assembled.
While the cosine curve simplifies curtain wall manufacture and construction, its rate of curvature is not constant and fluctuates gradually over its whole length. This imparts a distinct and visually appealing sense of dynamism to the finished tower form.
Photo by: Alyssa Herbst
Cool ceilings are also used in the design, with a radiant grid of chilled water looped above the perforated metal ceiling panels, which improves office comfort by cooling without drafts.

Make sure to sight this building when you got a trip to Madrid!
RELATED ARTICLES:
National Museum of the Philippines to reopen on Oct. 19 ―just in time for Museums and Galleries Month!
Everything You Need to Know About Prefabricated Homes
ICYMI: 8 Interesting Details in Angel Locsin and Neil Arce's House
CITATIONS:
Esquire Philippines. (2021, October 6). One of the Tallest Buildings in Spain Has Been Renamed After a Filipino Company. Esquiremag.ph. Retrieved October 21, 2021, from https://www.esquiremag.ph/money/movers/torre-emperador-spain-a00203-20211006.
Space Tower – Data, Photos & Plans. WikiArquitectura. (n.d.). Retrieved October 21, 2021, from https://en.wikiarquitectura.com/building/space-tower/.
Torre Espacio: Pei Cobb Freed & Partners. Archello. (n.d.). Retrieved October 21, 2021, from https://archello.com/project/torre-espacio. 
Torre Espacio. The Skyscraper Center. (n.d.). Retrieved October 21, 2021, from https://www.skyscrapercenter.com/building/torre-espacio/1196.