As it goes for any country, highways function as the bloodstreams of a city, where traffic flows and leads people to where they need to be. Highways increase the accessibility of a city and allow it to connect to provinces and municipalities that would otherwise be difficult to reach. As such, highways play a very important role in connecting various regions of the Philippines, leading to increased social connections and growth in both local and international tourism — all of which play a vital role in benefitting the country's economy. 
Highways open up opportunities for businesses in a wide range of areas that can be profitable. Similar to this, highways also allow both local and foreign tourists to have access to many areas, driving business in these places while improving their visibility to many other potential visitors. 
In this article, we will discuss some of the most important main highways in the Philippines. From efficient northbound highways to southbound lanes with scenic charm, be informed about the basics of each main Philippine highway that have an important impact on the nation's transportation, society, and economy.
A Primer On The Main Highways Of The Philippines
EDSA (Epifanio de los Santos Avenue)
Epifanio de los Santos Avenue, also known as EDSA, was constructed in 1940 during President Manuel L. Quezon's tenure and is classified as a limited-access circumferential highway. It serves as the primary thoroughfare in Metro Manila, traversing from north to south, passing through the cities of Caloocan, Quezon City, San Juan, Mandaluyong, Makati, and Pasay.
EDSA spans about 23.8 kilometers, with its northern entry point situated at the Bonifacio Monument Roundabout in Gracepark, Caloocan, and its southern end located at the SM Mall of Asia Rotunda in Bay City, Pasay.
Pan-Philippine Highway (Asian Highway 26, AH26)
Daang Maharlika in Tagalog and Dalang Halangdon in Cebuano, AH26, is the longest highway in the country. Operating as the main connecting highway between the north and south regions of the Philippines, AH26 is the backbone of National Route 1 (N1) of the Philippines Highway Network. 
AH26 is a 3,379.73 kilometer long highway stretching from the north end of Luzon island, down to the connecting Visayas islands, before it enters and curves around the vicinity of the entire Mindanao island. Currently, AH26 is the only isolated Asian Highway among all highways in the Asian Highway Network. 
Metro Manila Skyway System 
The Metro Manila Skyway System, simply referred to as the Skyway, is an elevated expressway that serves as the main expressway of the entirety of the metropolitan area. Skyway connects NLEX and SLEX and serves as the route that can connect to the Ninoy Aquino International Airport (NAIA) via the NAIA Expressway (NAIAX).
Running over the San Juan River and other main highways located in the metropolis, the Skyway aims to alleviate the usual traffic congestion experienced by the cities it runs through, like Quezon City, Manila, Pasay, and Makati.
SLEX (South Luzon Expressway)
Originally built in the 1960s as a south diversion road for Manila, the SLEX now serves as one of the main highways in NCR. SLEX connects Metro Manila to the provinces in the region of Calabarzon, with its portion of Magallanes Interchange going to the Calamba Exit serving as a part of the Pan-Philippine Highway, or AH26.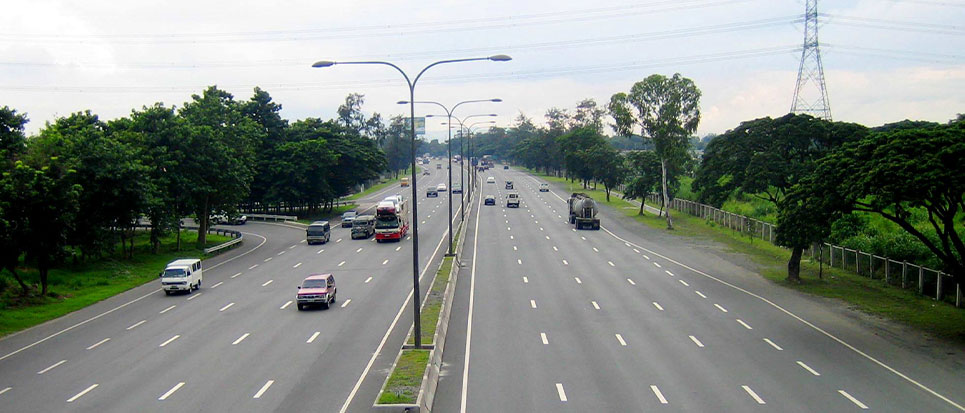 SLEX offers clear views of the scenic and popular hiking destinations of Mt. Tagapo and Mt. Sembrano. Apart from that, the 46.9-kilometer expressway also serves as a utility corridor that houses multiple high-voltage overhead power lines as well as an oil pipeline. 
NLEX (North Luzon Expressway)
Stretching a total of 101.8 kilometers from the Sta. Ines Interchange to the Balinatwak Interchange, the North Luzon Expressway serves as E1 of the Philippine Expressway Network, partially as N160 of the Philippine Highway Network, and its Santa Rita Exit in Guiguinto to Balintawak Interchange as a segment of the Asian Highway Network.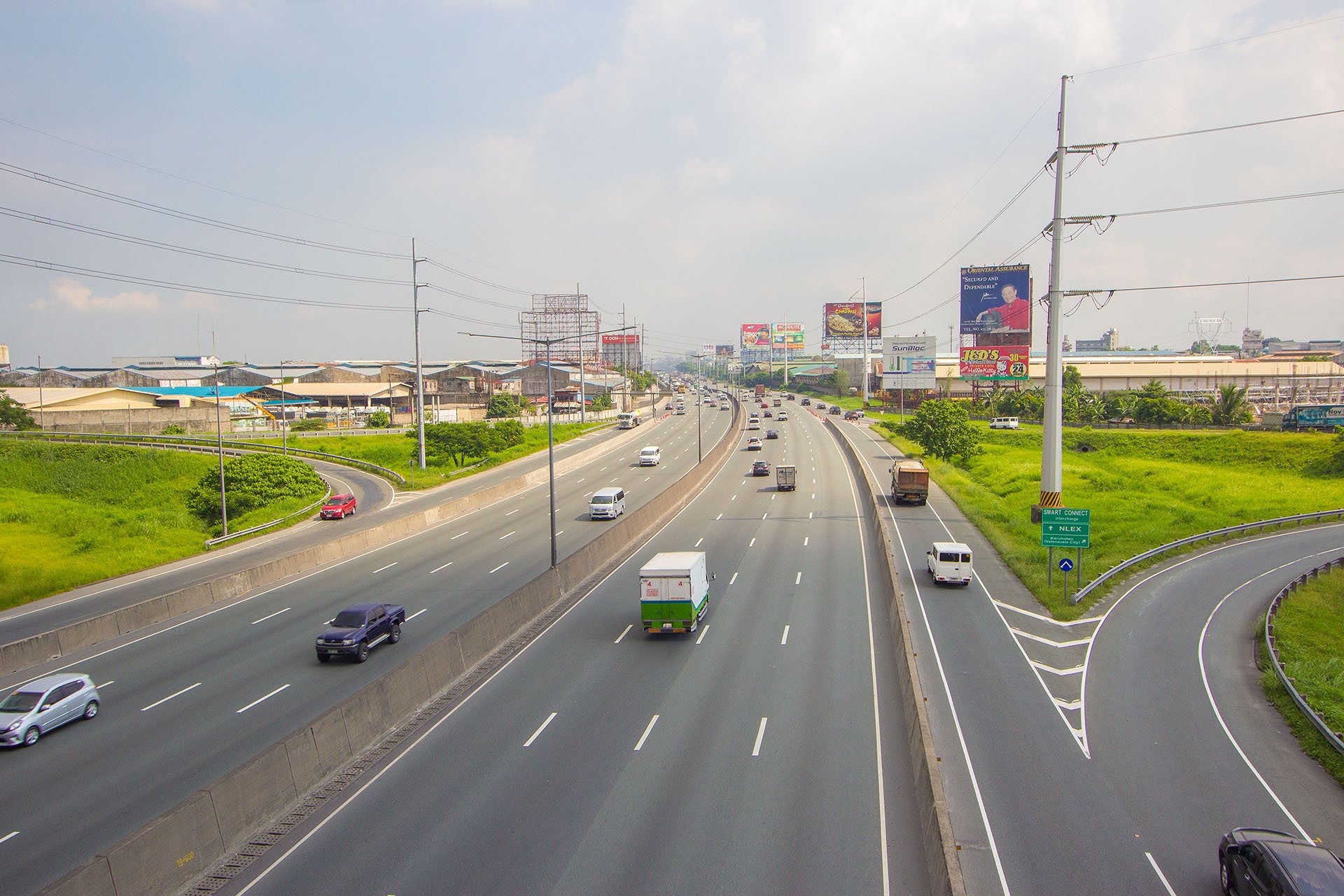 Similar to SLEX, NLEX also serves as a utility corridor that contains many major high-voltage overhead power lines. NLEX passes through the Metro Manila cities of Caloocan and Valenzuela and the Central Luzon provinces of Bulacan and ends in Mabalacat City in Pampanga. 
SCTEX (Subic-Clark-Tarlac Expressway)
As the longest continuous expressway in the Philippines, SCTEX stretches for 93.77 kilometers from its north end of Tarlac City, all the way to its southern tip located in Tipo, Hermosa, Bataan. SCTEX is also connected to multiple main highways in the Philippines, which include the Central Luzon Link Expressway, North Luzon Expressway, Tarlac–Pangasinan–La Union Expressway, and the Subic Freeport Expressway.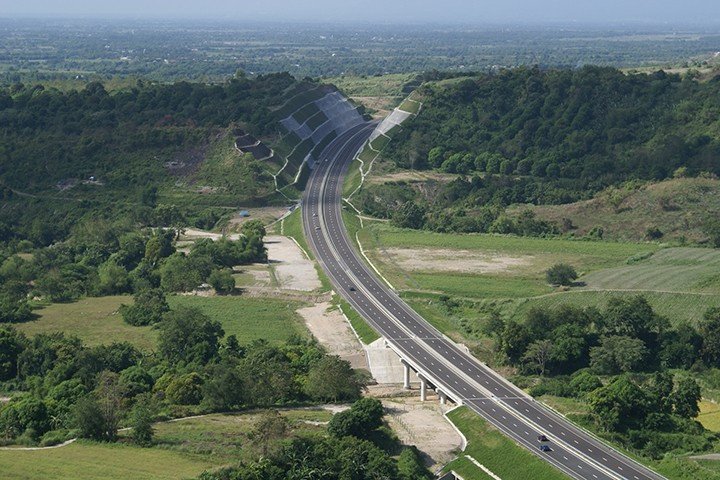 Another scenic highway, SCTEX, runs through hilly areas and multiple major river banks of Central Luzon and runs at the perimeter of the Clark Freeport and Mabalacat City.
TPLEX (Tarlac-Pangasinan-La Union Expressway)
Connecting Central Luzon to the La Union Region, the Tarlac-Pangasinan-La Union Expressway (TPLEX) is a major highway that runs from its north end in Rosario La Union, all the way to Tarlac City. Stretching 89.21 kilometers in length, TPEX parallels the MacArthur Highway, which also aligns with NLEX and EDSA.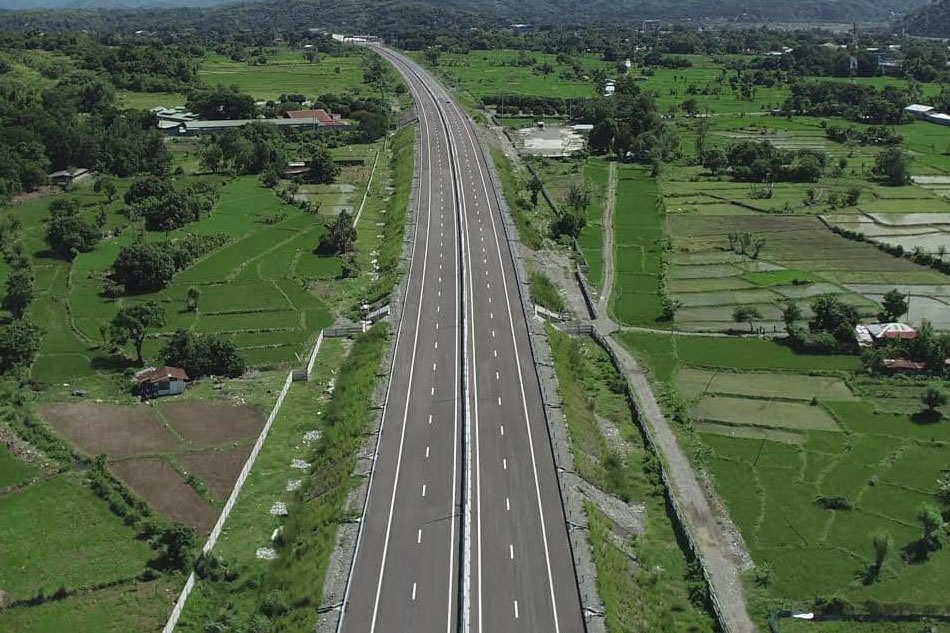 Crossing four rivers in the province of Pangasinan, TPLEX is built on top of embankments and offers a scenic route of green landscapes, rice fields, and the beautiful, unobstructed view of Mt. Arayat. 
STAR Tollway (Southern Tagalog Arterial Road)
The STAR Tollway, also called the CALABARZON expressway, is a 42-kilometer two- to four-lane highway connecting Santo Tomas to Batangas International Port. It traverses Malvar, Lipa, and Ibaan and was opened in 2001 by the STAR Infrastructure Development Corporation. Two proposed projects include the Pinamucan Extension, a ten-kilometer road through various Batangas barangays, and the Bauan extension connecting Batangas City and Bauan.
MCX (Muntinlupa-Cavite Expressway)
MCX, or Muntinlupa-Cavite Expressway, is currently the Philippines' shortest access-controlled toll expressway, spanning 4 kilometers. It connects southern Cavite to Muntinlupa City and is owned by the DPWH, managed by Ayala Corporation's subsidiary, AC Infrastructure Holdings. It opened to motorists in July 2015, starting from SLEX's T-interchange near Susana Heights and ending at a roundabout with Daang Hari and Daang Reyna, Cavite, passing through Poblacion and Tunasan near Magdaong Creek.
Subic Tipo Expressway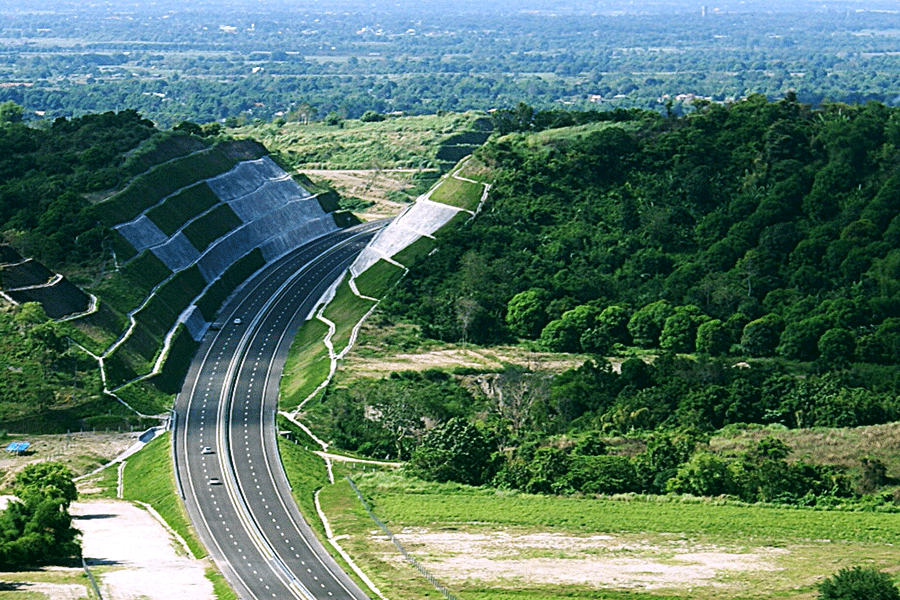 STipEx or Subic-Tipo Expressway and Subic Freeport Expressway are part of the Philippine expressway network, specifically designated as NLEX Segment 7 and Expressway 4 (E4). They run through Zambales and Bataan provinces and are 8.8 kilometers long. Constructed in 1996, STiPex starts at Rizal Highway and continues on to Argonaut Highway, climbing up as it enters Bataan National Park. NLEX Corporation owns it, and Tollways Management Corporation currently operates it.
NAIAX (NAIA Expressway)
NAIAX, an elevated expressway that connects the Metro Manila Skyway, Entertainment City, and Ninoy Aquino International Airport (NAIA), spans about 12.65 km and runs through Pasay and Paranaque. As part of the Philippine expressway network (E6), it aims to reduce travel time from South Luzon Expressway (SLEX) to NAIA from 60 minutes to 20 minutes. Skyway Operations and Maintenance Corporation operates NAIAX, which was built in two phases, with Phase 1 construction beginning in 2003 and Phase 2 becoming fully operational in June 2017.
CCLEX (Cebu-Cordova Link Expressway)
The Cebu-Cordova Link Expressway, which opened on April 27, 2022, not only links mainland Cebu with Mactan Island but is also the longest bridge in the Philippines. The project was funded by Cebu Cordova Link Expressway Corporation (CCLEC), a subsidiary of Metro Pacific Tollways Corporation (MPTC), which now manages the expressway. With a length of 8.9 kilometers, the expressway has a speed limit of 80 km/h.
Philippine Highways: Crucial Connections
The main highways in the Philippines serve as the country's vital connectors, granting people and enterprises the opportunity to visit various regions and experience different cultures. Highways are not only for the passage of vehicles but also keep Philippine cities, municipalities, and provinces more unified than ever before. As such, Philippine highways should be respected by the citizens and tourists, maintained by the government, and continuously developed by both local and foreign investors. 
As a country with more than seven thousand islands, it is a great feat to create main highways that can connect the majority of the regions in the country. While the government continues to plan for more road infrastructure, the Filipino people should expect an improvement in many aspects of their lives, primarily in social and economic aspects. As very important instruments in the development of our country, highways should be acknowledged as key contributors to our nation's increasing prosperity. 
References:
Wikipedia (n.d.)

Pan-Philippine Highway. Retrieved from: https://en.wikipedia.org/wiki/Pan-Philippine_Highway

Autodeal (27 April 2022) LIST: Major expressways and highways in the Philippines. Retrieved from: https://www.autodeal.com.ph/articles/car-features/list-major-expressways-and-highways-in-philippines
Wikipedia (n.d.)

Metro Manila Skyway. Retrieved from: https://en.wikipedia.org/wiki/Metro_Manila_Skyway

Wikipedia (n.d.)

Tarlac–Pangasinan–La Union Expressway. Retrieved from: https://en.wikipedia.org/wiki/Tarlac%E2%80%93Pangasinan%E2%80%93La_Union_Expressway

Leeart (May 2018) Mt. Arayat as seen along TPLEX. TravelFeed. Retrieved from: https://travelfeed.io/@leeart/mt-arayat-as-seen-along-tplex