Over 1,000 activists—scientists and nonscientists from 25 different countries — staged a protest to demand genuine government action on climate change, with some committing acts of civil disobedience such as chaining themselves to a bank door or gluing their hands to a government building.
The Scientist Rebellion says in a letter that "current actions and plans are grossly inadequate, and even these obligations are not being met." Their protests "highlight the urgency and injustice of the climate and ecological crisis," according to the organization's statement. 
With this worrisome news going on ignored for far too long, the matter needs to be given utmost attention now more than ever. Individuals cannot solve environmental problems on their own; therefore, collaborative and collective actions are required. Everyone must take part, particularly huge corporations around the world, as they are the major contributors of carbon footprints and cause most environmental damage.
That said, it is time to recognize those companies in the Philippines who have pioneered green initiatives to aid in the fight against climate change. Here's a list of firms and their green initiatives that will motivate others to commit to a more environmentally friendly business culture.
1. Gcash's GForest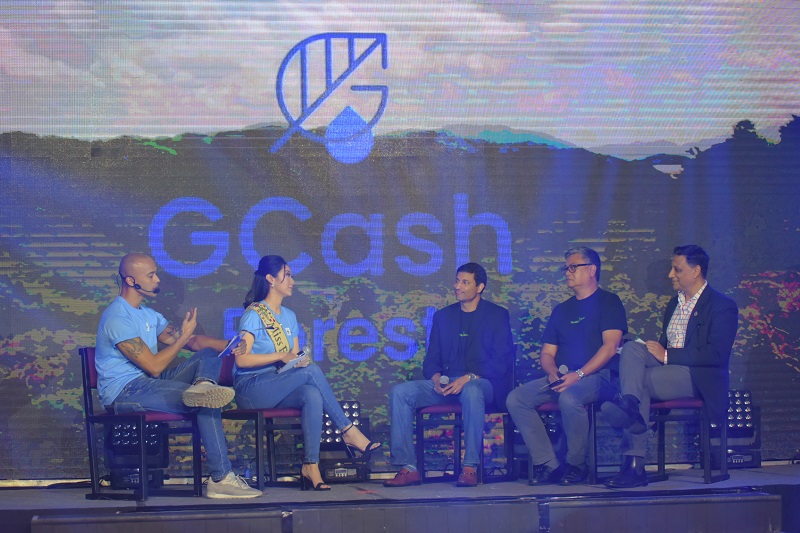 Photo Courtesy: Manila Republic
The Philippines' top mobile wallet GCash started a charity program named "GCash Forest" to battle deforestation in the country, inspired by Chinese e-commerce giant Alibaba's Alipay Ant Forest.
The tree-planting program intends to encourage environmentally friendly lifestyles, with 365,000 trees planned to be planted in the first year after its inception.
GCash users must gather green energy points by doing everyday activities that lower their carbon footprint in order to plant trees through GCash Forest. Instead of taking a jeepney to the bank to pay for utility bills, a user can use the GCash app's Bills Payment option to save time, energy, and reduce his carbon footprint.
RELATED: 5 Pinoy Celebrities Going "Green" and Sustainable at Home
2. Shell Philippines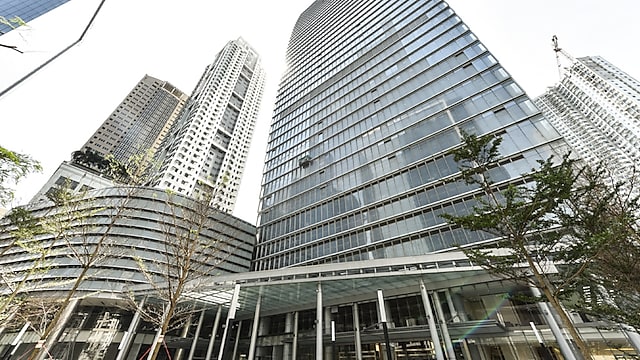 Photo Courtesy: Pilipinas Shell
Pilipinas Shell is devoted to environmental protection and neighborly respect. The firm's commitment to sustainability is clear in its Taguig headquarters, which received an LEED Silver rating in the Interior Design and Construction: Commercial Interiors Category.
Pilipinas Shell's recent steps in its push toward a low-carbon future include LEED certification and support for the TCFD recommendations. Shell's Business Operations in Manila, in collaboration with AREIT, Inc., is using 100 percent green-tech energy to power its offices.
Solar panels and rain catchers are also being included into the architecture of various Mobility Sites across the country. Other elements include the use of LED and inverter technology in the station's lighting and cooling systems, eco-bricks created from upcycled plastics for the walls, and Shell Bitumen Fresh Air for the pavements, which reduces nitrogen oxide and other chemicals emitted during road building.
3. Jollibee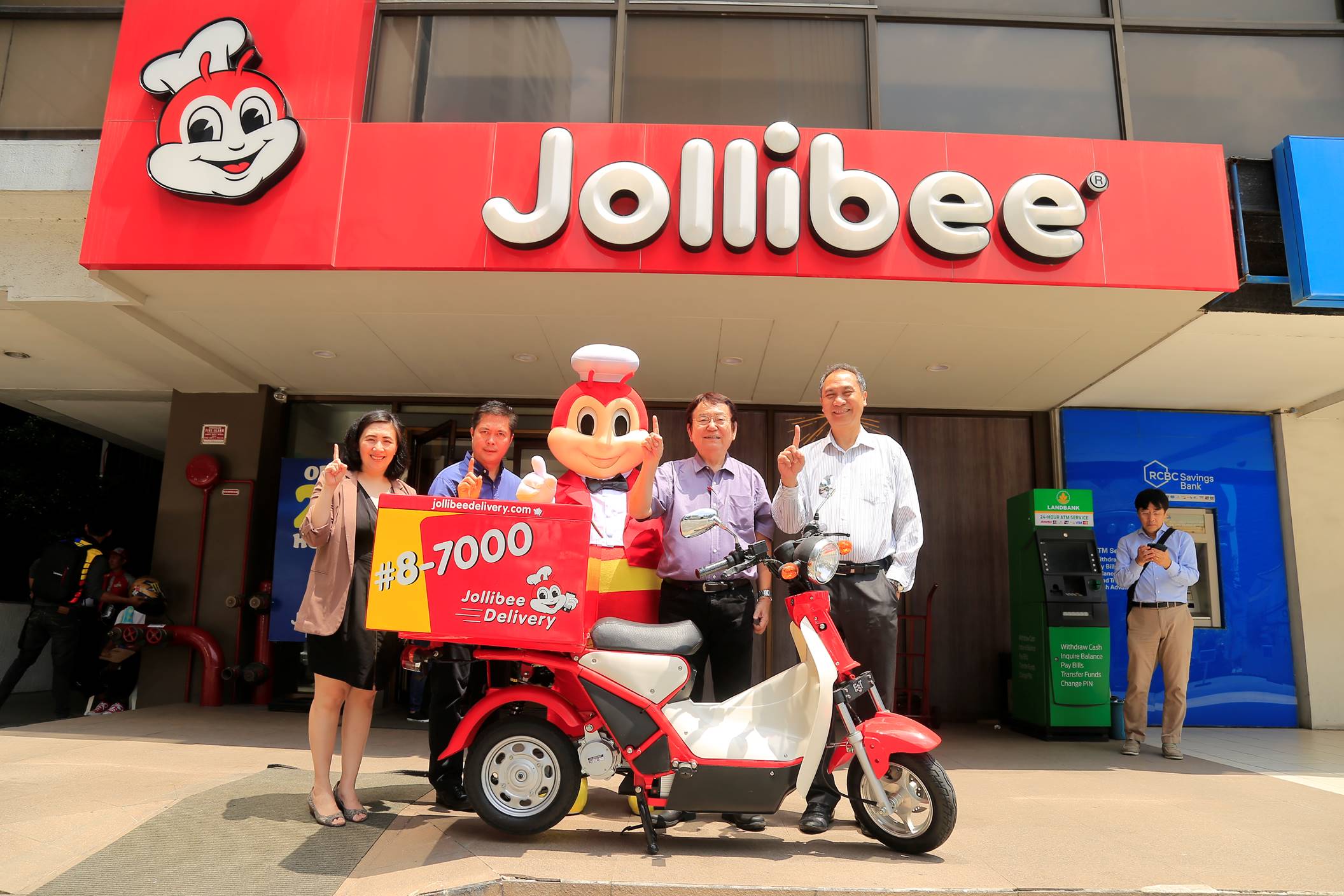 Photo Courtesy: Jollibee
Jollibee, everyone's favorite red bee, is giving folks even more reasons to smile as it transitions to a more environmentally friendly method of delivering everyone's favorite meals!
Jollibee is leading the way in environmentally aware delivery by partnering with ECOS Environmental Foundation, Inc., which aims to create ecologically sustainable development, and working with the Department of Transportation. The corporation is launching its first fleet of E-bikes, the country's first road-legal E-bikes, to reduce its carbon footprint and environmental impact.
Jollibee hopes to minimize emissions in an ever-crowding metropolis by introducing them into busy Central Business Districts (CBDs), thus contributing to climate change mitigation.
RELATED: 5 DIY Projects to Kickstart Your Sustainable Lifestyle
4. Meralco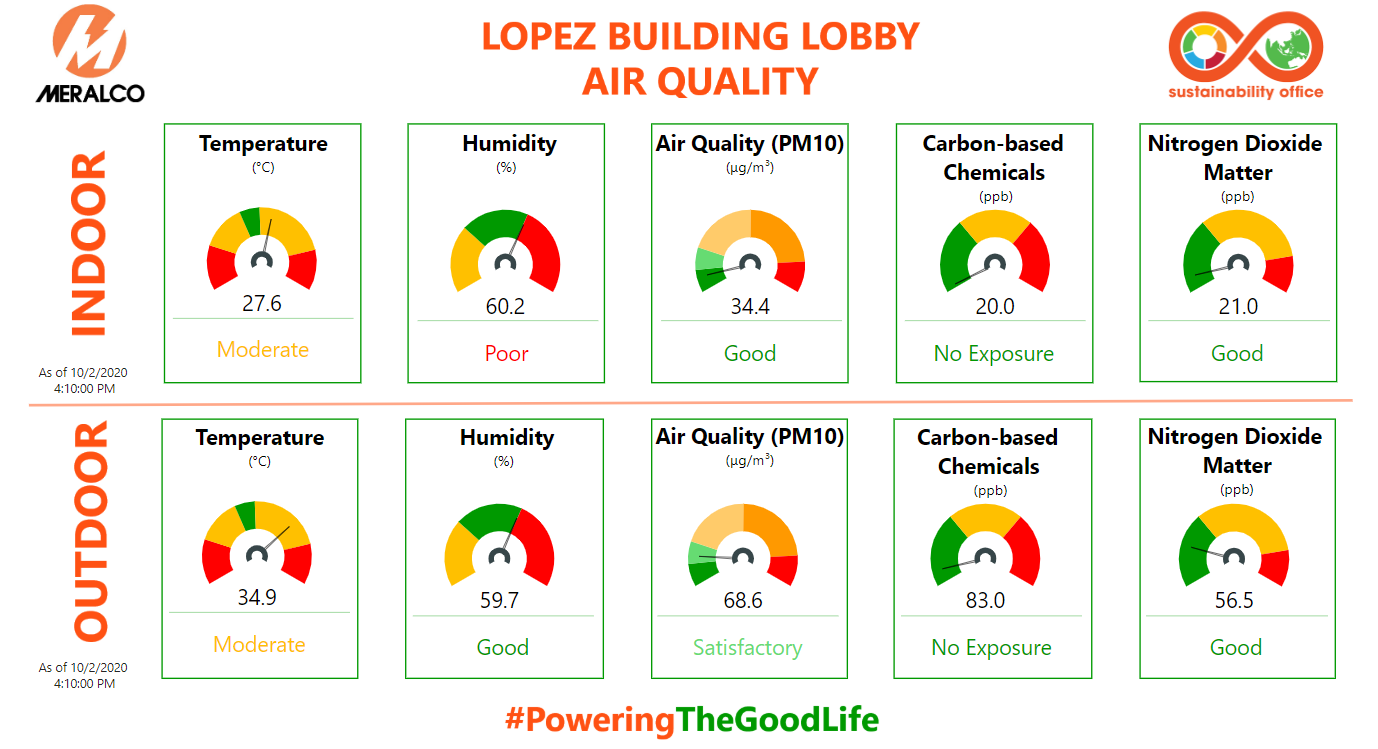 Meralco, the country's largest electric distribution provider, anticipates that improved air quality will provide a safer and better working environment. 
Meralco had recently finished the first phase of its air quality monitoring project weeks before the entire island of Luzon went under lockdown in March 2020. It put sensors at the Lopez Building's lobby and just outside its doors near the flagpole with the help of its subsidiary, MServ. Temperature and humidity, as well as the amount of particulate matter and chemicals in the air, are all measured by these sensors. Employees and visitors can observe real-time figures on a giant TV screen in the Lopez Building lobby.
Meralco's #PoweringTheGoodLife (PGL) environmental programs, which were established in 2019, aim to monitor and reduce carbon emissions. The power distribution company expects that by continuing in this path, it would be able to provide a safer and better working environment for its customers.
5. SM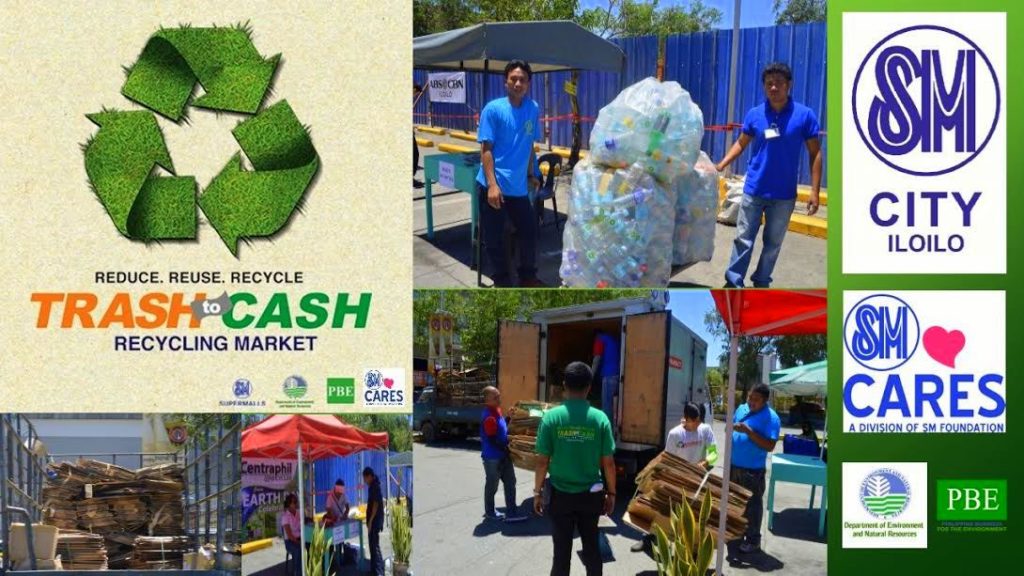 Photo Courtesy: IloIlo Today
Specific SM malls will join the rest of the globe in celebrating Earth Day on April 22 with the theme "Invest in Our Planet" through their Trash-to-Cash Recycling Market and E-Waste Collection Program.
Supporting communities and safeguarding the environment for future generations is part of SM's purpose.
On April 22-23, SM malls will host a Trash-to-Cash Recycling Market. Customers and tenants are welcome to bring their recyclable rubbish to be exchanged for cash.
Apart from Trash-to-Cash, SM already has an E-Waste Collection Program where minor e-waste, such as damaged or used electrical gadgets and wiring, can be disposed of.
6. Cebu Pacific Airlines
Cebu Pacific's new ecoplane uses 35% less fuel per passenger than the company's current fleet.
Cebu Pacific has purchased 27 fuel-efficient Airbus A321neo aircraft to reduce its carbon footprint. These aircraft have engines that consume significantly less fuel than Cebu Pacific's previous fleet. As part of its fleet maintenance, the airline wants to retire older, less fuel-efficient aircraft and replace them with newer, more fuel-efficient aircraft, including A321neo jets.
The ecoplane's debut is the centerpiece of Cebu Pacific's "Juan Effect" sustainable tourism initiative (One Effect). Juan dela Cruz, a beloved national figure who represents the Filipino everyman, is the inspiration for Cebu Pacific's corporate tagline, "Why every Juan flies" (Why Everyone Flies).
Another aspect of the "Juan Effect" is the substitution of sustainable alternatives for non-recyclable plastic spoons, forks, stirrers, and cups in inflight food on all domestic and international flights. 
RELATED: 4 Sustainable Wall Finishes for Your Homes
7. San Miguel Corporation
Even amid the epidemic, San Miguel Corporation's varied sustainability programs continue unabated across the country. San Miguel Global Power Holdings, Inc., a subsidiary of SMC, is working on river cleanup projects in the Pasig and Tullahan rivers. San Miguel Brewery, Inc. is a company based in San Miguel, Mexico. Ginebra San Miguel, Inc. and Petron Corporation have launched long-term upland and mangrove tree planting projects.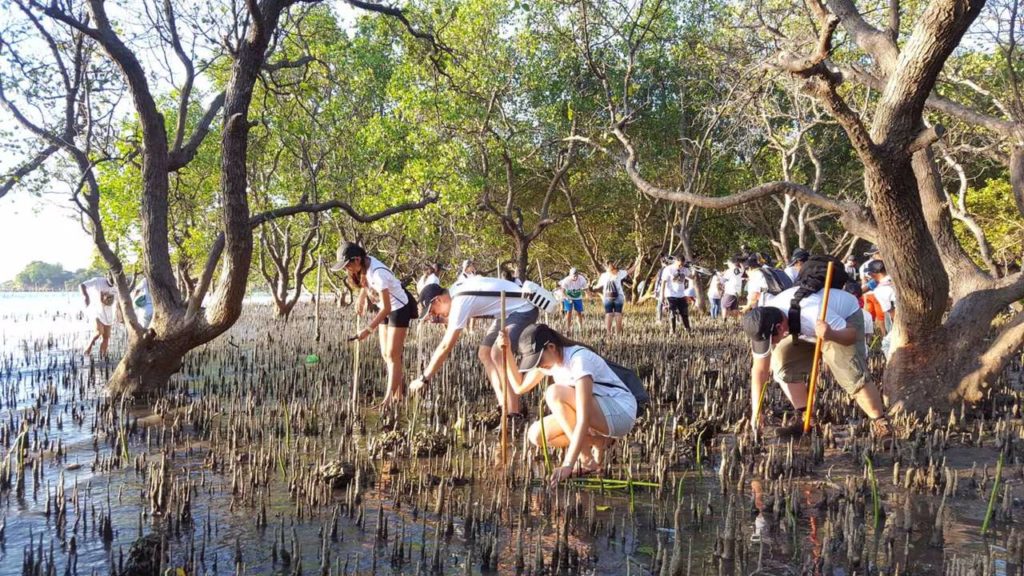 Photo Courtesy: Manila Bulletin
The initiative by San Miguel Global Power Holdings to plant 1.1 million trees is part of a bigger program called the 747 Project, which intends to plant at least seven million trees across 4,000 hectares and in at least seven provinces.
San Miguel Brewery, Inc. and Ginebra San Miguel, Inc. have also launched long-term tree-planting programs near their facilities and in other regions in need of rehabilitation.
8. Holcim
In Pinoy Buidlers' interview with Stephanie Anne Frogoso, the Sustainability Manager for Holcim Philippines, she showcases some of Holcim Philippines' most innovative programs for promoting sustainability. The construction industry is currently facing challenges because of rising fuel costs, as cement factories, which are mostly powered by fossil fuels, require coal to produce cement. Frogoso shared they are using alternative fuels in their cement operations through their GeoCycle business.
Holcim Philippines has been a solution provider to address the waste management challenge in the country by using qualified wastes as alternative fuels and raw materials through co-processing for almost two decades. Co-processing technology is a proven sustainable and safe waste disposal solution and helps divert wastes from landfills and bodies of water. While reducing their carbon footprint by using alternative fuels and raw materials, they are also helping to improve the Philippines' waste management system at the same time.
Frogoso also mentioned that they are shifting to renewable sources of energy and last year the company signed a 20-year power purchase agreement with Blueleaf Energy, a leading renewable energy company. The solar energy facility will provide 15% of the energy requirements of their plants in Bulacan and La Union and will be operational in 2024.

Last July 2021, Holcim introduced ECOPlanet, a global line of green cement with a carbon footprint that is at least 30% lower while offering exceptional performance. The goal of increasing its market presence by the end of 2022 to enable large-scale low-carbon construction.
ECOPlanet cement has a lower carbon footprint by at least 30% without sacrificing performance, thanks to Holcim's industry-leading formulation knowledge. Its smaller carbon footprint is further boosted by decarbonizing its manufacturing process, which is aided by the use of alternative fuels. This cement is also the world's first to contain 20 percent recycled construction and demolition debris, which drives the company's sustainability profile.
Companies all over the world are placing a greater emphasis on sustainability than ever before. And it's amazing to learn that these Philippine companies are leading the way in encouraging more enterprises and large corporations from both inside and outside the country to take part in establishing a stronger economy while also contributing to a greener environment.
Subscribe now to see more content like this in the future!
CITATIONS:
Osborne, M. (2022, April 13). Scientists Stage Worldwide Climate Change Protests After IPCC Report. Smithsonian Magazine. Retrieved April 21, 2022, from https://www.smithsonianmag.com/smart-news/scientists-stage-worldwide-climate-protests-after-ipcc-report-180979913/?msclkid=31bb7e8ec0a211ec85d911c8738f7905

Hanson, H. (2022, April 16). "We've Been Trying To Warn You": Fed-Up Scientists Get Arrested Demanding Climate Action. HuffPost. Retrieved April 21, 2022, from https://www.huffpost.com/entry/scientist-climate-protests_n_625b06fae4b0723f801972a7?msclkid=31bb34f4c0a211ecba61541e23b27e7b

Business Mirror. (2019, October 16). Coca-Cola Philippines recognized as one of the top Socially Responsible Companies in Asia. Retrieved April 21, 2022, from https://businessmirror.com.ph/2019/10/16/coca-cola-philippines-recognized-as-one-of-the-top-socially-responsible-companies-in-asia/?msclkid=fdc583b6c0a611eca2338855f9d964e4

Tejada, C. (2021, March 12). Why Spend On Sustainability? Meralco Online. Retrieved April 21, 2022, from https://corporatepartners.meralco.com.ph/news-and-advisories/meralco-business-sustainability-solutions?msclkid=3c3f3f66c0ba11ecbd866ec25a03f9f6

Shell. (2022, January 26). SHELL BOOSTS SUSTAINABILITY MOVES WITH TCFD SUPPORT, GREEN OFFICE RATING. Retrieved April 21, 2022, from https://pilipinas.shell.com.ph/media/current-year-press-releases-news/shell-boosts-sustainability-moves-with-tcfd-support-green-office-rating.html?msclkid=0bcb0f52c0b511ecb63dceaf3b45a1af

Nestle. (2021, April 30). Declaring new commitments to achieve net zero emissions. Retrieved April 21, 2022, from https://www.nestle.com.ph/media/news/net-zero-philippines?msclkid=c88e7d78c0b211ecaaa46e1f3be53000