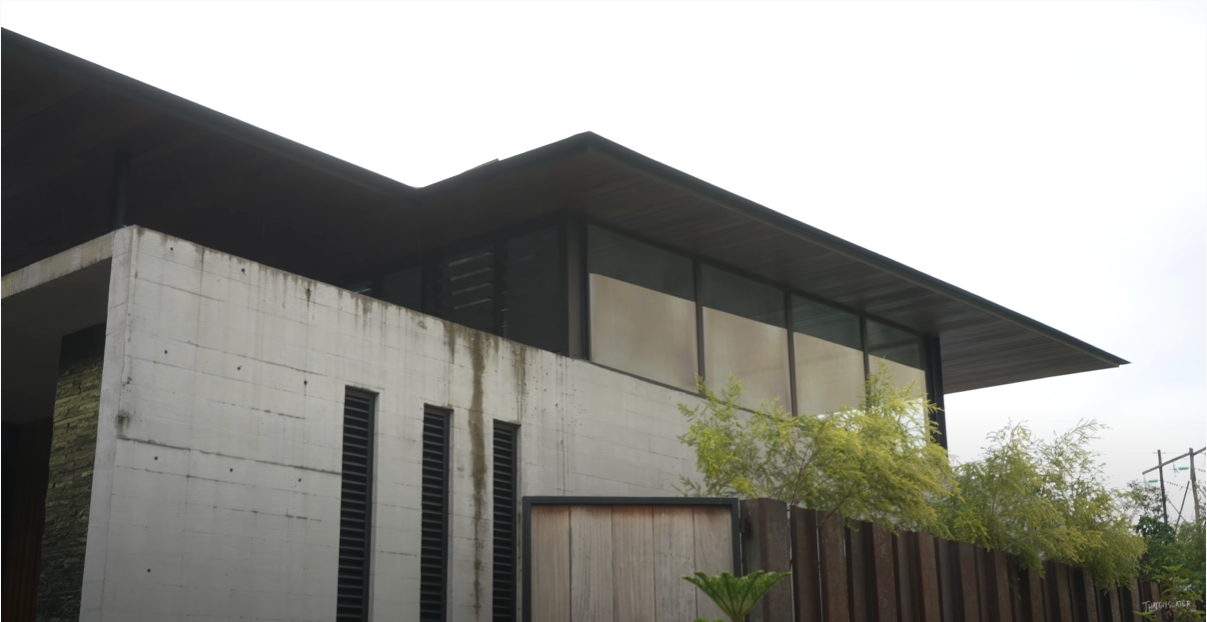 If you're a frequent watcher of Filipino Youtube vloggers, you must have stumbled upon a video of Slater Young and Kryz Uy's luxurious, cabin-like mansion one way or another. Nicknamed as "Skypod", derived from the couple's names ("S" for Slater, "K" for Kryz, and "Y" for Young), this famous house located in Cebu is more or less everyone's dream home, thanks to its beautiful and minimalist yet functional design.
Now that the rainy season is right at our doorstep, it's important now more than ever to protect our homes from deterioration caused by moisture. And this was exactly what engineer, Pinoy Big Brother winner, entrepreneur, and Youtuber Slater Young featured on his June 13 vlog.
In a video entitled "Everytime it rains, we have this problem.", he shared how the Skypod's exterior walls would get water stains due to rainfall and how it affects the facade of their home. Additionally, he also discussed how he intends to fix this problem once and for all.
So, how did Slater Young, known for his informative vlogs on all things construction, remove the water streaks from Skypod's exterior walls?
Cleaning Exterior Wall Streaks
STEP 1: Wet the wall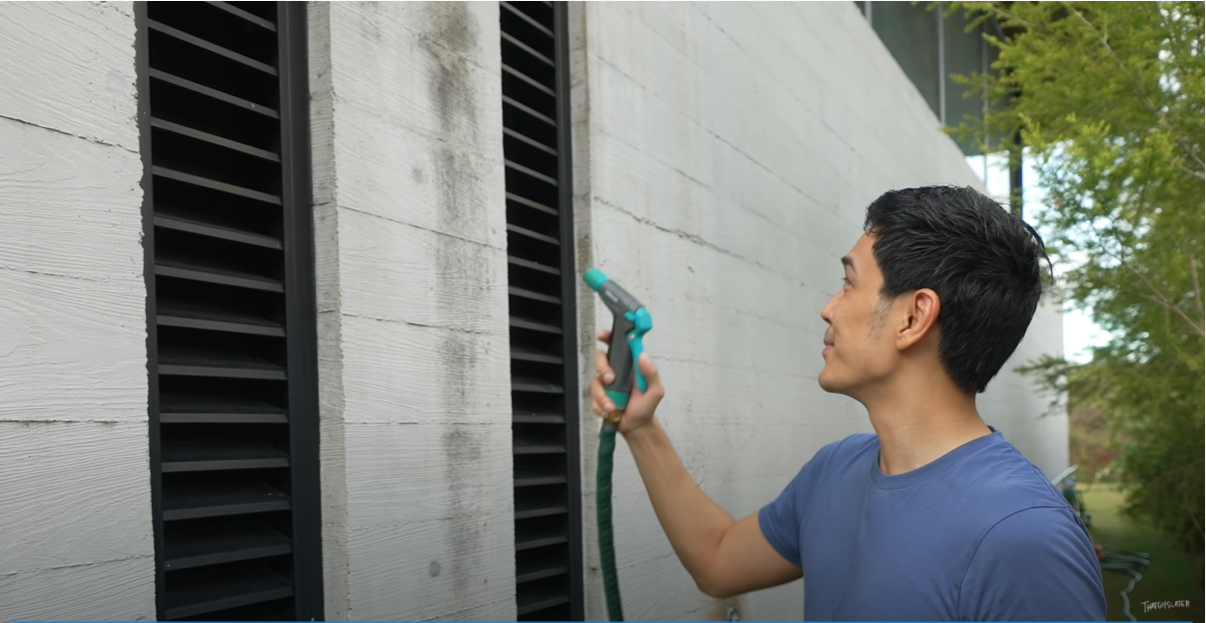 Getting rid of the streaks off the wall was fairly simple, shared Slater. He will just have to wet the wall first with water.
Then, he recommended a few other products such as 1) white vinegar to remove stubborn molds; and 2) Calcium, Lime, and Rust (CLR) Remover for rusts on concrete.
STEP 2: Scrub the streaks using a brush drill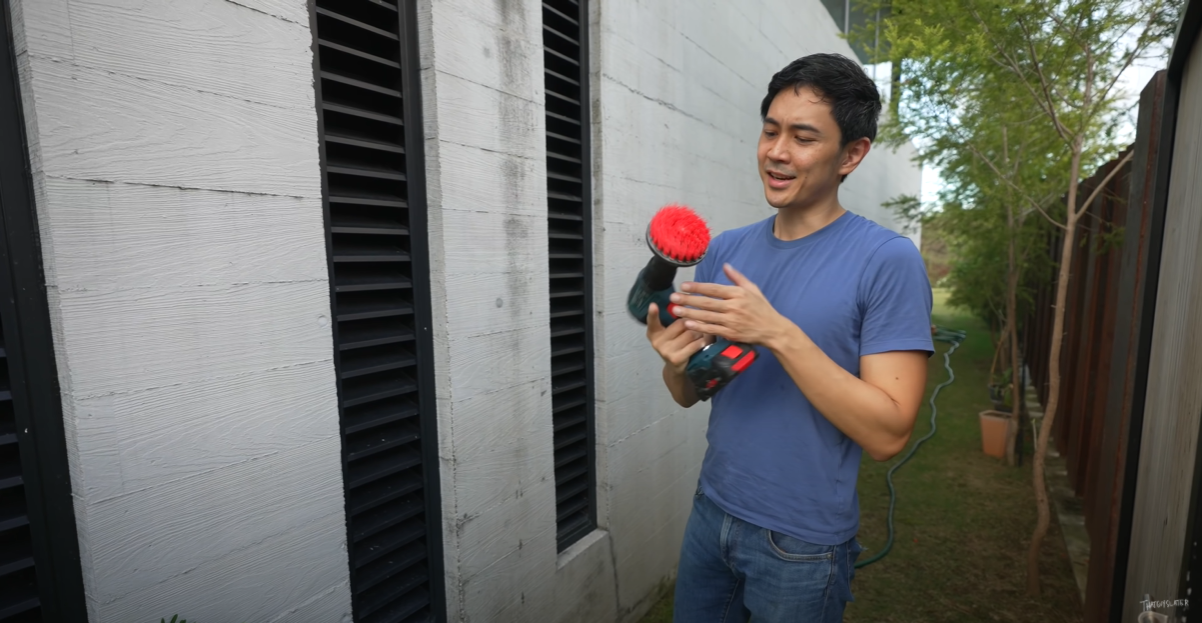 According to Slater, cleaning the walls is more efficient with a drill brush. This is composed of an ordinary cleaning brush (cost varies from Php 150 and below) attached to a drill, turning it into a scrubbing machine
.
Installing a make-shift roof drip edge
Slater's step-by-step guide on installing his version of a roof drip edge is pretty straightforward, but what exactly is a drip edge? It's a metal flashing installed at the roof's edges to help control the flow of water and protect the other underlying roofing materials.
STEP 1: Get an aluminum angle bar
Since drip edges were not available to him during the shooting of the vlog, he made use of an aluminum angle bar instead.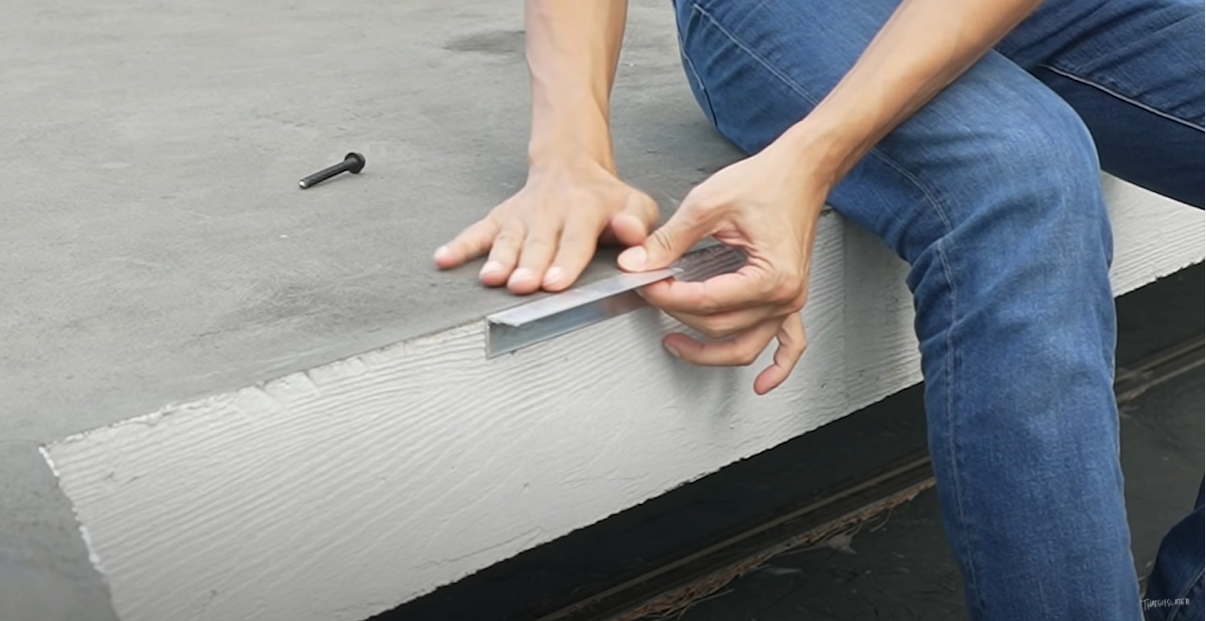 STEP 2: Put fast-setting cyanoacrylate adhesive
Slater is also a member of one of the fastest-growing groups on Facebook, Home Buddies, where the members ("kapitbahays"), share all kinds of wholesome content on home improvements and makeovers. There, he shared that he was "nabudol" (a Filipino internet slang for suddenly buying a product recommended by people online) by his kapitbahay's recommendation of Builders Bond.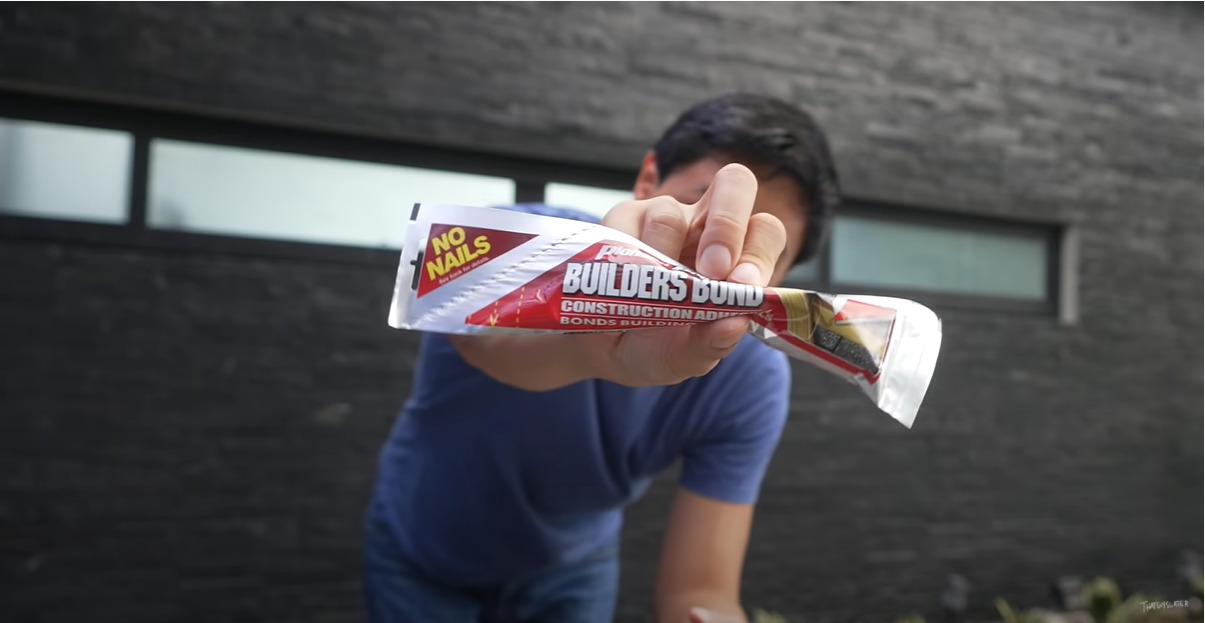 For the longest time, Slater didn't want to put a drip edge to the Skypod using regular nails because it would uglify their home. Hence, this high-strength construction adhesive from Pioneer was a welcome surprise.
But, of course, the Youtuber put the product to the test first. With the use of a lamp post around his neighborhood and a single block of concrete, he tested out the capacity of Builders Bond. And it didn't disappoint. Satisfied with this budol, Slater went ahead with installing the angle bar to Skypod's exterior wall.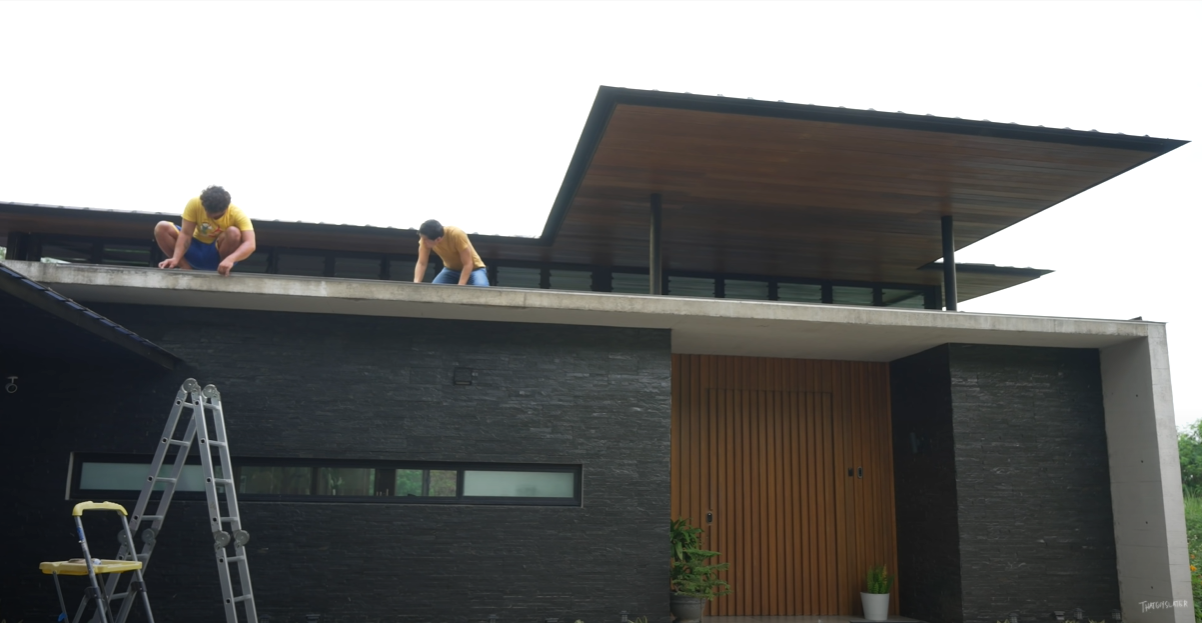 STEP 3: Use a magnetic level
Next, the engineer utilized a magnetic level just to ensure that the angle bars are parallel to the exterior wall.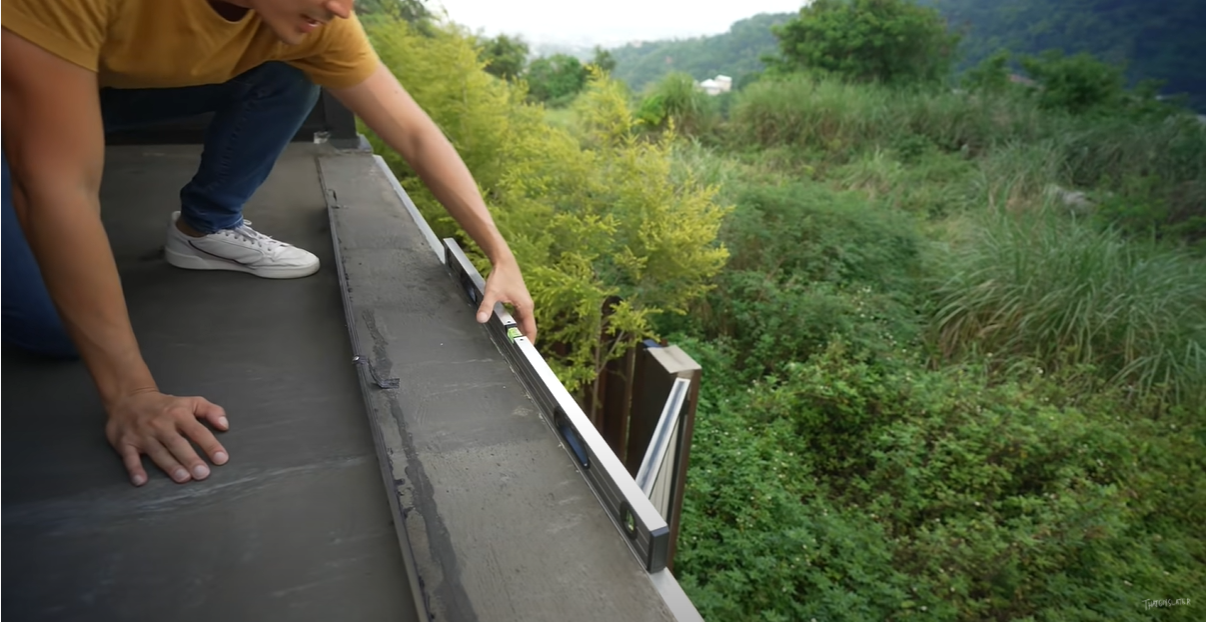 STEP 4: Apply a sealant
Just to be extra careful, he applied a sealant on top of the angle bar to prevent rainwater from going between the wall and the make-shift drip edge.
How was the finished product?
In the end, the finished product was a success, even earning Slater a "good job" from his vlogger-wife Kryz. The angle bars did their job in preventing rainwater from dripping straight into the walls and leaving water stains behind them.
Did you find Slater's guide helpful? We sure did!
Watch Slater Young's full video on fixing wall streaks here:
CITATIONS: