The Philippine Contractors Accreditation Board (PCAB) ensures that a government body approves all construction activities through the PCAB License. 
Contractors – no matter how big or small, will need to get a PCAB License before they can start building. The Contractors License Law, or R.A. 4566, states that no contractor, engineer, or architect may start construction without a PCAB License. This is essential step ensures the protection of both the client and the contractor from any financial repercussions and legal risks. 
That said, there are also benefits that come with the PCAB License. They are: 
It establishes professionalism on the contractor's end and complacency in the work environment. Licensed contractors will also have access to perks such as worker's compensation and liability insurance. Apart from that, it also helps them be more appealing to clients and workers from a legal standpoint. This makes sure that both are insured from any financial pitfall that might happen in case of any accidents in the workplace.

It is proof of responsibility and credibility. Contractors handle everything from client communications to project management, so getting a PCAB License will help them become more credible and it will be easier for them to bid on projects.

The PCAB License gives clients the assurance that they need with their construction providers. For most contractors, the license is a symbol of the quality of their work and their efficiency in their field. Further, it also shows that they are well familiar with their field and have the connections. 
PCAB Online Portal
The PCAB Online Portal is a website managed and maintained by the organization. The online portal will be used as a platform for the submission of requirements for the PCAB license. Applicants are required to register themselves on the website before submitting their forms and requirements. 
Only after registration on the online portal can companies and contractors submit the documents for their PCAB license. Make sure that you are using only one official email address when you're registering on the portal so this won't cause problems for any succeeding applications.
How to Apply for a PCAB License? 
After registering on the online portal, you will need to fill out an information sheet that will contain the name of your firm, its type, contact information, Contracting Fiscal Year, and other general information. You will also be asked to select the ARCC Project Kind, depending on your current primary classifications and other classifications.
After which, you'll be asked to submit supporting documentation that will vary depending on your contractor classification. You can access the guidelines on registration and classification of contractors through the PCAB Online Portal as well. 
Requirements and Process for Regular Licenses (Sole proprietorship)
For sole proprietors who are looking to apply for a PCAB license, here is an idea of the requirements that you'll need to submit: 
Contractor's General Information

Certified True Copy of Business Name Registration Certificate (Scope of Business in National and the Nature of Business is Construction)

Contractor's Affidavit

Certificate of Completion of 2-day AMO Seminar

Certificate of Completion of 16-hour Safety Management for AMOs (in lieu of the 40-hour COSH)

Passed AMO Examination

Sustaining Technical Employees (IF APPLICABLE)

For Newly Nominated STEs

Clear Copy of valid PRC ID Card

Certificate of Completion of 40-hour COSH

STE Interview (if applicable)

Financial Information

Schedule of Accounts Receivables

Consolidated Copy of the following documents (signed by the CPA and AMO; stamped by the BIR or the remitting bank):

Audited Financial Statement (for old companies)

Audited Financial Statement (for newly established companies)

Independent Auditor's Opinion Report

Balance Sheet or Statement of Financial Position

Income Statement/Statement of Comprehensive Income

Statement of Changes in Owner's/Stockholders' Equity (if

applicable)

Notes to Financial Statement

Bank Certification (dated as of the Balance Sheet date – if

applicable)

Statement of Management Responsibility (SMR)

Statement of Cash Flows

Payment
Securing a regular PCAB license is: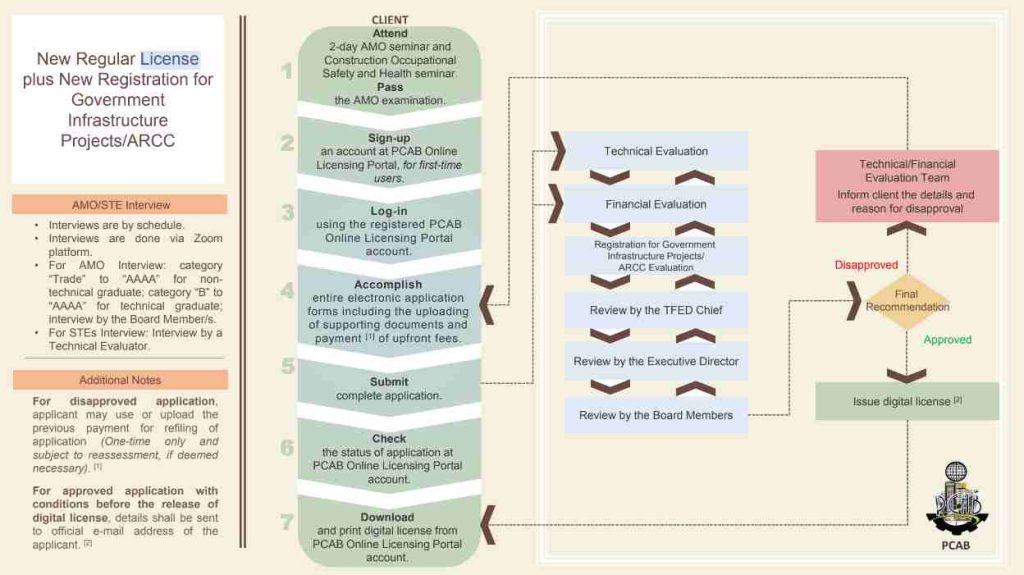 Note the following:
If your application is disapproved, you may use or upload your previous payment for the refiling of the application. However, note that you can only do this one time and it will be subject to reassessment.

If your application has been approved but you need to meet certain conditions before the release of your license, the details will be sent to the e-mail address that you used to register with. 
PCAB Licensing Fee Structure
Once you have accomplished the online application forms and submitted the supporting documentation, you will need to pay for the fees upfront through payment portals that include GCash, Maya, and the Landbank Linkbiz Portal. Fees can also be paid over-the-counter through CIAP Makati or CIAP Windows at DTI Regional Offices.
For your reference, here is the present licensing fee structure for PCAB licenses: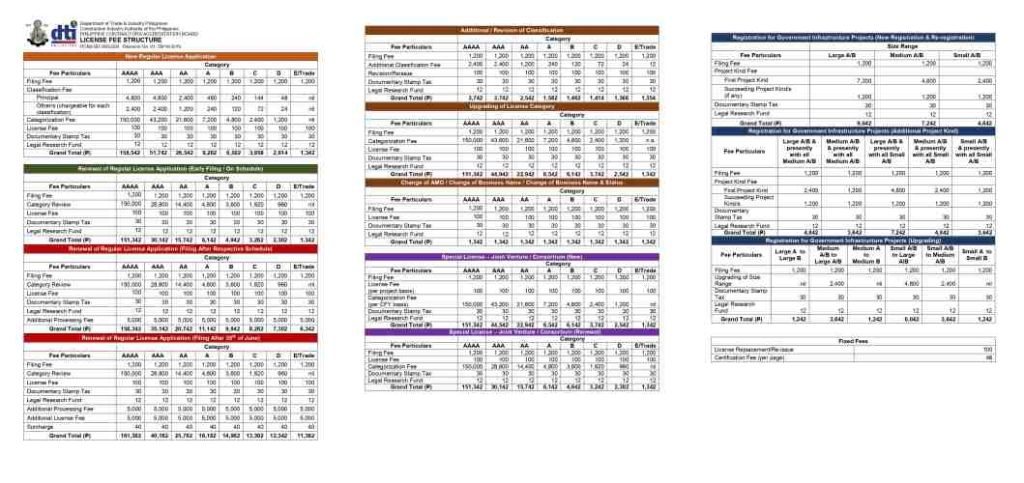 Always remember that securing the licenses, permits, and documents before starting a construction project is essential to protect all parties involved. It also ensures that your operations are legally protected and you have insurance in case anything happens through the course of your project. 
Sources:
PCAB \Website. (n.d.). Pcabgovph.com. https://pcabgovph.com/