When you walk around any construction site, chances are you will come across some wooden panels composed of sheets that have been glued together and coated with black film with the manufacturer's branding commonly printed all over. These are called Phenolic boards, which are usually used as a part of the formwork system for beams, slabs, RC walls, columns, and sometimes as a makeshift table at an office site.
Phenolic boards are made up of wooden sheets that are glued together using Phenol-Formaldehyde, hence the name. A protective film is placed at the top and bottom faces. Additional sealing is then applied on each side for added protection against humidity. The number of layers depends on the board's nominal thickness, which is available in either ¾ in or ½.
A septic tank project using phenolic boards. Photo courtesy of Homebizfortune.
Phenolic boards offer excellent resistance to bending, making them a popular choice among contractors. Apart from that, they provide an excellent finish for concrete surfaces, provided, of course, consolidation and tamping were performed to prevent honeycombs and surface bubbles. Most of these are marketed to be used for 4 times, although some locally available brands can be used for more.
Phenolic boards today have been widely adopted to the point that it is almost a staple in the industry. But as more and more construction materials and methodologies are made available to builders, how will they stack up to contenders?
Challenger #1: Precast Construction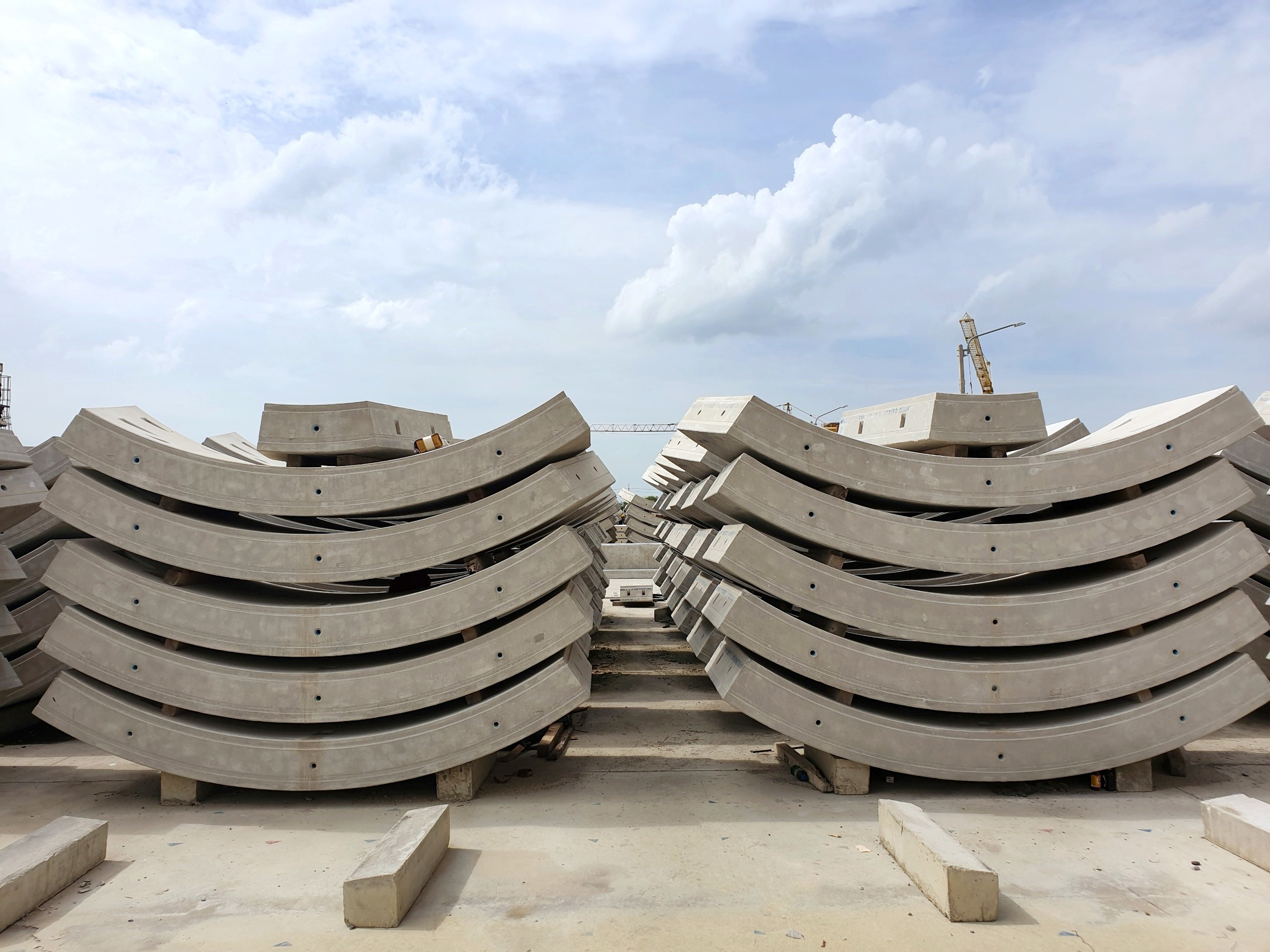 Precast Concrete
Commonly seen precast elements are precast beams, stairs, slabs and walls. One advantage of using these is the possibility of reduced spending. So how does this technology challenge the use of phenolic boards?
Let us take precast half slabs as an example. Different contractors adopt different formwork systems. Slab form works for cast-in-place (CIP) concrete slabs include phenolic boards laid between the sidings of the supporting beam. These boards are in turn usually supported by aluma beams then by sepos, which could either be wooden or steel, followed by a system of U-Heads, H-Frames, and base jacks.
Precast slabs, which are around half the thickness of the entire slab, are casted in a precast plant. They are transported to the site, lifted by cranes and placed in the supporting beams and rest in some sort of support sans the phenolic board. Structures using precast elements require fewer phenolic boards than an identical building that uses CIP concrete alone.
Challenger #2: Plastic Formworks
After the introduction of plastic formworks, wood-based materials are no longer the only option builders have in terms of sheathing material. The type of plastic used varies extensively among locally available brands. However, these plastic formworks share something in common, and it's that phenolic boards pale in comparison to the number of times they can be reused. According to different product information available, these can be used 30, 50 or even 200 times. They can be lightweight, highly resistant to humidity, and offer an excellent concrete finish as well.
Plastic Formworks
One operational concern with using phenolic boards is that indiscriminate cutting by inexperienced workers can lead to unintended waste. This problem can be indirectly deterred by the use of plastic formworks. Though slightly expensive, they become more economical in the long run with its cost per area per use being substantially lower. The key then using them as many times as possible and one way of achieving that is by discouraging the cutting of plastic formworks.
Compared to Phenolic Boards
These relatively newer technologies come with their own set of caveats. Not all projects are large enough for the use of precast elements to be economically feasible. You would also expect non wood-based materials to be more expensive initially than phenolic boards.
The same goes with plastic formworks as far as situational cost goes. These technologies are surely not for everybody but these innovative materials and methodologies are worth looking out for because they drive the industry forward.
The market for phenolic boards range from up and coming builders to the highest tier, well established quadruple-A contractors. Obviously, phenolic boards would not be this widely adapted if it is not a good material to begin with. With that said, phenolic boards are probably not going away anytime soon. These materials will surely last longer under the sun and rain too!
By Engr. Joshua Philip Mora – Technical Sales Engineer – VSRS System and Formworks Inc.