What does it take to be successful in the construction industry? Engineer Ramon Allado, head of the Allado Construction Inc., shares his experiences and insights to staying long and being well-respected in the construction business.
Allado Construction Inc. was established by Engineer Allado's father, Honorio T. Allado Sr., in 1967. Starting with small projects, the business gained traction and began making a name for itself. Eventually, it progressed to accepting bigger and more specialized projects such as airport terminal buildings, power plants, and the like.
As they prepare to celebrate their 52nd year in the construction industry, Pinoy Builders was able to arrange an interview with Allado Construction Inc.'s current head and owner, Engineer Ramon Allado.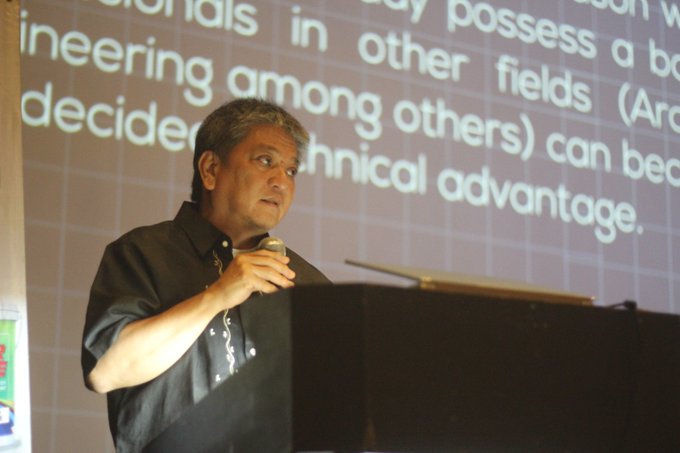 Image Courtesy of 14Th Annual CE Talk: DRIVE
The Pull Of Engineering
When asked to share something about himself, Engineer Allado humbly recalls how he has managed to get to where he is today. At a young age, Engineer Allado has been aware that Mathematics is not one of his strongest suits. In fact, when he entered the University of the Philippines for college, he was unsure of what to take. Challenged by his father, however, he decided to pursue Civil Engineering.
After finishing the course, Engineer Allado opted to work for other public and private firms before working for their family business. He shared that doing so was difficult as he was the son of the owner. His seniors at work constantly tested his knowledge as his right of passage. Thereafter, He managed the company under the guidance of his dad from 1980 to 1984.
Later on, Engineer Allado migrated to the United States (U.S.) and stayed there for 12 years. He grabbed the opportunity to help out in his father-in-law's company that specializes in contracted work for U.S. bases and military facilities. Engr. Allado set up a procurement office in the U.S. to support the operations of the company based in the Philippines. Shortly thereafter, he returned to the Philippines with his family and rejoined his father's business. This time, he headed Allado Construction Inc. with more authority. His dad served as his mentor, advisor, and consultant, until his passing in 1995.
The Basics of Operating a Construction Business
According to Engineer Allado, there are three basic resources that every construction business must have. The first and most important resource of all is having skilled manpower. Hiring workers who are skilled in their trade, in account management, and most especially in the technical aspects of the trade can greatly affect the success of a contractor. 
This primary resource, however, works together with another resource, which is capital. He shared, "Even with technical skills, without capital, your business can't move." Lastly, he shares that having a great business environment can also affect your business operations. For instance, war-torn cities like in Mindanao  will have a hard time attracting investors and government infrastructure projects.
The Future Of Allado Construction Inc.
The Allado Construction Inc. believes in the continuous education of their employees and adapts to current trends and innovation. According to Engineer Allado, "It is the company's mission and vision to learn and adapt." They believe in empowering their employees by paying attention to both their personal needs and their career growth.
Engineer Allado also believes that learning never stops. "In my generation, if I don't adapt, I won't be here. If you don't continue learning, you won't go on", he quips.  He encourages people to learn adaptability to be able to stay current with the changes the construction industry consistently goes through. 
Engineer Allado says, "It is so easy to get information today but I get most of my ideas in my travels. In fact, it is so easy to get information on the internet but the challenge is validating it. What I do is I mix it up with experiences. Most of my travels are where I picked up ideas."
Advice for Future Builders
Pinoy Builders asks Engineer Allado what advice he can give to aspiring Pinoy Builders, he said:
"To the younger generation, do not be too aggressive. The previous generation may have been too conservative but the pitfalls of many younger contractors is being too aggressive. Avoid taking more than you can take on. Bite only what you can chew. Most importantly, have integrity because if not, you will not contribute to the growth of the industry."