Here's your monthly dose of price monitoring on basic construction materials!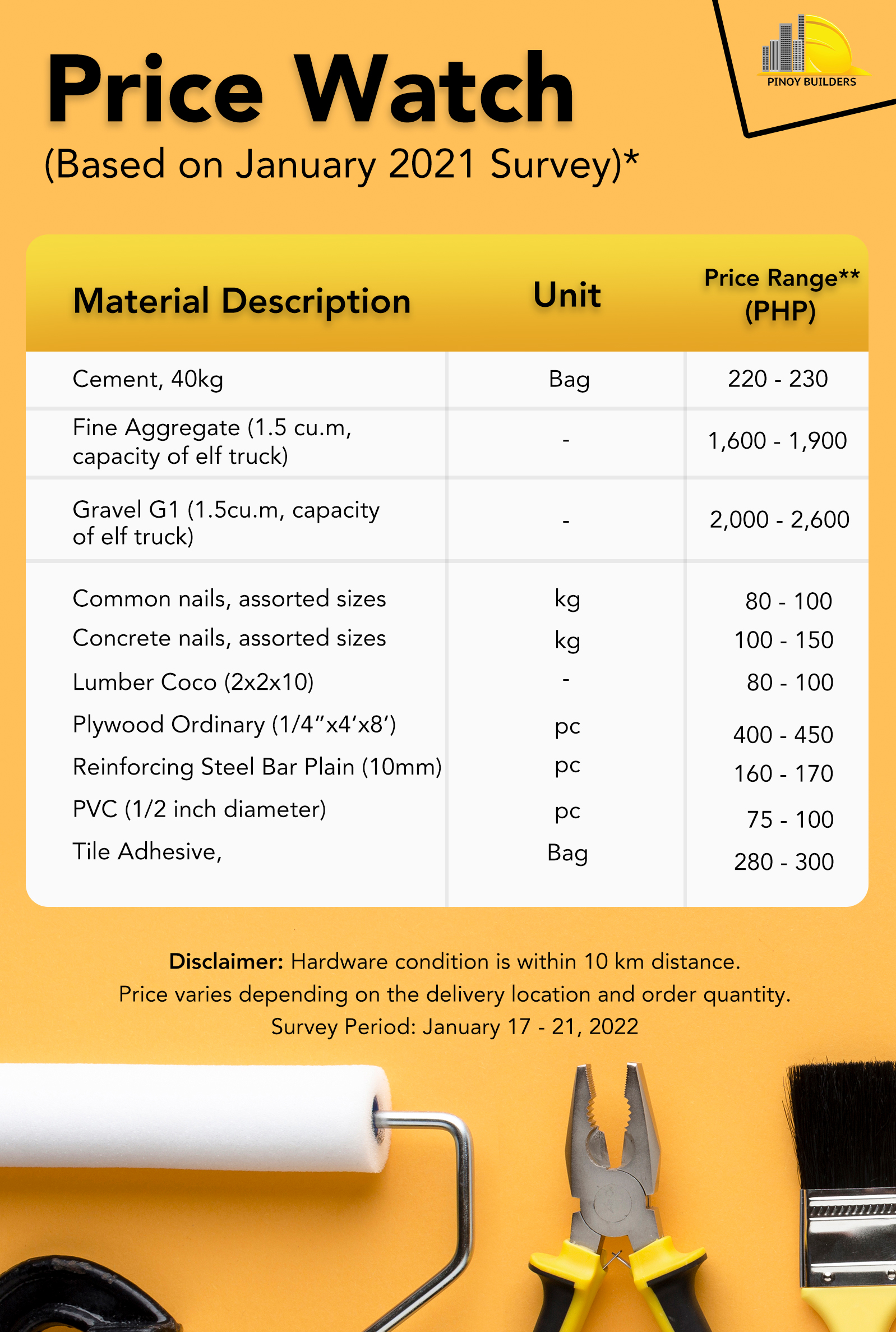 RELATED: 4 Important Things You Need to Know About Waterproof Paints and Their Applications
Know more about these construction materials in this month's Price Watch:
1. Cement
Cement is a critical material used in buildings, residential structures, bridges, harbors, runways, and roads. It endures a chemical process known as "setting" to join cement with other materials.
It's critical to use cement with good workability and compressive strength to make structures last longer.
Among general-purpose cements, Holcim Excel is the most widely used for its premium quality, designed for a wide range of construction projects from structural to decorative. Holcim Excel mixes and places easily with early strength, cutting building time in half. Because of its improved usability, it will save you time and money on repairs.
2. Fine Aggregate
Fine aggregate is an essential component of concrete made up of natural sand or crushed stone. The quality and fine aggregate density heavily influence the hardened properties of concrete.
3. Gravel
Roads and driveways are the most common applications for the material when purchased in bulk.
4. Concrete Nails
Concrete nails are a must-have for construction workers and DIY enthusiasts alike. They allow wood to masonry connections and are harder than other kinds of nails.
5. Coco Lumber
Coconut lumber is used in large quantities as scaffolding and form lumber in the construction of tall buildings.
6. Plywood
Plywood is a popular construction material because of its many beneficial properties. Formwork or a mould for wet concrete are some of its most common uses, as are the creation of light partitions or external walls, as well as furniture such as cupboards, kitchen cabinets, and office tables.
7. Steel Bar
To help and strengthen concrete, reinforcement bars are steel rods used as tension in reinforced masonry structures and in reinforced concrete.
8. PVC
PVC pipes are made from polyvinyl chloride (PVC), a plastic-vinyl compound. As an alternative to more expensive copper piping, these popular pipe types are widely used in the plumbing industry. Electrical conduits are also made from PVC.
Tile adhesive is a sort of glue that is used to adhere to tiles all around the house. Tile adhesive is a ready-to-use mixture comprising Portland cement, polymers such as epoxy, and selected aggregate particles, along with additional additives to enhance its laying properties.
Tile adhesives are used to adhere tiles to walls, floors, swimming pools, and other surfaces  made of cement, wood, glass, or other materials. Cement, epoxy, and polymer are the most common materials used.
For premium grade tile adhesive, Holcim Premium Plus and Heavy Duty Tile Adhesive are your choices. Holcim Premium Plus Tile Adhesive is a polymer-modified mortar for installing many ceramic tiles, marble, granite and natural stones to walls and floors by a thin bed method that has smooth consistency and is easy to use. It has higher bond strength than other brands.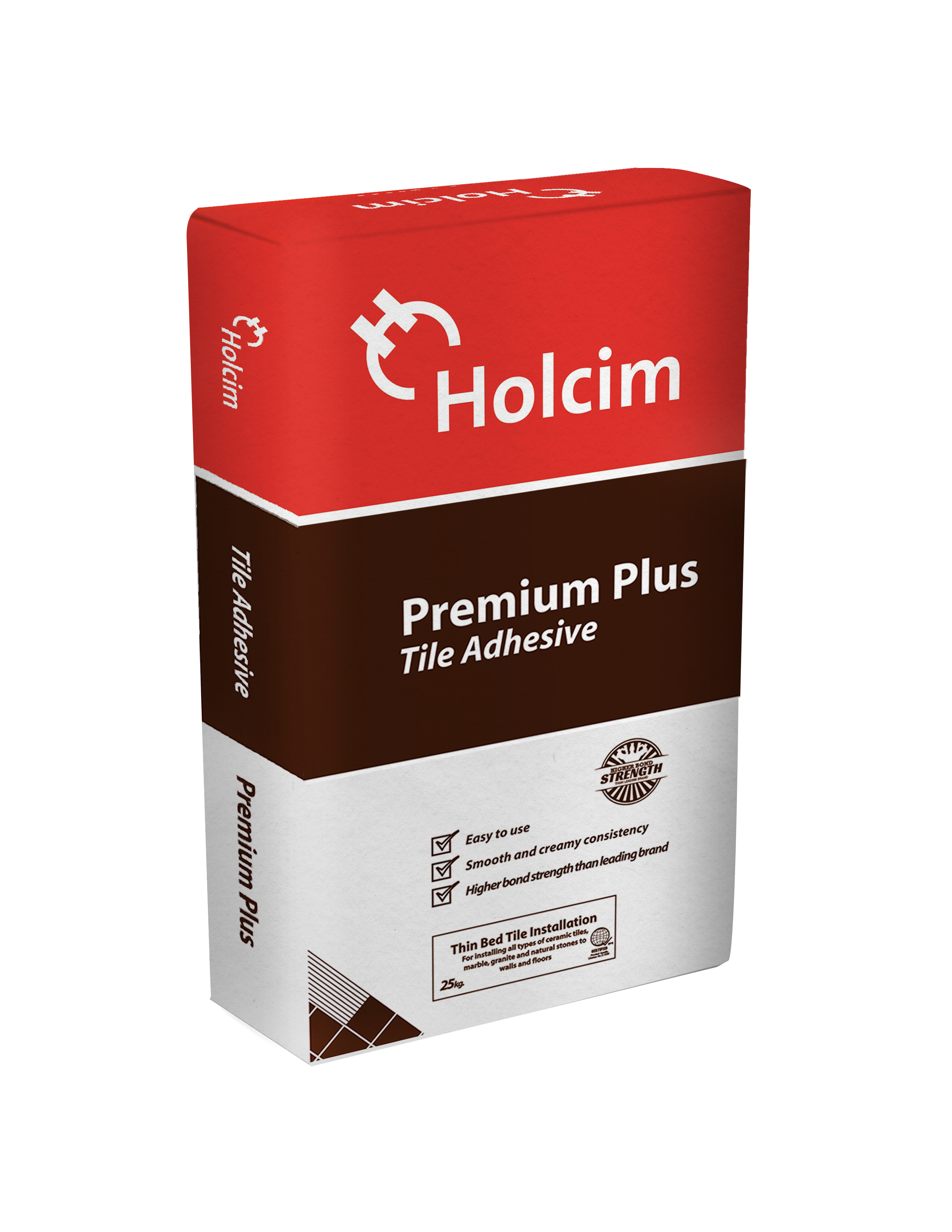 While Holcim Tile Adhesive Heavy Duty is a polymer-modified premium grade mortar formulated for more demanding tiling and tile repair projects. It is ideal for the installation of large tiles, tile-over-tile installation and for areas where pedestrian traffic is heavy.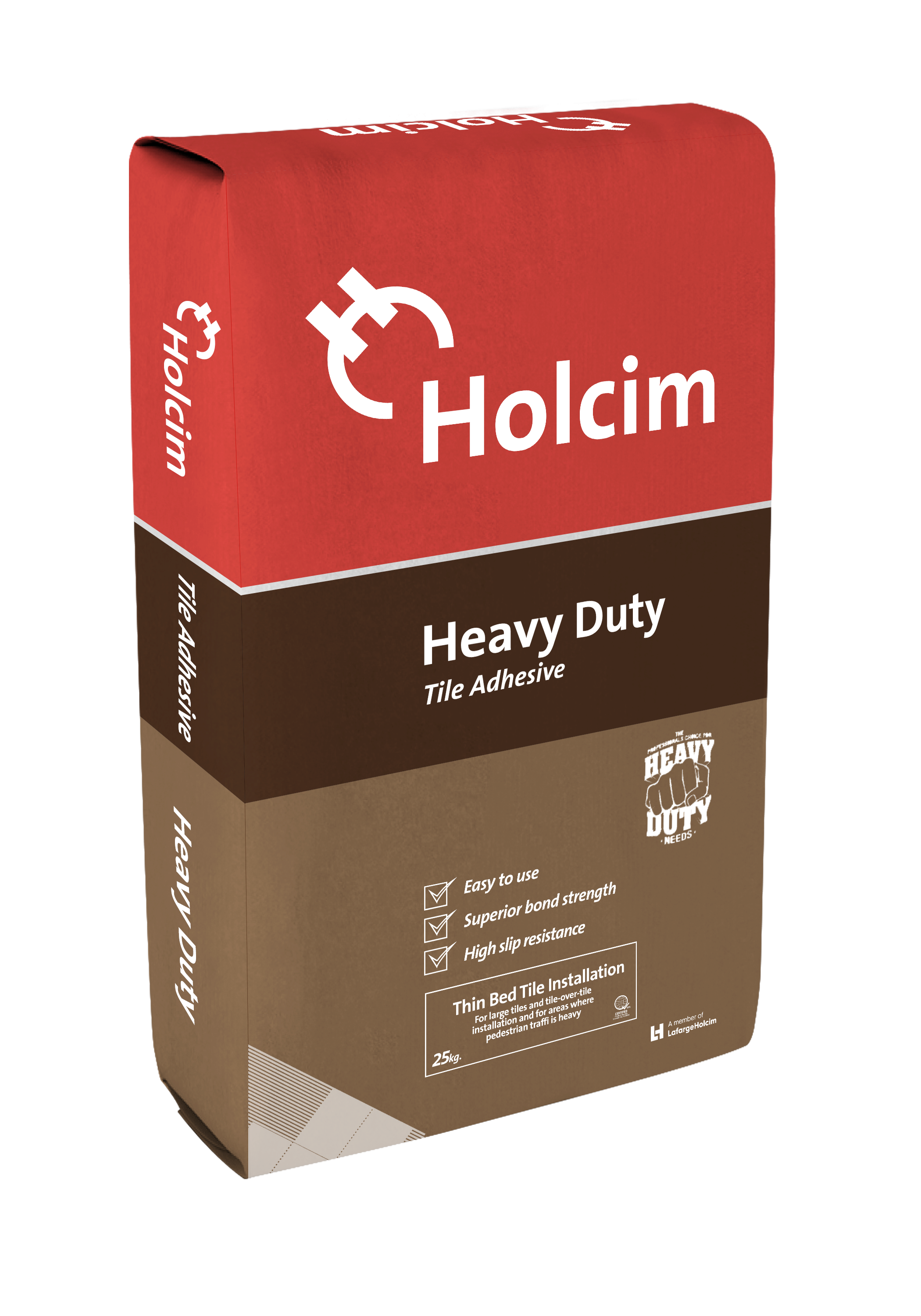 RELATED: 6 Effective Waterproofing Products You Need to Try for Long-lasting Structures
LIST OF PARTNER RETAIL OUTLETS
1. GLORIOUS MORNING CONSTRUCTION & INDUSTRIAL SALES
STORE ADDRESS: 86 AURORA BLVD. COR. R. LAGMAY ST. SAN JUAN CITY, M.M.
TEL. NOS.: 8727-4264 * 8725-8033 * 8727-1601 * 8724-7644 * 8727-5966   to   68
EMAIL ADDRESS: gloriousmorning@gmail.com
WEBSITE: https://www.gloriousmorninghardware.com/
2. MARC ALAIN GENERAL MERCHANDISING, AN OFFICIAL DISTRIBUTOR OF HOLCIM PHILIPPINES
STORE ADDRESS: 8182 D & E DR. A. SANTOS AVENUE (formerly Sucat Road) PARAÑAQUE, METRO MANILA, PHILIPPINES
TEL. NO.: 829-8328 * 825-1819 * 825-3372 * 829-0834; CELL. NO. (0917)817-9207 * (0922)825-5524 * (0999)990-5209
EMAIL ADDRESS: magmmarketing@yahoo.com
FACEBOOK: Marc Alain Gm
3. KINGSACE HARDWARE AND CONST SUPPLY INC., AN OFFICIAL DISTRIBUTOR OF HOLCIM PHILIPPINES
ADDRESS: #1501 Cavite St., Brgy. 209 Zone 019, Sta. Cruz, Manila
TEL. NOS.: 8251-1917 / 8254-2023 FAX NO.: 8255-9445
EMAIL ADDRESS: kingsacehardware@yahoo.com
FACEBOOK: Kingsace Hardware and Construction Supply
YOU MIGHT ALSO GET INTERESTED: Water Seepage: Ways to Deal and Prevent it