Know more about basic construction materials in this month's price watch!
1.) Cement
In most construction projects, cement is a critical material to make sure that the structure stays sturdy. It's essential to use cement with compressive strength and good workability to make structures stronger and last longer.
Holcim Excel is one of the general-purpose types of cement that is used for its premium quality. It can be used for a wide range of construction projects including structural and decorative. Holcim Excel saves time and money on repairs with its improved usability and early strength.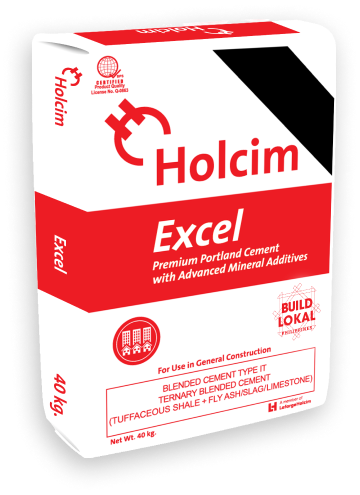 2.) Fine Aggregate
Fine aggregate is an essential element of concrete that comprises crushed stone or natural sand. The quality of the fine aggregate can heavily influence the properties of hardened concrete.
3.) Gravel
Gravel is usually used in roads and driveways when it's bought in bulk. But it can also be used in home construction projects or for decorative purposes.
Tile Adhesive is used to adhere tiles inside the house. It's a ready-to-use mixture that's consisting of Portland cement, polymers, aggregate particles, and other additives to enhance.
These can be used to adhere tiles to walls, floors, pools, and other surfaces. Holcim Premium Plus and Heavy Duty Tile Adhesive are great choices for premium-grade adhesives. Holcim Premium Plus Tile Adhesive is a polymer-modified mortar that's great for installing marble, granite, ceramics, and other natural stones on walls and floors. It also has a higher bond strength compared to other brands.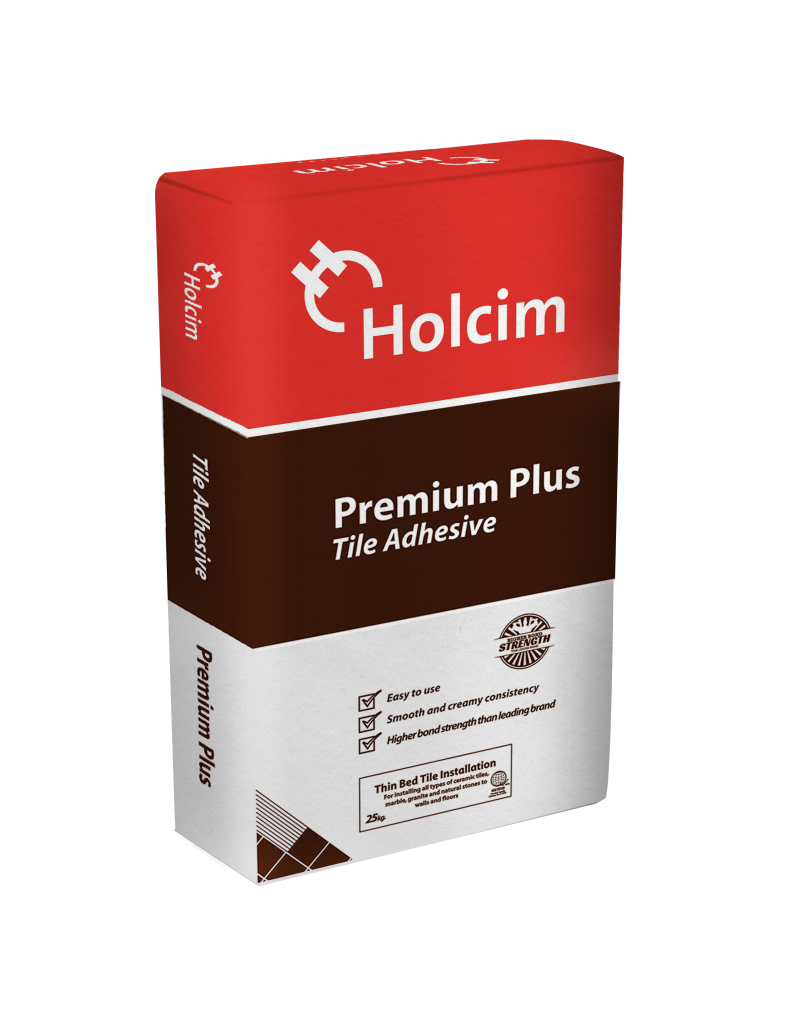 Holcim Tile Adhesive Heavy Duty is a premium-grade polymer-modified mortar that's formulated for tile repair and more demanding tiling. It's best for installing large tiles, tile-over-tile installations, and for areas with heavy foot traffic.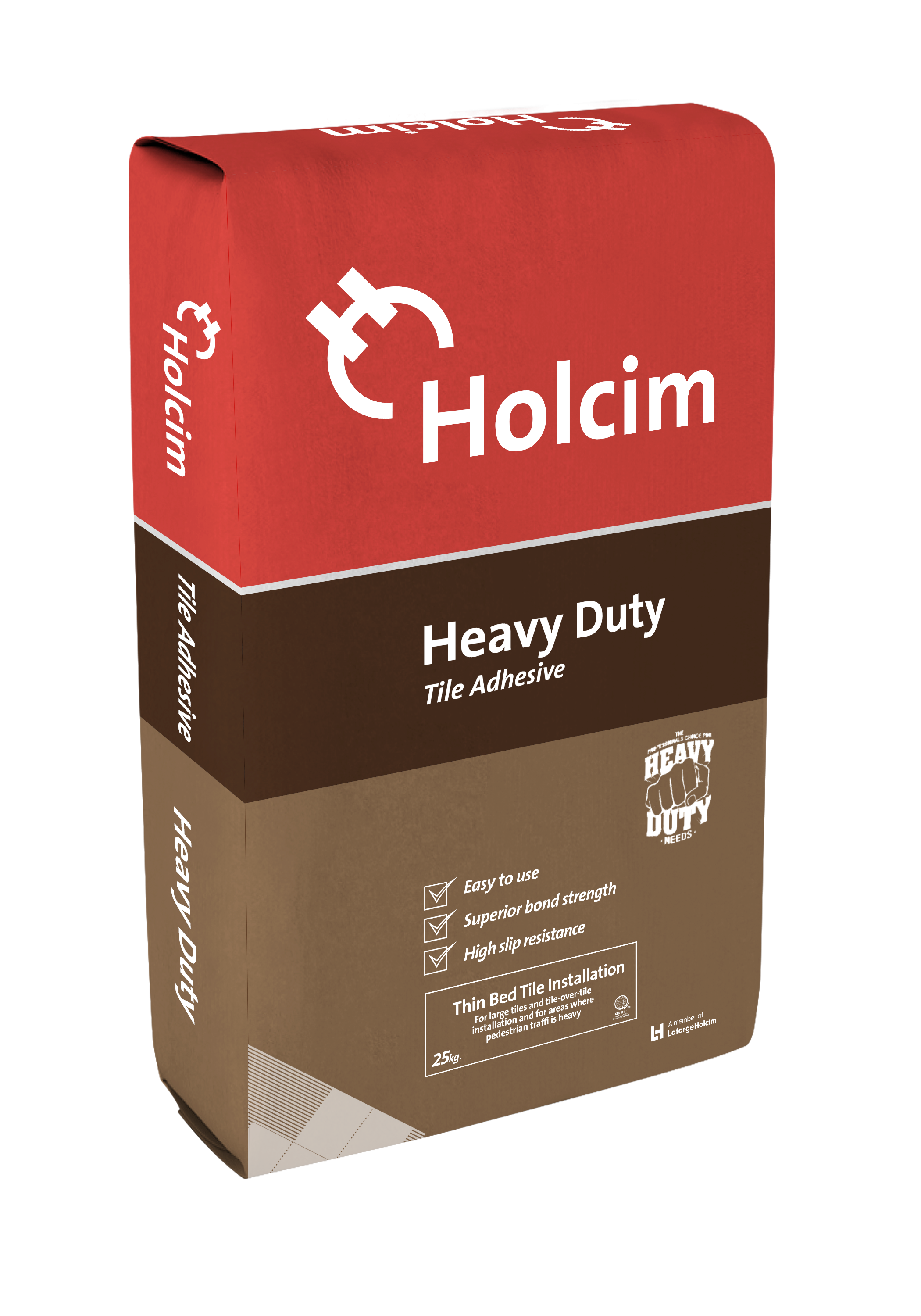 5.) Common Nails
Common nails are used mostly for structural work and general construction. Common nails are also used for framing construction and with dimensional lumber.
6.) Concrete Nails
Concrete nails are great for both DIY and professional projects. They're mostly used with wooden elements and structures as well as fixing soft materials.
7.) Coco Lumber
When used in large quantities, coconut lumber is used for building constructions as scaffolding and form lumber.
8.) Plywood
Whether it's a professional or DIY project, plywood is often used because of its beneficial properties. Some of its common uses include being a formwork for wet concrete, the creation of light partitions, and furniture.
9.) Steel Bar
Reinforcements such as steel bars and rods are used to help strengthen concrete. It is used as tension in reinforced concrete and masonry structures.
10.) PVC
Polyvinyl Chloride (PVC) bars are a plastic-vinyl compound that's used as an alternative to copper piping. These bars are widely used in the plumbing industry.
RELATED: Price Watch: Basic Construction Materials (April)
Here's your monthly dose of price monitoring on basic construction materials!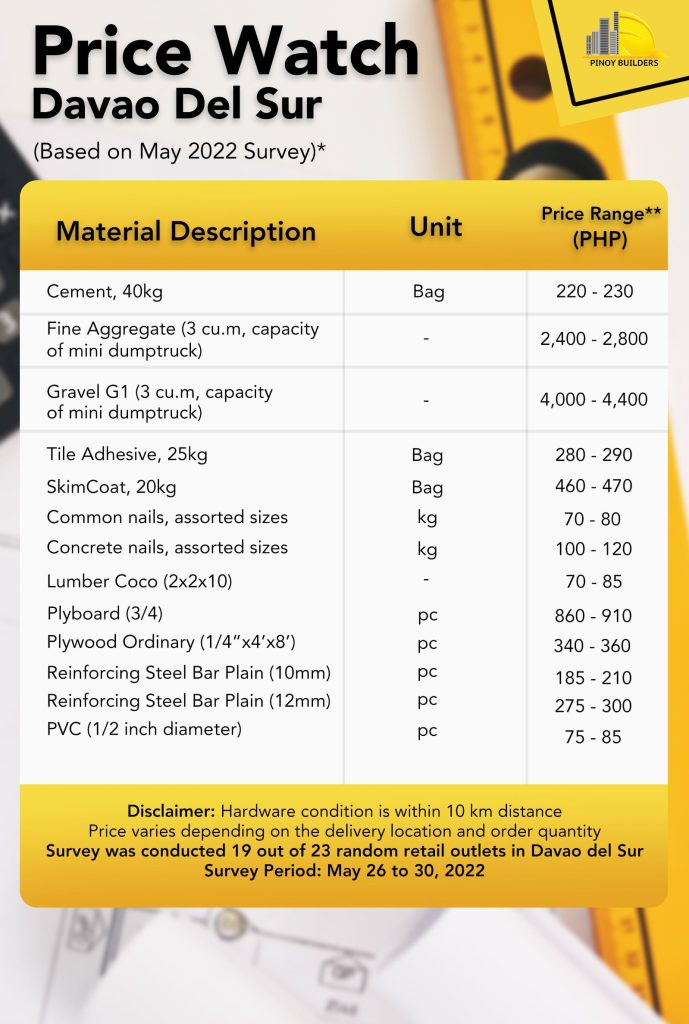 LIST OF PARTNER RETAIL OUTLETS
1. GLORIOUS MORNING CONSTRUCTION & INDUSTRIAL SALES
STORE ADDRESS: 86 AURORA BLVD. COR. R. LAGMAY ST. SAN JUAN CITY, M.M.
TEL. NOS.: 8727-4264 * 8725-8033 * 8727-1601 * 8724-7644 * 8727-5966   to   68
EMAIL ADDRESS: gloriousmorning@gmail.com
WEBSITE: https://www.gloriousmorninghardware.com/
2. MARC ALAIN GENERAL MERCHANDISING, AN OFFICIAL DISTRIBUTOR OF HOLCIM PHILIPPINES
STORE ADDRESS: 8182 D & E DR. A. SANTOS AVENUE (formerly Sucat Road) PARAÑAQUE, METRO MANILA, PHILIPPINES
TEL. NO.: 829-8328 * 825-1819 * 825-3372 * 829-0834; CELL. NO. (0917)817-9207 * (0922)825-5524 * (0999)990-5209
EMAIL ADDRESS: magmmarketing@yahoo.com
FACEBOOK: Marc Alain Gm
3. KINGSACE HARDWARE AND CONST SUPPLY INC., AN OFFICIAL DISTRIBUTOR OF HOLCIM PHILIPPINES
ADDRESS: #1501 Cavite St., Brgy. 209 Zone 019, Sta. Cruz, Manila
TEL. NOS.: 8251-1917 / 8254-2023 FAX NO.: 8255-9445
EMAIL ADDRESS: kingsacehardware@yahoo.com
FACEBOOK: Kingsace Hardware and Construction Supply