In recent years, the Philippines is seeing a slow improvement in the state of the economy, fueled by the increase in the middle class who can increase their expenses, as well as the gradual growth seen in private consumption spending. Due to this, and other factors such as the recent global pandemic that have caused people to spend more time at home, more and more homeowners are now embarking on renovation projects. 
Renovation projects differ for every household, from simple updates to complete overhauls. Filipinos are now allocating more time and money to transforming their homes in order to meet their growing demands and evolving preferences. This article sheds light on the important role of loans in financing renovation projects, as well as the current expenses of Filipinos on renovation projects.
The Importance Of Loans On Renovation Projects
Loans play a crucial role in financing renovation projects that are managed by homeowners who have the need to proceed with the renovation task without the necessary budget that will cover the entire cost of the project. In its most basic function, loans provide homeowners with funds to transform their living spaces, regardless of the purpose. With the rising economy of the Philippines and the increase in the middle class, Filipinos are now more capable of applying for a loan and paying it off. 
One of the most useful advantages of using loans for renovation is that it allows the homeowner to undertake a renovation project with immediate access to funds. Renovations require a significant amount of money upfront, and loans step in as a bridge to fix this financial gap that is hindering homeowners from making the upgrades that they need without delay. In addition to this, most loans have flexible payment options that can accommodate all types of property owners who have various financial needs and obligations.
Renovations In The Philippines
While there are no specific records that show the number of renovation projects completed in the Philippines for the first quarter of the current year, there has been significant growth in approved residential construction projects in the country in 2021 and 2022. This includes the expansion or increase of floor area, home repairs, and alterations or home renovations. 
According to the Philippine Statistics Authority, residential construction projects have the highest rate of growth in 2022, which accounted for 71.2% of the total constructions per quarter compared to the 16.5% of non-residential construction projects.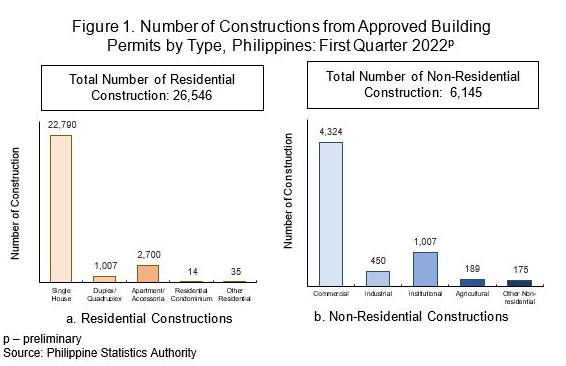 Residential construction projects were also noted to have the most value and highest cost per construction, which clocks in at around P10-11,000 on average per square meter. This number also fluctuates depending on the location of the construction or renovation project. 
Are People Using Loans To Spend On Renovations?
While it depends on the type of loan a homeowner has availed to achieve a home renovation project, the answer to whether people are using loans to spend on renovations is a big, resounding yes. Regardless of the purpose of the loan, the recipient can choose to spend the acquired budget on home improvement. In fact, some banks in the Philippines do have home improvement loans specific to catering to the financial needs of their clients that want to undertake a home renovation project without allocating finances at hand. Some of these banks include Pag-IBIG Home improvement loans and BPI's housing loans, which saw a 40% increase in the first quarter of last year. Other types of loans, such as personal loans and credit card loans, can also be used to finance a home renovation project. 
Acquiring Loan For Renovation Projects
Loans play a very important role in financing home renovations for many Filipino homeowners. Loans provide immediate access to funds, flexible payment options, and sometimes even low-interest rates that can be accommodating for the homeowner. When applying for a loan, homeowners should know of the importance of responsibility and accountability to ensure that they can benefit from the renovation project and enjoy their improved properties without suffering from financial obligations issues.
References:
Lopez, D. (27 April 2023) Surging Home Loans in Philippines Show Rate Hikes Not Biting Yet. Bloomberg. Retrieved from: https://www.bloomberg.com/news/articles/2023-04-27/surging-home-loans-in-philippines-show-rate-hikes-not-biting-yet
Philippine Statistics Authority (n.d.) Construction Statistics from Approved Building Permits, First Quarter 2022. Retrieved from: https://psa.gov.ph/content/construction-statistics-approved-building-permits-first-quarter-2022
Philippine Statistics Authority (n.d.)  Construction Statistics from Approved Building Permits, Fourth Quarter 2021. Retrieved from: https://psa.gov.ph/construction/pcs-id/167433
Moneymax Editorial Team (1 June 2022) Ready to Upgrade Your Home? Here's How to Finance a Home Renovation. MoneyMax. Retrieved from: https://www.moneymax.ph/loans/articles/home-loan-renovation
Divina, A. (24 April 2023) Renovate Your Home with Ease: Get a House Loan for Renovation. Digido. Retrieved from: https://digido.ph/articles/renovation-house-loan