The technology of robotics has become increasingly important in many businesses today, and this includes the modern-day construction industry. But just until the years before 2015, the construction industry actually provided very little research and development on robotics technology, leaving many advantages and potential innovations unexplored for a while. However, in recent years, the construction industry has grasped just how groundbreaking the technology of robotics can be in its operations and the creation of new robotic inventions for the industry is at an all-time high.
For hundreds of years, many construction practices we have today remain unchanged, or with very minimal updates. However, the technology of robotics proves to be developing quite quickly, especially in recent years, and the construction industry has seen major improvements in its core undertakings. In this article, we will discuss 7 trends in robotics that can benefit the construction industry.
Modern Inventions In Robotics To Benefit The Construction Industry
Some of the positive results of applying robotics technology in the construction industry help in increasing the efficiency of task executions, the reduction of risk of injury, and even an enhanced quality of output. In the Philippines, robotics technology is also growing, although not as quickly as in some of our neighboring Southeast Asian counties. 
Regardless, the local robotics industry is expected to undergo significant growth in the following years and the country's construction industry is only one of the many sectors bound to improve from this. Below are 7 robotics technology trends that the Philippine construction industry can adopt.
Security Robots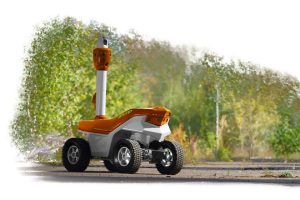 Image from smprobotics.com
Security robots can patrol construction sites on behalf of security personnel with state-of-the-art cameras, advanced sensors, and motion detectors. These security robots are capable of covering and monitoring large portions of the construction sites while providing 24/7 surveillance that can be accessed and observed by both off-site project managers and on-site security personnel. Security robots can significantly reduce the need for the project's administration to hire a team of round-the-clock security guards while increasing the safety of the site and preventing theft, vandalism, and security breaches. 
Self-Driving Construction Vehicles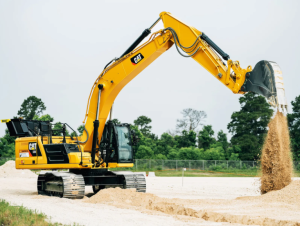 Image from Wired
One innovation in robotics that has been increasingly prevalent in the field of construction is self-driving vehicles. These machines have revolutionized the way construction projects are carried out in many parts of the world, and the local construction industry will benefit well from following suit. Self-driving construction vehicles can increase both the efficiency and productivity levels of the operation of a construction project since these self-driving vehicles can function round-the-clock without the need for a constant break or a shift like human drivers. 
Land Care/Site Grading Robots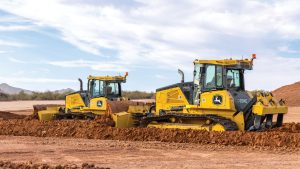 Image from insideunmannedsystems.com
Land care ad site grading robots can play a significant role in the construction industry, particularly in repetitive and physically taxing tasks such as land preparation, site grading, and earthwork. Land care/site grading robots utilize advanced sensors and GPS technology to achieve precise and accurate grading results. These robots can definitely benefit the Philippine construction industry as they can efficiently measure and analyze various types of terrain.
Truss Assembly And Welding Robots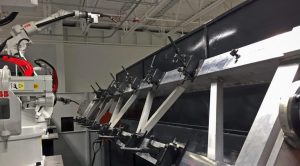 Image from mwes.com
Similar to land care and site grading robots, truss assembly and welding robots can significantly improve the operations of a construction site by automating repetitive and time-consuming tasks done in material assembly. Truss assembly and welding robots can quickly and accurately place trusses in their proper positions, which can then minimize the possibility of a human committing a placement error. The overall construction time can also be reduced with the use of these robots. 
3D Printing Robots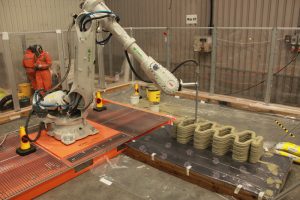 Image from aecmag.com
Integrating 3D technology and robotics has opened up exciting possibilities for innovation in the construction industry. One of the many robotic trends that the Philippine construction industry can adopt is the use of 3D printing robots to build special materials that are both durable and highly personalized, down to their form and measurements. 3D printing robots offer a great solution for the construction industry when it comes to obtaining materials with precise sizes and dimensions that are not easily available in the market. 
Brick Laying Robots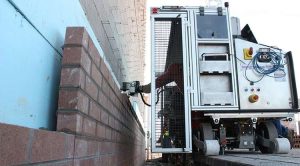 Image from theconstructor.com
Equipped with advanced sensors that can assess, plan, and build brick patterns and designs, a brick-laying robot is a revolutionary development that can greatly benefit local construction businesses. Just like many other robotic innovations designed for the construction industry, brick-laying robots are meant to provide an easier way to complete repetitive tasks ad minimize human error by using computer software to make precise measurements and placements of bricks. 
Remote-Controlled Demolition Robots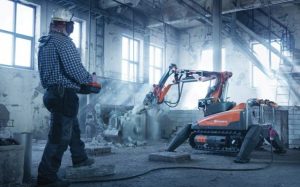 Image from bdcnetwork.com
Designed to perform dangerous and time-consuming tasks, remote-controlled demolition robots are specialized machines used to complete demolition tasks for human workers. These robots are capable of navigating through various types of terrains and accessing hard-to-reach areas of a demolition site where a human would otherwise be in a hazardous position by themselves. A remote-controlled robot is not necessarily a trend and it has been available in the market for quite some time now, but many local construction companies have yet to follow suit and experience the benefits of this innovation. 
The Future Of The Philippine Construction Industry With Robotics
The Philippines' construction industry can expect to reap significant benefits from adopting modern-day robotic inventions. These robotic technologies offer great improvement for construction projects– from increased productivity to improved safety. By embracing these innovative robotic technologies, the Philippine construction industry can up its game and pave its way for more improvements that are both sustainable and cost-effective at the same time. 
References
Jones, K. (2022, June 13).

Robots Are Coming to the Construction Site

. ConstructConnect. Retrieved July 14, 2023, from https://www.constructconnect.com/blog/construction-robotics

Jones, R. (2023, January 10).

Construction Technology Trends for 2023: Top 8 Picks

. Trimble Construction. Retrieved July 14, 2023, from https://constructible.trimble.com/construction-industry/construction-technology-trends-for-2023-top-8-picks

Mulatni, R. (2021, December 28).

Robotics in Construction Industry in 2022 | Use, Benefits & Types

. LinkedIn. Retrieved July 14, 2023, from https://www.linkedin.com/pulse/robotics-construction-industry-2022-use-benefits-types-reetie-multani

NASA. (n.d.). https://ntrs.nasa.gov/api/citations/20140005338/downloads/20140005338.pdf