With green building practices progressing across the country, it's undeniable that homeowners are mindful of their home's carbon footprint.
There are several methods to incorporate sustainability into the construction and design of your home, from tight-envelope homes to ones built using sustainable materials. You can choose technology that lets natural light into your home, reducing your demand for electric lighting. If you live in a warm climate, you can use these features to naturally control the temperature of your home.
Here are the top five (5) roofing materials with their sustainability comparison people use when seeking to build a "green" home, or if you're exploring for a way to make your existing home a little more environmentally friendly.
Roofing Material Sustainability Comparison
A sustainable roof will add value to your home and protect it from the weather. You should know which sort of roof lasts the longest and how durable each one is before choosing a roofing material.
1. Slate Roofing
Photo Courtesy: The Slate Roofing Company
Slate, which is suitable for all weather, is effective as a heat barrier. The long lifetime of slate makes it a sustainable roofing material. It's durable, long-lasting, and low-maintenance, making it the perfect roofing material for the role.
Slate roofs have been manufactured for over a thousand years, and many have lasted for hundreds of years with little maintenance. Slate is a rock that is sourced straight from the earth, which means it does not require any chemical production, which can contribute to air pollution.
2. Wood Shake and Shingle Roofing
Photo Courtesy: Modernize
Wood will be considered a sustainable material as long as trees continue to grow. Wood is biodegradable, though not as durable as stone or clay, as long as it is not treated with specific chemicals.
There are a few advantages to using wood shakes and shingles. Besides being a green and sustainable roofing material, some wood species are naturally pest-resistant, and because of its insulating properties, wood roofing can provide great energy efficiency.
Wood shakes and shingles have a lot of advantages, but they're more expensive to put on and won't last as long as something like metal or clay would. Some homeowners love them because of their natural appearance, but you should know if you go for wood shakes or shingles, you'll have to maintain them regularly.
3. Clay Tile Roofing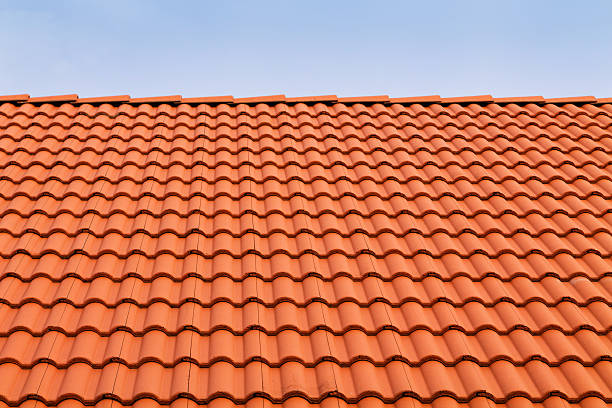 Clay tile, a long-lasting roofing material made from materials obtained from clay pits, is another long-lasting roofing option. Because of their excellent heat resistance, clay roofs are more widespread in the United States, with the southwest being the most common location.
Clay is a green roofing material, however clay tiles are a little heavier and more expensive than other green roofing options.
While a clay roof is more expensive up front, several clay roof manufacturers give warranties of over 100 years. That initial investment will assist you in future savings.
4. Asphalt Shingles Roofing
Photo Courtesy: Roper Roofing & Solar
In the Philippines, most homeowners prefer asphalt shingles roofing because of its significant advantages over other materials. For a long time, Filipinos have found this roofing to be an ideal choice because of its versatility, appealing design, safety, and other features.
They have a reputation for being weather resistant. It meets with the highest fire-resistance requirements.
Although some businesses make use of discarded asphalt shingles, they are not widely recycled and are not biodegradable. Also, despite being weather resistant and moderately durable, somehow, as a petroleum-based product, they aren't sustainable
5. Metal Roofing
Photo Courtesy: Regan Industrial Sales
Metal roofs are energy intensive to manufacture, but they are attractive and long-lasting, and they typically contain high recycled content or are easily recyclable at the end of their useful lives.
Metal roofs can reflect some heat and hence limit heat gain, but they must be adequately insulated because of the metal's high heat conductivity. Steel and aluminum are the most prevalent metal roofing materials.
However, metals are created from earth-mined minerals and thus are not technically sustainable.
Sustainability ensures that future generations will have materials with which to work on a healthy and thriving world. You can contribute by applying this concept into any building or roofing job by selecting the most environmentally friendly choice first.
Subscribe now to see more content like this in the future!
CITATIONS: