Featured Young Builder of the Month is our periodical feature of inspiring fresh faces in the construction industry. Do you have a worthy Young Builder in mind? Send us your recommendations at pinoybuilders2019@gmail.com.
Roxanne Roxas of Rox Interiors
"Huh? Contractor ka?"
In the early stages of her career, Roxanne Roxas tells us she got this reaction a lot. She laughed at the memory, seated in her bedroom in a hot pink blazer and her hair in loose curls. Her calm and pleasant energy—at 7 p.m. on a weekday, no less—does not give away that she's currently juggling six projects. "Pati yung car ko kasi pick-up. Eh ang liit ko, 5'2. Tapos kung manamit pa'ko, medyo kikay." Unknown by strangers, Roxanne is a powerhouse construction professional in her own right.
Roxanne Roxas, Rox to her friends, co-workers and clients, is the CEO and head designer of Rox Interiors. She's a Philippine School of Interior Design (PSID) graduate and a licensed contractor who went on to establish her own thriving design-build construction company. She first got the idea of being her own contractor during her thesis project, where they were required to build a project from design to construction.
"Talagang inaral ko. Kasi pag magde-design, drawing ka lang. 'Pag contractor ka kasi, iba. Anong materyales, how to negotiate with people, how to manage carpenters. I really loved [it]."
Rox Interiors officially launched last 2019, but Rox had been practicing on her own for years before that. With her experience came her fair share of hard lessons—being belittled as a female in construction, handling complicated clients, dealing with fraudulent subcontractors. This caused her to take entire projects down to the construction into her own hands. "Hindi nasusunod design ko 'pag iba gumagawa. Parang iba 'pag hindi ako yung may hawak."
It is clear that Roxanne is a renaissance woman of sorts, built to claim her stake in the construction industry—prejudice be damned. For our first Featured Young Builder of the Month, we got to know Roxanne over Zoom. Here we talk about her come up in construction, advocating for sustainability, and navigating the industry during the pandemic.
Making People Happy, Creating Spaces
How did you get into interior design?
I'm really passionate about the arts. I don't see myself working sa desk. Interior design, for me, it's changing the environment of the people. It's more than just the design.
I heard you grew up with a family of artists. Could you tell us about that?
My dad was a professional ballet dancer. My mom, jazz naman. Both of my parents, they were really into art. We grew up appreciating the opera, musicals, painting, as in lahat ng klase ng art. Tapos my dad also paints, designs, kahit businessman siya, very artistic pa rin.
Then you went to PSID. What were the courses you liked and those you didn't?
Actually lahat gusto ko eh. Masyado ko siyang in-enjoy. I love ergonomics because logical side siya ng design. I also like history. Maybe my favorite was the last one kasi thesis, the hardest one. May construction na.
What were the key actions you took in the beginning of your career to build your reputation?
Actually, minamaliit ako dati kasi babae ako sa construction, but you have to prove yourself. Lalo na when I was 21, nag-start ako agad. Top of my list was to be featured in a magazine, so that's one. And have a project na maganda 'yung [reflection] sa client, 'yung mare-refer ka. So it's like that. After, may talks na ako sa UST, Montessori. Build yourself talaga. Because when you say designer ka, magaling ka, t'as walang credible source? Mahirap, because I'm a very factual person, too.
Roxanne and her trusty pick-up truck.
And now here you are. So what does a day at work for you look like?
I wake up at 6 a.m. I'm very strict. I work out for around 30 minutes [for] endorphins, then I take supplements pa for mental acuity. Ngayon, mahirap logistics. Walang masakyan workers, so hatid-sundo namin sila to different sites. 'Yung ibang sites kasi ako 'yung general contractor pero may subcontractor. You have to work smart na, not hard. I go there, buy sa hardware, talk to clients, manage people, che-check mo kung tama, tapos calls [since] I have people working from home rendering for the company. So we have two teams, creative and construction teams. I handle them both.
Rox Interiors' tagline is: "Making people happy, creating spaces." Can you walk us through your thought process when you came up with this?
It's simple. What I want to sell is the feeling. When you go home, what do you want to feel? You want to rest. Or for example may dream home ka: Anong gusto mo, luxurious ba? [Do] you want to stay home? So 'yun. I sell emotions. It's more than just money to me. May client ako na sobrang [grateful] niya, hinug niya ako tapos umiyak siya. Yung kids din [say], "Thank you, tita!" Iba 'yung feeling.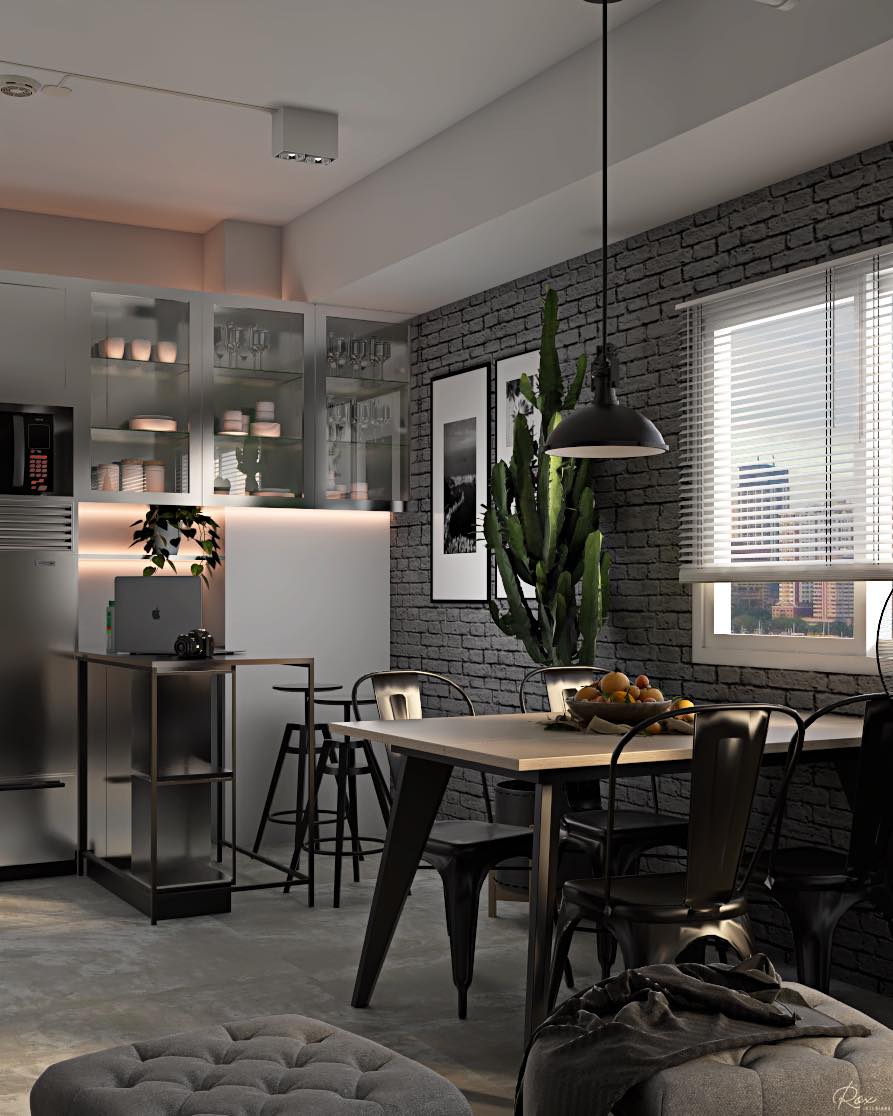 Bachelorette's Pad. Photo courtesy of Rox Interiors
You mentioned that people management is an important part of being a contractor. So what's your take on leadership, then? Do you do it more with an iron hand or do you take a friendlier approach?
Ako, masculine-feminine energy. Before, I [was] very masculine. Ngayon, may feminine energy. That's why 'yung workers ko, four years na sa'kin, 'di umaalis. Even my creative team. My workers [say], "Ayoko na ng ibang amo, ikaw nalang."
One thing with women—I'm just generalizing biology—we are natural empaths. We are natural nurturers. Minsan kasi 'pag masculine—minsan lang ah, not everyone—[they only say,] "Ito nga dalhin mo." Minsan nagtatampo yung workers. 'Pag babae: "Kuya, pakidala." 'Yung mga simple words. Ako, mataray ako, but I know how to empathize with people. 'Yun 'yung nurturing side ng feminine energy.
Outside of your team, you've said that you operate like a lone wolf. So how do you know if a subcontractor is fit for you?
Actually problem ko 'yan two years ago. May talagang masamang contractor sa pera, sa contract, may loophole tapos iiwan ka. That happened to me. Even lost half a million because of that. 'Di ko na mahabol tapos ni-report na sa PRC. It happens. But good thing it happened to me early, when I was 23, kaysa late ko na-experience. Parang mafi-fit lang 'yon 'pag trial and error. Kahit kaibigan mo, hindi rin okay (laughs). Kaya lone wolf ako, kaya ako na yung nag-contractor. I learned my lesson.
You're also really passionate about keeping things sustainable and eco-friendly. Is that hard to do in the local industry?
It's actually hard to educate clients about it, because some of them don't care. But I push it. I have a project somewhere in Banaue, LED siya with solar panels. 'Yon naman dapat 'yung future na inaalala natin. We don't just build and build. Medyo corny, but as inhabitants of this Earth, we should be responsible for our environment.
What do you think is the role of a builder in responding to the climate crisis?
For me, it's a big impact. You shouldn't just design—dapat may purpose ka lagi. Tsaka aware ka din [sa materials]. I don't use narra kasi mag-e-extinct na 'yon eh. 'Yung ibang clients sasabihin nila gusto nila narra; [I'd say] why won't you use bamboo? It's sustainable, like rattan. We should be responsible pa din.
Do you have quick tips for home builders on how to be more sustainable in their DIY projects?
Be aware of the materials you're using. 'Yung mga plantita, okay 'yung mga gano'n (laughs). At least may greens ka parin sa bahay. Also, be aware na COVID. Materials like copper, okay siya gamitin. Quartz [instead of] marble kasi porous. Learn about the materials before you build something.
Do you have any words of encouragement for budding contractors who are trying to forge a career in this time of the pandemic?
Inspiring builders, build. Build your dream. Nando'n na nga [sa pangalan] natin eh: builders, 'di ba? And designers. Design your dream and build your own dream. Don't give up hope dahil COVID. It's actually a challenge. Think of it as a challenge that we would design more, we would learn more, we would research more. Anong materials na kailangan, anong bagong plano sa floor plan in ergonomics. That's why we're called builders, kasi we build [our clients'] dreams, we build our own dreams. And we design our lives as well, not just for [other] people.
*This interview has been edited for brevity
To learn more about Rox Interiors, visit their social media accounts at @Rox.Interiors on Instagram, @RoxInteriors.co on Facebook and @RoxInteriors on YouTube. You may send them an email at interiors.designthatrox@gmail.com.