As of March 13, 2020, COVID-19 had spread throughout the world with over 125,000 cases globally and 52 cases locally— with more being reported every day. The virus was first reported back in December 2019 and identified as something that belonged to the coronavirus family last January 7 by the World Health Organization (WHO). People can be infected by inhaling droplets or fluids produced by an infected person. Today, it has become an international pandemic, affecting livelihoods, lifestyles, and industries.
The construction industry relies heavily on material import and human resources, many of which come from afflicted areas in China. Due to the virus, the country has shut down several of their factories to the point where it led to a decrease in air pollution and carbon emissions.
That one piece of decent news, however, pales in comparison to the damage done. The coronavirus even forced China to build two hospitals in a single week, accomplished with the use of prefabricated buildings, as a response to the growing number of cases.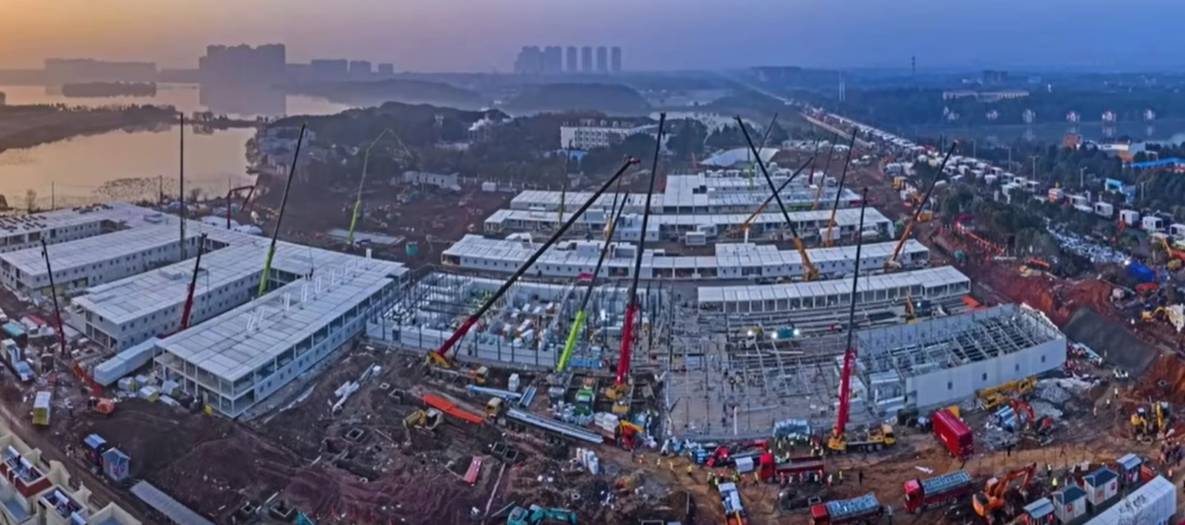 Shot of the ten day hospital construction. Photos and footage courtesy of CGTN
[content-lock]
Other countries have also experienced severe setbacks in their construction business. In Hong Kong, fifty-thousand workers were left jobless as a result of border control efforts preventing them from travelling to their designated project sites. The labor shortage also affected Singapore, causing the Singapore Contractors Association to raise their concerns with the authorities as most projects depend on overseas laborers. Construction firms even sought to invoke force majeure (relief from contractual obligations) because of the dilemma.
The coronavirus affected the import of resources from China such as construction materials and special components, leading to inevitable project delays. According to the chief economist for Dodge Data & Analytics Richard Branch, building product imports from China account for nearly 30% of all US building product imports. Costs have also gone up due to the pandemic interfering with the supply and demand of materials for both contractors and clients alike.
Industries in the Philippines related to travel, manufacturing, raw material import, and labor are the ones most affected, yet despite the low number of cases in the country, the government remains vigilant against the rapid spread of the virus through travel bans, class suspensions, social distancing, and encouragement of community quarantines and social distancing.
Every country is taking precautionary measures to prevent the spread of COVID-19. Businesses are doing their best to get through it by planning for both the present and the future to keep their economies afloat once the pandemic passes on. While the future is uncertain, everyone must be prepared to adapt to the changing times, or risk getting left behind.