Tiling can be tedious and expensive, depending on the work that needs to be done. Hence, there are rookies or DIYers that want to do the job on their own. That isn't necessarily a bad thing, however, only a professional can administer certain aspects of the installation.
From finding the right fit down to the equipment you will use, there are drastic differences between the work of a rookie and a professional with tile laying. 
What is Tile Laying?
Tile laying and installation is a process that creates floors that are durable and beautiful. However, it takes a couple of days to complete – depending on how big the area is. 
Ideally, with the proper tools and materials, it should be easy to lay tiles as long as they follow the manufacturer instructions and any building restrictions that may apply to your project. While some choose to do this themselves, there are also those who hire professionals to do the tile work for them because of the differences in appearance and application. 
Here's how you can spot the work of a rookie from a professional in tile laying.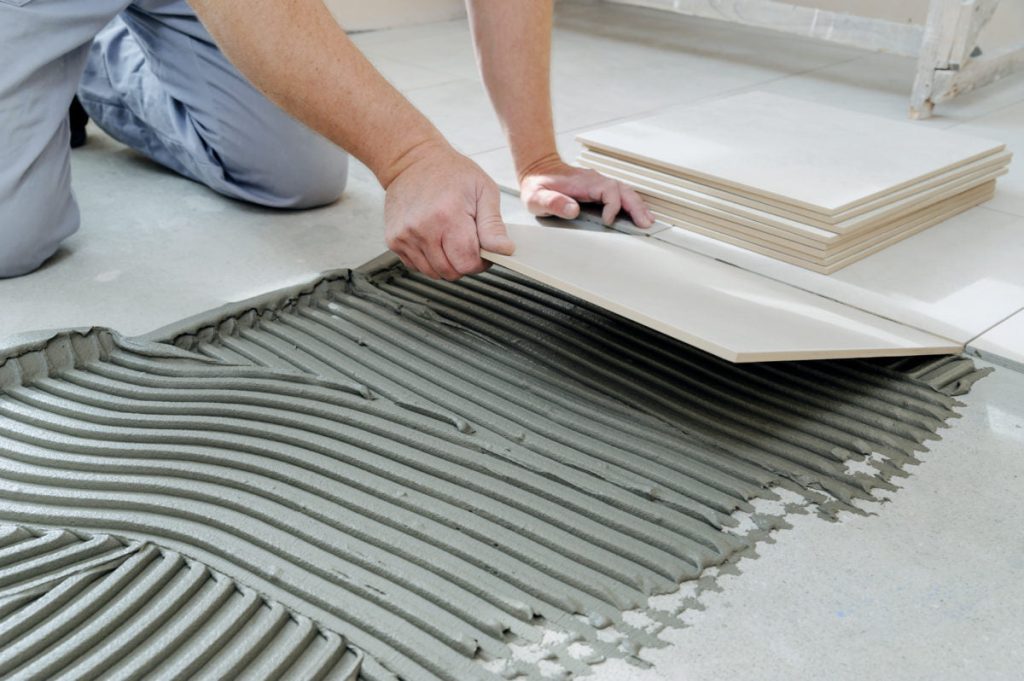 How to Spot the Work of a Rookie 
Whether you're the rookie yourself or if you want to check if an amateur did the tile laying on your construction project, here are a couple of things that you should watch out for:
Poor Fitting 
You might notice that some tiles don't line up properly. This might be from uneven surfaces or using too much tile adhesive. A professional or a 'good' tiler can impose the tile using the right amount of force. 
Wrong Measurements
In relation to poor fitting, the wrong tile measurements will cause gaps that might need filling-even if it's off just a couple of millimeters. You will need fillers to fix the problem, leading to more incurred cost. 
Poor Cutting 
Working with tools means everything has to be precise. Tile cutting can be messy and could harm anyone who isn't skilled. Poor cutting can also cause poor finishing and waste.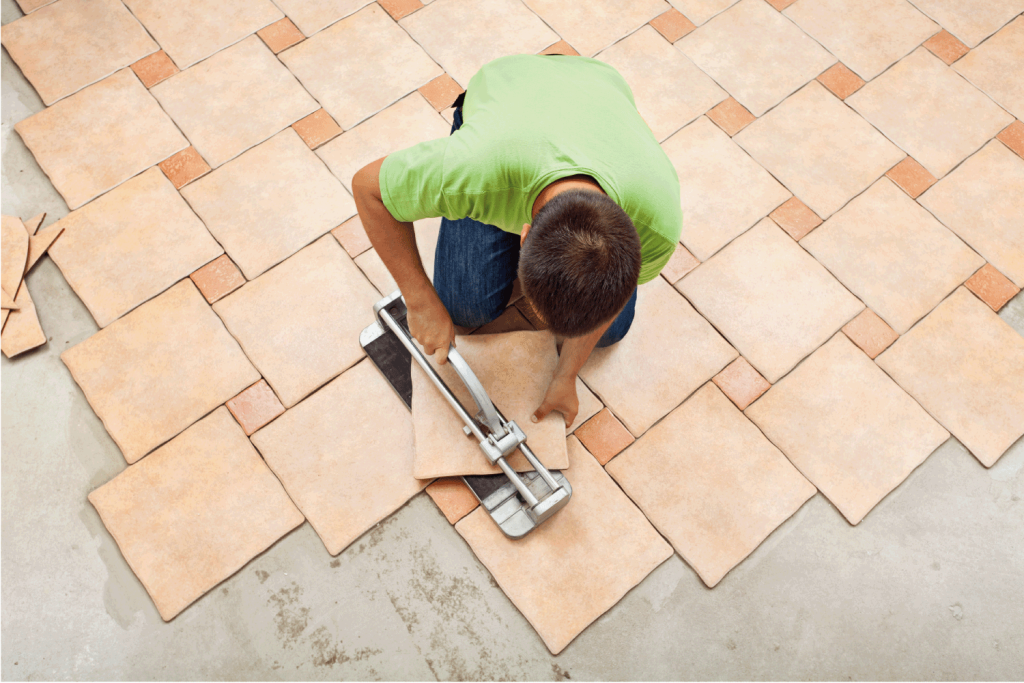 Spotting the Work of a Professional Tiler
Professional tilers have dedicated time and resources to their craft. Because of this, you can guarantee their work exhibits accuracy and craftsmanship. Here's what you need to look for to know if you're looking at professional tile work:
Building Skills 
Professional tilers have in-depth knowledge of various tiles and materials. They should be able to prepare surfaces and install tiles correctly without damaging the tiles. They should also be able to show skill and knowledge in being able to cut and prepare tiles correctly before installing them. 
Technical Skills
A professional tiler should be able to show knowledge in how to use tile cutters and other tools of the trade. Observe how they install tiles manually and how they prevent any installation errors. Professional tilers should also know how to prevent material wastage. 
Planning
At the planning stage itself, a professional tiler should be able to walk the client through the tiling plan and layout. Professional tilers can provide enough details on the layout and how they could follow through with the plan. A professional or seasoned tiler should also show ability in working with intricate designs or patterns.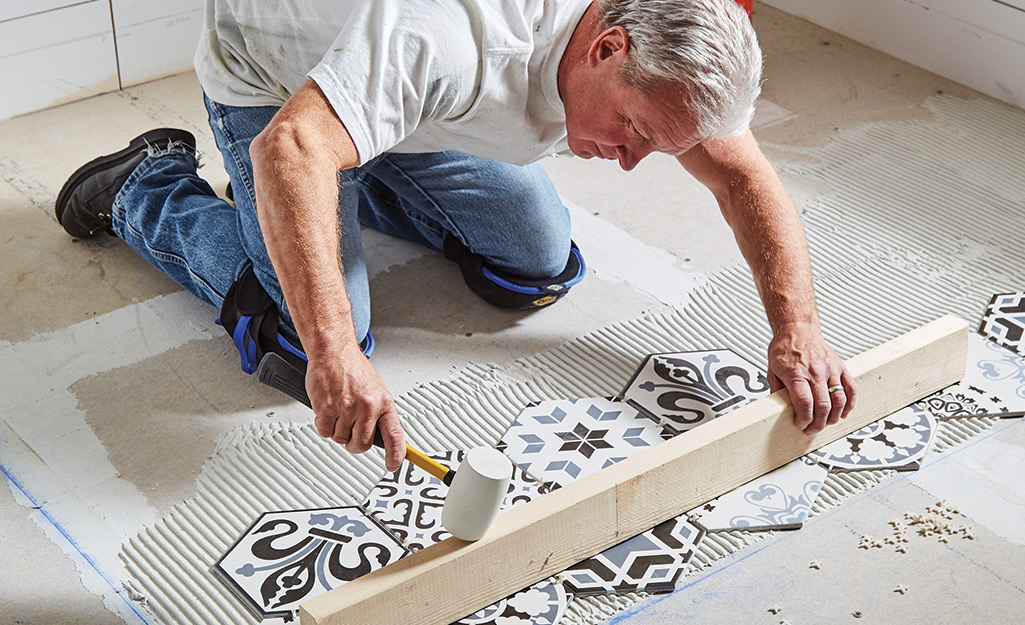 3 Reasons for Rookie Tile Laying Work
If you are a rookie or if you suspect you may have hired a rookie for your tile laying or installation at home, you might have a good reason. Most often, hiring a rookie revolves around these three reasons:
Minimal to No Labor Costs
Labor is one factor that makes a construction or renovation job more costly. By doing your own tile laying and installation, you'll save a bit on the expenses. That doesn't entirely make this process cheaper, as you will need to buy the tools, materials, and equipment for it. 
Hiring a rookie for tile work would still be cheaper than hiring a professional to do it, as the former's services are priced at a lower value. 
Control Over Design 
Doing your own tile laying and installation gives you liberty over the design of the tiles. Compared to hiring a contractor and explaining your design, you can avoid the long explanations if you do the tile laying yourself. You can also ensure that the design is accurate to what you have in mind, leading to overall satisfaction on your end – assuming that the project goes well. 
Learning a New Skill
If you decide to do the tile work on your own, it also comes with learning a new skill you can use for the future. Tile work is something that gets better with more experience, and it's also something handy to learn if you're planning on doing more renovations on your home in the future. You won't have to worry about hiring someone else to do the task if you can do it yourself. You can even extend your skills to help a loved one. 
3 Reasons to Choose a Professional Tiler
While there is nothing wrong with trying your hand at tiling or if you would rather choose a rookie for tile laying and installation projects, there is still a drastic difference in the work by a professional tiler. If you have the budget set aside for it or if you have an intricate design that you want to follow, hire a professional rather than going DIY. 
If you still need convincing on why you should hire a professional instead, here are three good ones: 
Saves Time and Stress 
Hiring a professional tiler would ease the burden on the homeowner or project owner. Any type of installation or renovation work done can be stressful and affect the project owner. When a professional tiler does the work, they get the job done quicker and remove the hassles of explaining to rookies, doing the tile work yourself, and ending up dissatisfied by the results. 
Access to Specialist Equipment
Tiling requires a special set of tools and equipment, and professional tilers already have these tools on hand. The great thing about hiring a professional tiler is you don't have to buy additional tools or rent them. Professional tilers often bring their own tools to the job and you won't have to worry about providing them with the equipment. 
Great Craftsmanship
As mentioned, professional tilers also guarantee superb craftsmanship. You get to instruct them to do difficult tile work, and they should be able to do it or present a workaround if the job is a bit too hard for them. You will get to see the difference between rookie and professional craftsmanship in the overall finish and installation of the tiles. A professional tiler's work should be no lifting and no gaps between the tiles. 
Arguably, both rookies and professionals can perform tile laying. However, it would be better to leave the work to professional tilers because it would make the job faster and easier. Rookies might not achieve the expected results with tile installation – especially if the job is difficult. A professional tiler's work would look better in the long run, and you won't have to worry about replacements or do-overs. 
A professional tiler is the best way to go especially if you're looking for the project to be done swiftly but accurately. You can still opt for a rookie tiler, but remember you might not achieve the same results as you would a professional. 
Do you want to see more content like this in the future? Subscribe to Pinoy Builders for FREE today and stay in the loop for the latest news and updates on the Philippine construction industry!
Sources: