Typhoon Odette, which hit the Visayas and Mindanao last week, caused at least P448.9 million to national roads, bridges, and flood-control infrastructure according to the Department of Public Works and Highways (DPWH) as of 12 p.m. on Tuesday, December 21, 2021.
Photo Courtesy: Philippine Coast Guard
Infrastructure Damage
According to the DPWH Bureau of Maintenance, P209.5 million is because of road damage, P100 million is due to bridge damage, and P139.4 million is due to damaged flood-control infrastructure.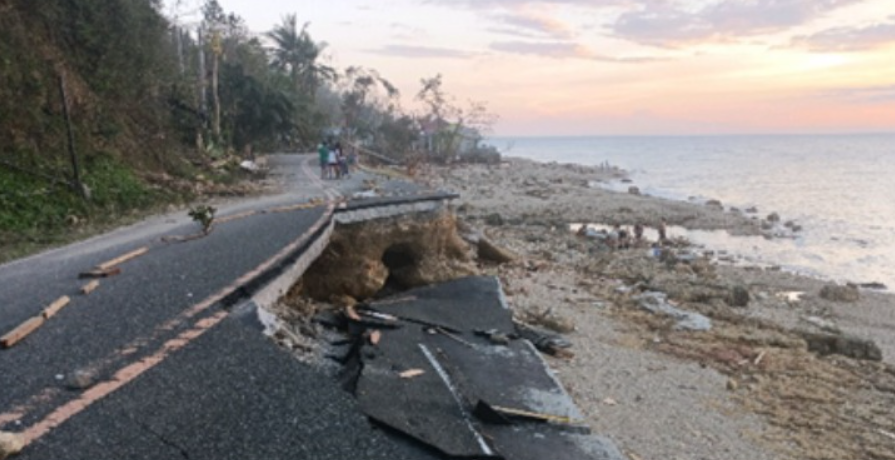 Photo Courtesy: DPWH Facebook page
To date, the DPWH has cleared and reopened 33 road sections to ensure the transportation of relief supplies to affected districts. Teams with equipment are trying to reopen 11 national road sections in Regions 4-B, 7, 8, 10, and 13 that are still impassable.
The following closed roads in Visayas are being cleared by DPWH Quick Response Teams:
Puerto Princesa North Road (SO0030PW), Langogan Bridge, Brgy Langogan, Puerto Princesa City due to damaged old Langogan Bridge;
Cebu-Toledo Wharf Road and Toledo-Pinamungajan Aloguinsan-Mantalongon Road, Brgy. Cabitoonan, Toledo City due to fallen trees and electric posts and debris;
Toledo-Pinamungajan Aloguinsan-Mantalongon Road, Brgy. Cabitoonan, Toledo City due to fallen electrical posts;
Sariling Bridge, Malabuyoc, Cebu due to Damaged/collapsed bridge abutment A, revetment washed out;
Santander-Barili-Toledo Road K00178+800 – K0180+000, Intermittent sections, Brgy. Madridejos, Alegria, Cebu due to damaged/collapsed pavement at intermittent sections from scouring and damaged seawall from strong waves, fallen trees, electric posts and other debris;
Bais-Kabankalan Road, K0059+100, Brgy. Manlipac, Bais City, Negros Oriental due to soil collapse;
In Mindanao, impassable roads are: Misamis Oriental – Bukidnon – Agusan Road in Brgy. Siloo, Malitbog, Bukidnon to damaged newly constructed spillway at Siloo Bridge; 
Butuan City – Cagayan de Oro City – Iligan City Road, Old Mambayaan Bridge due to damaged bridge;
Sta. Filomena – Bonbonon – Digkilaan, Rogongon Road, Sitio Salinsing and Purok Lindaban, Brgy. Rogongon, Iligan City due to landslide and soil collapse;
Dinagat-Loreto Road in Mahayahay, San Jose, Dinagat Islands due to road slip;
NRJ Bayugan-Calaitan-Tandag Rd in Brgy. Sto. Nino, Bayugan City, Agusan del Sur because of road cut;
and Bayugan-Esperanza Road in Brgy. Nato, Esperanza, Agusan del Sur due to flooding.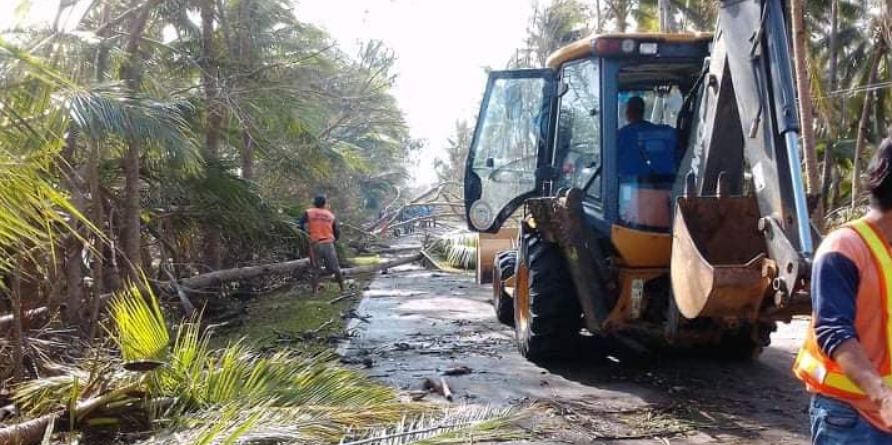 Photo Courtesy: DPWH Facebook page
4 Roads Still Hardy Passable
Four (4) roads in Bukidnon remain impassable, including:
Jct. SH Impasug-ong – Patulangan By-Pass Rd, K1484+550 – K1484+555 (S00610MN) in Bukidnon;
Dinagat-Loreto Road in Mahayahay, San Jose, Dinagat Islands, Dinagat Islands;
sections of NJR Bah-Bah-Talacogon Road in Brgy, Lucena, Prosperidad, Agusan del Surl; and
Butuan City-Pianing-Tandag Rd. K1245+0950 to K1246+0250 Brgy. Anticala, Butuan City, Agusan del Norte.
School buildings damaged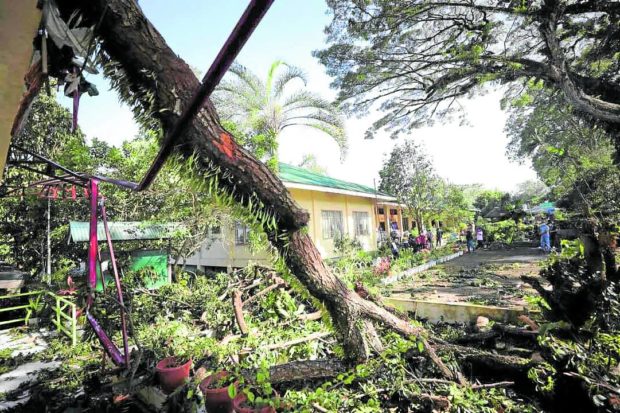 Photo Courtesy: DepEd Facebook page
Meanwhile, there will be a need for about P393.5 million to help rebuild and repair the school infrastructure that was damaged by Typhoon "Odette."
DepEd says the disaster damaged 71 schools.
52 classrooms were destroyed in Central Visayas, with an estimated reconstruction cost of P130 million; 26 schools were damaged in Western Visayas; Central Visayas had 12; Bicol and Eastern Visayas each had 10; and all four regions had 10 schools apiece.
As explained by the DepEd, schools were not required to disclose slight damages because the repair costs would be covered by regular school maintenance and other operating costs.
School furniture and computer equipment were most damaged in the Bangsamoro Autonomous Region in Muslim Mindanao.
The regional offices are monitoring the schools that were used as evacuation centers.
Education officials say that as of Sunday, 674 schools and 3,935 classrooms were serving as evacuation centers.
Subscribe now to see more content like this in the future!
CITATIONS: