Water dams play a vital role in our daily lives. Oftentimes, the benefits of an operating water dam in our day-to-day tasks can be overlooked as individuals sometimes fail to remember just how necessary the infrastructure is to complete almost every single task–from the smallest chore to the long, tiring ones, dams provide households with the water necessary to complete the job. Water dams are important inclusions in our society. Without dams, many communities would not have easy access to water.
There are many types of dams, each with different intended purposes. For collecting water during rainfall, flood control dams are utilized to keep water collected in a controlled area to prevent excessive rainwater from flooding the surrounding areas. In flood control, water dams play a very important role that can either prevent the inundation of nearby communities, or it can cause catastrophic events due to failure of executing the very function it's supposed to do. In this article, we will discuss the role of water dams in flood control and how they can also cause submersion of nearby communities if the infrastructure fails. 
The Role Of Water Dams In Flooding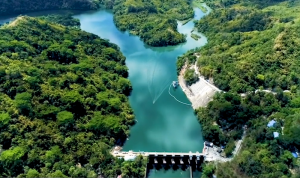 Image from GMA
In flood control, water dams are used to collect and impound excess water from heavy rainfall that would otherwise be flooding the nearby communities in the area. Collected water in these flood-collecting dams is then released downstream to a nearby river or diverted to different locations to be used for other causes like irrigation. 
Water Dams In Preventing Floods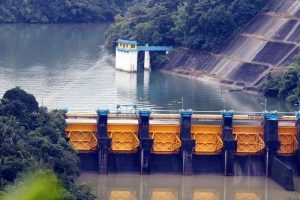 Image from PhilStar
Flood-collecting dams are used to protect the land from potential flooding by collecting the water and retaining it until it reaches a certain level. These dams, otherwise known as flow-through dams, are dams built at the same level as the riverbed with holes or spillways on the walls of the infrastructure to allow the water to continue flowing through if the water levels are not rising significantly. This means that this type of water dam will not restrict the natural water flow downstream if there is no excess water to collect and impound. 
Flood-collecting dams are built to protect the surrounding farmlands and the crops that may be planted near the area for irrigation. This type of water dam will begin to retrain the flow of water once the levels start rising, and the contents will be released in a controlled manner to prevent quick overspill in drastic situations. In most circumstances, these dams can also serve multiple purposes operating as a water supply for domestic and industrial use, a power facility through hydropower generation, and sometimes even for ecosystem management purposes like fish passages to accommodate local fish migration. 
The Role Of Water Dams In Floods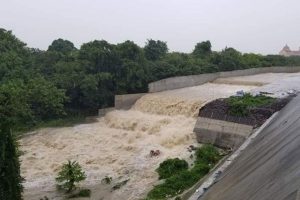 Image from PhilStar
Water dams causing unexpected and often catastrophic flooding are also a cause for concern. Many people choose to live near water dams, thinking that the location will provide them will quick access to water while being protected from any threats of flooding. However, countless water dams are built without much deliberation regarding the long-term hydrology of the rivers that they are connected to and the way the infrastructure can affect the natural surroundings as the infrastructure ages. 
While water dams are built to be sturdy, they can still cause terrible flooding to surrounding areas if their operations ever fail. Regardless of their capability to store hundreds of thousands to billions of cubic meters of water, their storage capacity still has a limit. Once the limit of these water dams is reached due to heavy rainfall, it can either spill and inundate the surrounding areas, or the water dam operators will be forced to open the spillways and direct the excess water away from the dam, which can also cause flooding near the areas of the waterways. 
While flood-collecting dams are useful for containing excess rainwater that can otherwise submerge a nearby community, they can still result in far worse situations if the water dam's limit is reached. Water spillage from dams is usually heavy and abrupt and can destroy crops, public structures, and even homes. 
The Importance Of Water Dams In Flood Collection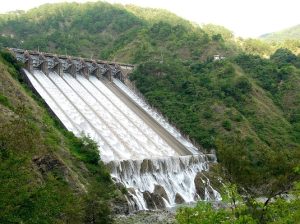 Image from 365 Great Pinoy Stuff
Water dams are usually meant for multiple purposes. One of the most useful purposes of water dams is their water collected capabilities, which can prevent surrounding areas from being submerged in flood. However, while water dams have their benefits, the structure can also pose threats when it fails to function as its intended purpose. 
References:  
ReliefWeb. (2001, June 21).

Dams accused of role in flooding: Research Paper: "Dams and Floods" – Bangladesh

. ReliefWeb. Retrieved August 3, 2023, from https://reliefweb.int/report/bangladesh/dams-accused-role-flooding-research-paper-dams-and-floods

Risk Factor™. (n.d.).

Understand how flood control projects reduce flood risk

. Risk Factor™. Retrieved August 3, 2023, from https://help.riskfactor.com/hc/en-us/articles/360050117074-Understand-how-flood-control-projects-reduce-flood-risk

Teach Engineering. (n.d.).

Water Resources: Why Do We Build Dams? – Lesson

. Teach Engineering. Retrieved August 3, 2023, from https://www.teachengineering.org/lessons/view/cub_dams_lesson01

Trusted Choice. (n.d.).

How Do Dams Protect Against Flooding?

Trusted Choice. Retrieved August 3, 2023, from https://www.trustedchoice.com/ask-an-insurance-agent/how-do-dams-protect-against-flooding/