The world has turned a watchful eye on China's real estate crisis, especially since it has been ongoing for quite some time now and emphasized by the economic and social crisis brought on by the pandemic and international conflict. Without a doubt, China has a significant issue that encompasses more than just its real estate market, but a notable slowdown in this sector due to the country's measures and special economic factors has left many of its neighboring countries to wonder if a ripple effect will happen if it has not already started. Indeed, China is a highly influential country rich with multiple international ties–but does this mean that a crisis in their country can, later on, affect some of their major trading partners, the Philippines included? 
The Philippines and China are two countries that have been interacting for millennia, with trade and commerce happening between the two as far back as the 9th century. Nowadays, China still remains to be a big investor and trading partner of the Philippines, with the noteworthy loan and investment provided by the country for the country's Build, Build, Build program spearheaded by then-president Rodrigo Duterte meant to revitalize the country's local infrastructure and further improve the Philippine economy. In this article, we will delve into whether the current real estate crisis in China will reverberate through local industries, specifically businesses in the construction industry. 
How Does China's Real Estate Deceleration Affect Philippine Construction Businesses?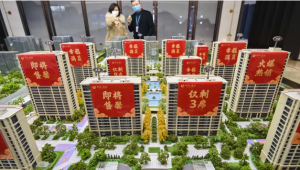 Image from CNBC
China's real estate crisis has been unfolding for years, and international economists predict that it could further extend in the foreseeable future, especially since China's progress seems slow when it comes to tackling the issue. In addition to this, there appears to be a lack of obvious solutions that the country can take to adjust its progress in a more agreeable direction. With this, China's real estate slowdown is not only expected to keep persisting for longer, but the economic issue will most likely also extend as an issue in other countries as well. 
"We see persistent weaknesses in the property sector, mainly related to lower-tier cities and private developer financing, and believe there appears no quick fix for them," stated by a group of Goldman Sachs economists led by China economist Lisheng Wang.
The prediction does not seem at all appealing, especially as economists give almost a grave prediction of an "L-shaped" recovery, characterized by a steep drop in China's economic growth, and a steady move forward without any significant development. For China, the need for an increase in collaboration between private and public entities is unmistakable, but experts believe that the solution lies in the successful management of the real estate slowdown instead of clamoring to design a tactic that can suddenly push the scale upwards once more.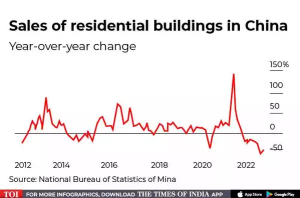 Image from Times of India
Recent social issues also affect the buying power of Chinese residents when it comes to real estate. The pandemic is seen as one factor that have caused such a large dip in the sales of residential buildings in the country, but China is expected to recover from this once the country's economy regains the momentum it struggled to ignite after the significant step back that COVID-19 had caused. The astronomical rise of residential properties such as condominiums priced at more than $17,000 per square meter also adds salt to the wound of people who are struggling to afford homes that some treat as investments rather than an abode. Headwinds are also predicted for the country, but 2023 is posed to be a more friendly year compared to 2022.
As one of the most prominent investors in the local construction industry, China's capability to offer financial support to the Philippines does not appear to be suffering as much as it should be, as casual speculators might expect. Just last month, nine Chinese companies vouched to invest nearly $14 billion to construct renewable energy plants in the country. This includes hydropower, geothermal, biomass, wind, and solar energy. This is in addition to the multiple PPPs proposed by the major state-owned China Communications Construction Company (CCCC) that includes the 270-km Laoag City-Rosario City Highway Project and the ongoing North & South Harbor Bridge and SIDC (Samal Island-Davao City Connector) Project. China's real estate crisis might be a looming issue in their country, but the Philippines continues to receive international economic support from the country, with our local construction industry being one of the biggest beneficiaries of China's financial aid.
The Future Of The Philippines With China's Real Estate Slowdown
China's economic issues regarding a significant drop in its real estate sector are expected to affect the country's international partners, the Philippines included. However, this is rarely a special case, as international partners are bound to influence changes in each other's economies, especially if the ties are notably financial. Current and former Philippine administrations have made it clear that China's financial support is indispensable, and the country is seeing the benefits of China's assistance when it comes to local infrastructure. 
Many construction businesses are seeing a boost in the local construction industry as the current administration continues to develop it alongside multiple international partners, with China's support included. Ultimately, only expert economic analysts will reveal just how much China's real estate crisis can impact local construction businesses, but one thing is certain: Regardless of how significant China's current economic crisis is, the Philippines' local construction industry is still benefiting from China's financial assistance. And as China's real estate deceleration is predicted to persist, the Philippines' construction industry is still expected to grow. 
References
CNBC. (2023, June 13).

China's real estate slump predicted to last for years, threatening wider region

. CNBC. Retrieved August 15, 2023, from https://www.cnbc.com/2023/06/14/chinas-property-market-to-see-persistent-weakness.html

Garcia, G. (2023, July 11).

Philippines has mixed reaction to China's $14bn for clean energy

. China Dialogue. Retrieved August 15, 2023, from https://chinadialogue.net/en/energy/chinese-investment-in-philippines-renewables/

Geducos, A. C. (n.d.).

State-run Chinese firm commits more investments in PH

. https://mb.com.ph/. Retrieved August 15, 2023, from https://mb.com.ph/2023/01/30/state-run-chinese-firm-commits-more-investments-in-ph/

He, L. (2023, August 9).

China's property crisis deepens as another huge developer risks default

. CNN. Retrieved August 15, 2023, from https://edition.cnn.com/2023/08/09/economy/country-garden-china-property-default-intl-hnk/index.html

Investopedia. (n.d.).

L-Shaped Recovery: Meaning, Examples, FAQs

. Investopedia. Retrieved August 15, 2023, from https://www.investopedia.com/terms/l/l-shaped-recession.asp